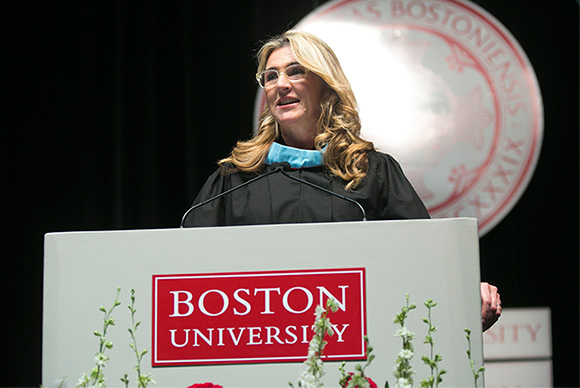 The Television Academy, a nonprofit organization devoted to the advancement of telecommunication arts and sciences and home to the Emmys, recently awarded Nancy Dubuc (COM'91), president and chief executive officer at A+E Networks, and A+E Networks with the prestigious 2015 Governors Award in recognition of their corporate social responsibility programs.
According to the Television Academy, the Governors Award was bestowed on Dubuc and A+E Networks for their continuous focus on three pillars: people, programming and partnerships. In turn, these pillars have led to great achievement in the television industry.
"For over 30 years, A+E Networks has had an unwavering commitment to the communities we serve. It is a great honor for our Corporate Outreach initiatives to be recognized by the Television Academy with its Governors Award," said Nancy Dubuc, president and CEO of A+E Networks. "Television is a powerful medium and we are proud to be able to use our networks and platforms to shine a light on important social issues."
The Governors Award was presented during the Creative Arts Emmy® Awards on Saturday, September 12, 2015. Past recipients of the Governors Award include Walter Cronkite, Bob Hope, American Idol Gives Back, It Gets Better Project and many more.