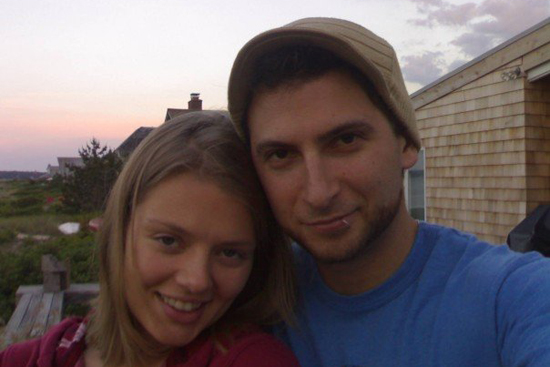 On a campus with the population greater than that of a small town, Terrier-to-Terrier marriages are statistically favored, and Valentine's Day invites a look at BU couples who fell in love not only with their life's work, but with their life partner. One such couple met in a COM radio journalism class. BU Today writes:
It was a shared passion for journalism that united Emily Zeugner (COM'05) and Amos Konigsberg (COM'05), who met a decade ago as graduate students in a radio journalism class taught by Anne Donohue (COM'88), a College of Communication associate professor of journalism. "Amos likes to say I was a teacher's pet, but that's just because I had better ideas than he did," says Emily.
Emily recently joined the U.S. State Department Foreign Service as a diplomacy officer and is awaiting news of her first posting. Luckily for the family, who could end up anywhere from Moscow to Addis Ababa, Amos is a science journalist and editor with, as Emily puts it, a "portable career." They're excited about their future, "wherever we end up in the world," she says.
Read the full story on BU Today