The Boston Area Roman Studies Conference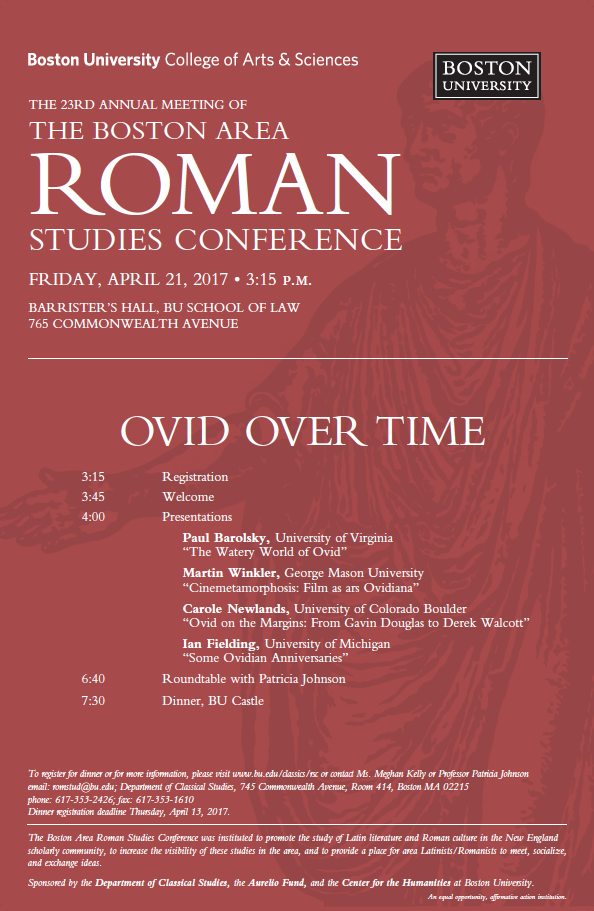 Ovid Over Time: Friday, April 21, 2017
Pre-conference registration is now closed.
The Boston Area Roman Studies Conference (BARSC) was instituted in 1995 to promote the study of Latin literature and Roman culture, to increase the visibility of these studies in the New England scholarly community and to provide a place for area Latinists and Romanists to meet, socialize, and exchange ideas.
The BARSC is sponsored by the Department of Classical Studies and the Center for the Humanities at Boston University and is held annually in April. The conference is open to anyone interested and is free of charge. Following the conference is a dinner, and those wishing to attend must pre-register. The dinner charge is $30.00 ($20 for graduate students with school ID) and the registration deadline (for dinner only) is April 13, 2017.  To register for the conference, click here.
The 2017 Conference will be held on Friday, April 21, 2017, with registration opening at 3:15 p.m. and the program starting at 3:45 p.m. in Barrister's Hall in the BU School of Law (765 Commonwealth Ave). Dinner will follow in the BU Castle (225 Bay State Road).  For directions to the School of Law and a campus map click here. There is a parking lot open to the public near the School of Law at Warren Towers, 700 Commonwealth Ave, click here for rate and location information (refer to Warren Towers Lot, K).
Below is the program for the 2017 Conference.
Friday, April 21, 2017
Paul Barolsky, University of Virginia
"The Watery World of Ovid" Abstract here
Martin Winkler, George Mason University
"Cinematamorphosis: Film as ars Ovidiana" Abstract here
Carole Newlands, University of Colorado Boulder
"Ovid on the Margins: From Gavin Douglas to Derek Walcott" Abstract here
Ian Fielding, University of Michigan
"Some Ovidian anniversaries" Abstract here
Roundtable with Patricia Johnson

For more information please call the Department of Classical Studies (617-353-2426) or contact Meghan Kelly at mekel@bu.edu.