Portraits of Black Classicists, From Slaves to Scholars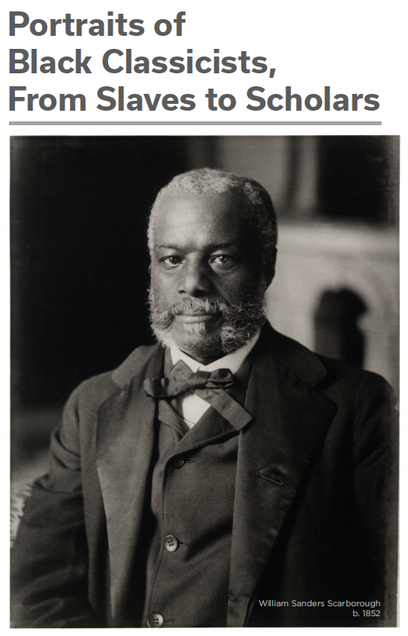 An Exhibition of fourteen photographic reproductions of African-American Classical Scholars and Educators from the 19th and early 20th centuries. Curated by Michele Valerie Ronnick, Professor of Classical Studies at Wayne State University, these portraits tell a tale rarely heard, let alone imagined.
Sponsored by the Boston University Center for the Humanities and the Department of Classical Studies.
Exhibition Opening Reception
Please join us for an Opening Reception on Wednesday, November 11, 2015 from 6:00pm-8:00pm in the Rubin-Frankel Gallery, located on the second floor of the Boston University Florence and Chafetz Hillel House (213 Bay State Road).
Curator Lecture
On Thursday, November 12, 2015 at 4:00pm Michele Ronnick (Wayne State University; PhD in Classical Studies from Boston University, 1990) will be delivering a Curator Lecture, "Black Classicism in the Bay State." This lecture will be held in Boston University's Sargent College Room 102, 635 Commonwealth Ave.
Exhibition Information
Following the Opening Reception, the exhibition will be on display in the Rubin-Frankel Gallery through January 8, 2016. The exhibit will be on display through Summer 2016 in the Howard Thurman Center, 775 Commonwealth Avenue, Lower Level.
Gallery hours:
Monday-Saturday: 9:00am – 9:00pm
Sunday: 3:00pm-9:00pm
Contact Information:
Lindsay Eagle, Office Manager
Phone: 617.353.7665
Additional gallery information is available here.
Additional Information
The exhibition, the Opening Reception and the Curator Lecture are free and open to the public.
Information about parking options on Boston University's campus is available here. Both the Rubin-Frankel Gallery and Sargent College are located near the Granby Lot (Lot N), 665 Commonwealth Ave.
For a campus map showing the Rubin-Frankel Gallery, Sargent College, and the Granby Lot, please click here.