Graduate Student Conference
Death and Mortality in the Ancient World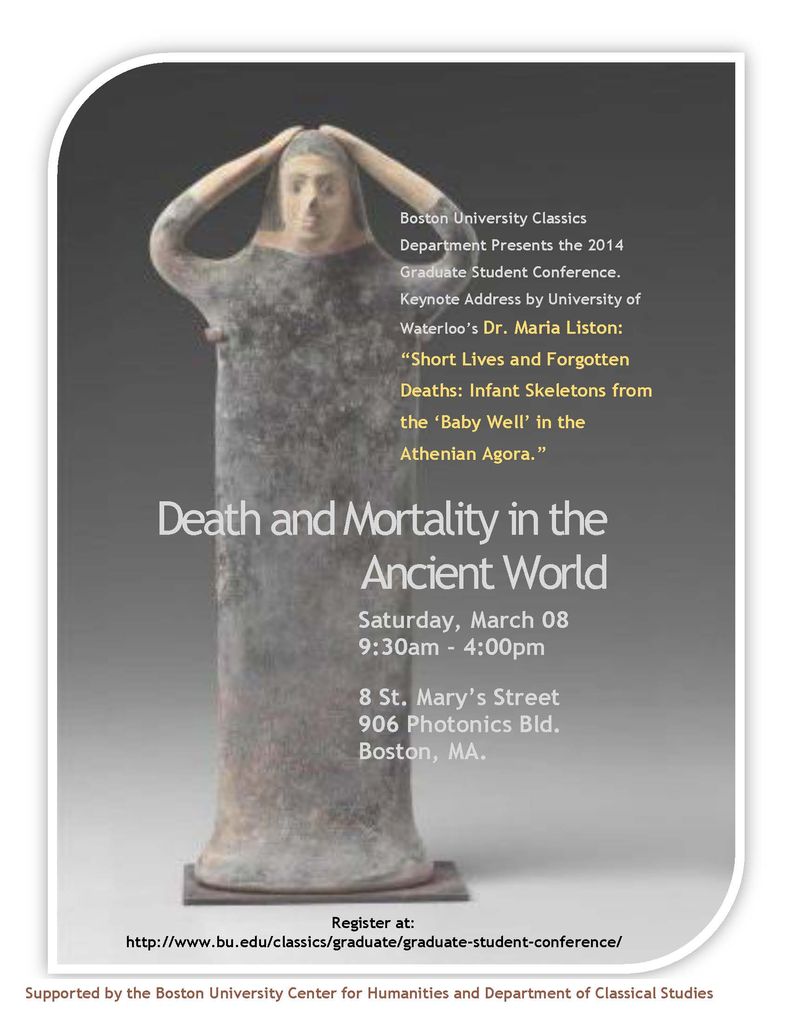 Sponsored by the BU Department of Classical Studies and the BU Center for the Humanities.
The sixth annual Graduate Student Conference of Classical Studies at Boston University is scheduled for Saturday, March 8, 2014 in the Colloquium Room (RM 906) of the Photonics Building.  Breakfast and lunch will be provided.
We are very excited to have Professor Maria Liston of the University of Waterloo deliver the keynote:
"Short Lives and Forgotten Deaths: Infant Skeletons from the "Baby Well" in the Athenian Agora"
Abstract: While it is commonly accepted that infant death was common in antiquity, the scarce archaeological and literary evidence rarely provides the opportunity to investigate the deaths of those whose time in the world was all too brief. A well excavated in the Athenian Agora excavations that contained almost 500 infant skeletons provides a chance to examine the causes and contexts of infant mortality and the rituals associated with these infant deaths.

The rest of the abstracts are available here. For more information on the conference, please contact Peter Blandino (pblandin@bu.edu) or Colin Pang (jbpang@bu.edu).
Conference Schedule
9:30-10:15: Registration and Continental Breakfast
10:15-10:30: Opening Remarks
10:30-11:30: Panel 1 (Richard Hutchins and Reina E. Callier)
11:30-12:30: Panel 2 (Ronald Orr and Kristin Harper)
12:30-1:30: Lunch
1:30-2:30: Keynote Address (Professor Maria Liston)
2:30-3:30: Panel 3 (William Smith III and Daniel Poochigian)
For directions to the conference, please visit http://www.bu.edu/maps/?id=763.  The Photonics Building is located at 8 Saint Mary's Street.  To register for the conference, please use the form below.