Creating a Climate Adaptive Boston at Annual #BUCPUA Keynote Lecture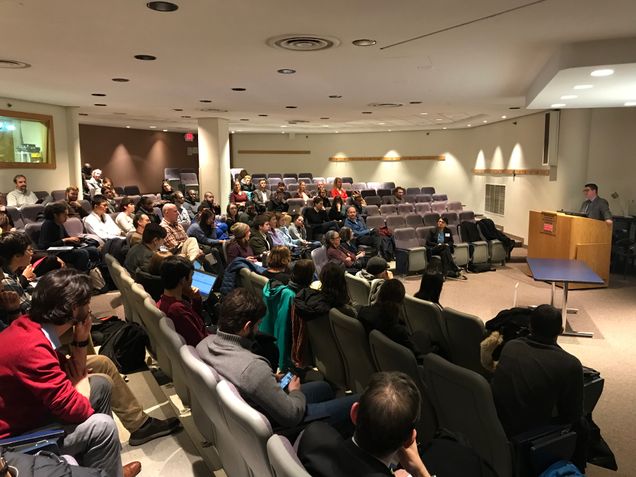 On Thursday, November 15th, members of #BUCPUA and the larger Boston University community gathered for the annual keynote lecture. This year, BU proudly welcomed Christopher Cook, Boston's Chief of Environment, Energy, and Open Space and Commissioner of Boston's Parks and Recreation, who spoke on "Building A Climate Resilient Boston: The Role of Boston's Open Space in Preparing for Climate Change."
Dr. Madhu Dutta-Koehler, Professor of the Practice and Director of the City Planning and Urban Affairs Program, opened with an introduction of the keynote lecture series and Mr. Cook. With the Program's focus on immersive learning and sustainable planning, the goal of these keynote lectures is to introduce key players in urban affairs and their various ways of impacting their cities. And as it seemed fitting that on the night of the first snowstorm in Boston, Dr. Dutta-Koehler reminded the audience that "The first step to change is showing up." She then described Mr. Cook as a leader for change in the community, pioneering solutions in issues of access and equity in Boston.
Mr. Cook began his lecture by illustrating the stakes of climate change and climate adaptability in our age, saying that "Earth is our only home, and you'd think we'd take a little bit better care of it." But by 2050, 800 million people in 570 cities worldwide will be vulnerable to sea level rise, which should especially alarm coastal cities like Boston. Boston is even unique in its risk, as much of the city sits on built land. Boston University's own campus sits on what used to be a tidal flat, which the city's builders adapted to suit their needs. And once again, the city faces a critical point that demands adaptation.
As Mr. Cook phrased it, "So much is at risk if we do nothing, but we are not doing nothing." First, he stated our ethical obligation to future generations and our neighbors to mitigate the effects of climate change. That means slashing the amount of carbon dioxide emissions that enter the atmosphere, enforcing Boston's bag ordinance, expanding the tree canopy, and giving people the option for cleaner and more affordably energy. At the same time as trying to slow the rate of climate change, Boston must adapt in order to survive the inevitable effects of climate change. Combining science and landscape architecture, plans for a climate ready Boston include adapted buildings, elevated landscapes, and co-benefits of water access and recreation. In Mr. Cook's words, city planners should aim to build "not a system of barriers, but of beaches, parks, and access." These adaptive elements should improve the city as a whole, not just stop it from sinking into the ocean.
Mr. Cook emphasized that the entirety of the Climate Adaptive Boston plan is about connections, and more thoughtfully moving people towards better spaces rather than creating new ones.
Open spaces are among the first tools a city can use to foster community, adapt to climate change, create livable neighborhoods with rising housing density, and increase health and wellness. The organization Parks First, with its mission to have every citizen within a 10 minute walk of a park, has already undertaken this goal. However, Mr. Cook stressed that quality and equitability of a park outweighs the mere existence of a park. This is especially important as climate change disproportionately affects socially vulnerable communities. Such neighborhoods have a reduced ability to relocate after climate disasters, lack affordable healthcare, and increased effects with heat islands food deserts. As such, Boston not only needs to adapt to climate change quickly, but also needs to do so equitably.
The keynote lecture was followed by a brief Q&A, where audience members posed questions relating to the role of insurance companies, eminent domain, microgrids, and gentrification. While the crowd seemed to share the anxiety surrounding the politics of climate change, Mr. Cook emphasized the need to surf the wave of urgency around adaptability. Acknowledging the tough road ahead, Mr. Cook ended the evening by assuring the audience that "There will be hits and misses, and there will be big hits and big misses- but the sustainability of our species is the one agenda that matters the most."
Hannah Dion, CAS '20