Program Accomplishments and Steps for the Future Highlighted at #BUCPUA Town Hall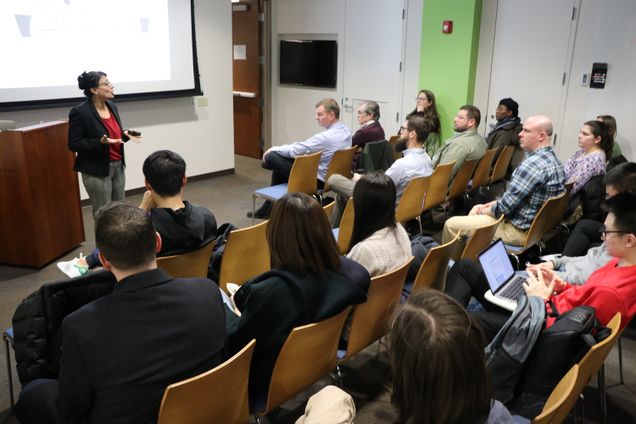 On Thursday, April 12th, members of the BU City Planning and Urban Affairs Program met to reflect on past achievements and discuss the goals moving forward within the Program. Dr. Dutta-Koehler led the presentation, focusing on expanding the reach of the Program both within the current student body and for the entire university. She emphasized the desire for the faculty and students of BUCPUA to become "trailblazers" at Boston University, leading the way to a more modernized future for the community.
The night partially celebrated the Program's recent achievements, including successfully establishing a new academic framework, content, and internship program. With heightened efforts in outreach, branding, and visibility, enrollment has grown substantially and shows no sign of slowing down. As the program continues to grow, Dr. Dutta-Koehler emphasized the creation of a strong community between the students and faculty, which increases student retention, recruitment, and satisfaction while strengthening the Program's quality itself.
For next steps, Dr. Dutta-Koehler outlined an expansion of program activities, including field specific accreditation, international collaborations, dedicated career services, student advising, and digital media coordination. Aiming to bring BU City Planning to the forefront of the technological movement, she shared plans to pursue online and hybrid course development while taking advantage of the new Metropolitan College building set to open in August. Before adjourning for coffee and Q & A, Dr. Dutta-Koehler made a call to "make no little plans" and push BUCPUA to lead the way to BU's brighter future.
Hannah Dion, CAS '20