For a Resilient Community, Ask Your Neighbor for a Cup of Sugar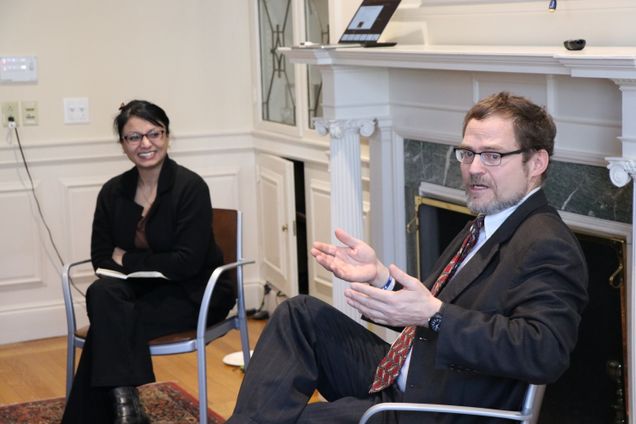 On Tuesday, February 13th, the Initiative on Cities hosted Cambridge City Councilman Craig Kelley for his seminar "Assessing and Planning for Neighborhood-Based Resiliency," focusing on how a community should best prepare itself against both unexpected shocks and ongoing stresses. Boston University City Planning and Urban Affairs Director and Associate Professor of the Practice Dr. Madhu Dutta-Koehler moderated the discussion afterwards, answering questions ranging from sustainability to the trouble of prioritizing crises.
Kelley was a part of Cambridge's Special Committee on Neighborhood-Based Resilience, a two year initiative to identify potential and current problems within Cambridge and how to attack them from multiple angles. The committee defined resiliency as "the capacity of individuals, neighborhoods, institutions, businesses, and systems within a city to equitably survive and adapt to persistent changes, chronic stress, and acute shocks." The committee stressed that resiliency extended to everyday problems like homelessness and drug abuse, not just preparation for the next hurricane or flood.
While the seminar discussed basic emergency tools for individuals like medical supplies, prescriptions, cash, and access to emergency responders, Kelley stressed the importance of trust in neighborhood connections. "In an emergency, it's better to rely on neighbors than the government" Kelley said, adding that people are more resilient when they join together. If one person has a first aid kit, another can jump start a car, and another knows CPR, a group of average citizens form a team that can help others more effectively than emergency responders in some situations. Before people can ask for CPR, though, they have to know how to ask their neighbors for a cup of sugar. Kelley noted the hesitation to walk up to the people who live around you and start a conversation, noticing that "getting to know your neighbors is the dance we don't know how to do." Even so, resilience requires this social cohesion more than any government policy.
With his experience on Cambridge's Special Committee on Neighborhood-Based Resilience, Kelley shared their strategies for tackling an abstract and crucial problem like resiliency. The team had to carefully define what they hoped to accomplish and how to do so, striving to be focused and intentional in their goal. They had to be willing to take risks and forgive failures, accepting that even if some ideas did not work perfectly, the money and time invested in their endeavor would prove worthwhile for generations to come.
Kelley also emphasized building for the future, and not getting "stuck in anachronistic ways of thinking and ways of doing things" when it comes to planning new elements to our cities. While preventative planning like investing in flood-resistant infrastructure and zoning to reduce pavement cover in relation to the urban heat island effect help prepare cities for long-term changes, we should strive for innovative solutions and co-benefits in everyday things. Kelley gave the example of bike paths with a permeable surfaces that allow both mobility and flood management in extreme weather, showing how building with resiliency in mind leads to cities that accommodate the changing needs of the population.
Kelley and Dr. Dutta-Koehler ended with a discussion on the role of planning in resilience, and the difficult choices that those in power must make for their city. Kelly seemed optimistic in the power of great ideas from great people, but wary of the task ahead of them and the minefield of politics. "This is the last day before tomorrow, whatever tomorrow might bring… and there is more depending on getting it right that you may realize."
Hannah Dion, CAS '20