Undergraduate Opportunities
This is an exciting time to explore careers in chemistry! The following opportunities are available for our undergraduates.
This page is constantly being updated. 
German Chemical Society (GDCh) Student Exchange Program
Successful applicants will join 12 student delegates and 3 senior chemistry who will fly to Bremen, Germany on March 16/17, 2019, and spend a week visiting academic and industrial research facilities, sharing the results of their research at the GDChJungchemikerforum Spring Symposium (all presentations will be in English), and engaging in a variety of social events with students from across Germany and around the world. Travel grants cover all transportation and accommodation costs.
Please note that students interested in applying for the program must do so by November 1, 2018. If you have any questions please email them to GEX@nesacs.org.
NSF Research Experiences for Undergraduates (REU) Program-Auburn University
Overview: We are excited to invite applications from undergraduate students to participate in a NSF supported summer REU program focused on the ecology of southeastern ponds, rivers, reservoirs and estuaries. Ten undergraduate students will work closely with a team of Auburn University faculty to explore aquatic ecosystems, complete a student-driven research project, participate in a variety of professional development and social activities, develop and lead an outreach project, and share their research findings in a symposium at the conclusion of the program. Participants will work closely with our mentors to develop an interdisciplinary project involving complementary fields, such as community ecology, limnology evolution, fisheries management, molecular biology, conservation, biogeochemistry, biodiversity and microbiology. The program will run from May 19 to July 28, 2019 (10 weeks).
Eligibility: All applicants who are interested in receiving NSF support must currently be a (1) U.S. citizen, U.S. national, or permanent resident and (2) an undergraduate freshman, sophomore, junior or senior graduating no earlier than September 2019 or a high school senior that will start their undergraduate education the following all semester after the REU program. We are especially encouraging students from traditionally under-represented groups in biology (i.e., African-Americans, Hispanic Americans, Native Americans, Alaska Natives, Native Hawaiians, other Pacific Islanders, students with disabilities, first generation college students, and U.S. veterans) as well as students from institutions with limited research opportunities (e.g., community colleges) or students in financial need to apply. The online application is available at http://wilsonlab.com/reu/application.html.
Support: Participants will receive a stipend ($5,500) plus housing and subsistence, financial assistance for travel to and from Aubur, and support for lab and field supplies. For full consideration, on-line applications must be received by February 1, 2019. 
International Students: Although not financially supported by our REU Site, we are also open to including a few strongly motivated and self-funded international students in our REU site research and professional development activities.
Contact Information: For more information about the REU site, visit http://wilsonlab.com/reu/ or contact Dr. Alan Wilson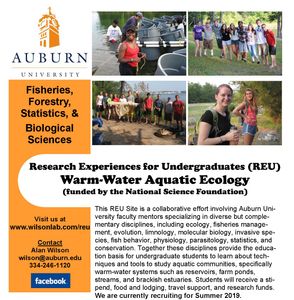 Undergraduate Research Opportunities Program (UROP)
The Undergraduate Research Opportunities Program (UROP) funds faculty-mentored research experiences for BU undergraduates in every discipline through a variety of awards. Our Spring 2019 application deadline is December 6 by noon. 
Any questions can be forwarded to: urop@bu.edu
Check them out on Facebook and Twitter for updates throughout the semester!
PennVet
Rabbits help lower cholesterol. Cats may lead to a breakthrough in the AIDS epidemic. And dogs have taught doctors new heart surgery techniques. Even lobsters help scientists understand Parkinson's disease. For over 100 years, animal research has helped wipe out diseases such as smallpox and polio while increasing the human lifespan by 28 years. Whether it's fighting epilepsy, finding a cure for Alzheimer's or making progress in brain and spinal cord trauma, the link between human health and animal health is absolutely crucial.
The University of Pennsylvania School of Veterinary Medicine provides an outstanding environment for the training of future veterinary scientists through our combined VMD-PhD program. It's an excellent way for you to continue your education while impacting the future of medicine for humans and all species. Who knows what today's research could do for future generations? Find out more by visiting www.PennVetPhD.org.

Go Grad Graduate Resources for Women in STEM
This guide provides numerous STEM scholarships for women going into grad school, tips for helping applications stand out, and support resources for women in the field. There is also a great expert Q&A that addresses common questions for women interested in STEM you can look at the guide here.
STEM Funding and Research Oppurtunities on PathwaysToScience.org
Paid Summer Undergraduate Research Placements:
Over 800 programs — NSF REU, NASA and other paid summer research opportunities for undergrads
www.pathwaystoscience.org/undergrads.aspx
For Financial Support in Graduate School:
Fellowships and graduate programs in a wide variety of STEM disciplines:
www.pathwaystoscience.org/grad.aspx
For tips on applying and associated resources:
www.pathwaystoscience.org/toolbox.aspx
For opportunities specifically in the Ocean Sciences:
www.pathwaystoscience.org/oceanscience.aspx
For opportunities specifically in Engineering:
www.pathwaystoscience.org/engineering.aspx