Tagged: Chemistry Day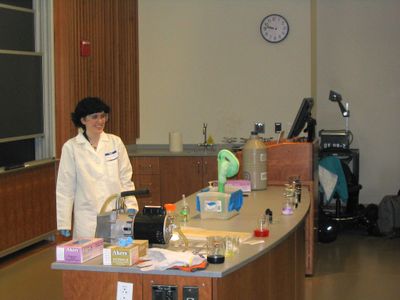 BU Chemistry hosted more than 100 students from the Boston Community Leadership Academy (BCLA) and English High School on May 4, 2012 for the fourth annual Chemistry Day. The morning long program began with a demonstration session given by BU Chemistry undergraduates and coordinated by Postdoctoral Faculty Fellow (PFF)  Dr. Seann Mulcahy. The demonstration explored pH, having fun with liquid nitrogen, synthesizing nylon, and making "Elephant's Toothpaste." After the demonstration, students spent time in our undergraduate teaching labs performing experiments in electrochemistry of metals (a variation on a CH 101 undergraduate lab experiment), electrolysis of salt water, and identifying antioxidants using glow sticks. These experiments were coordinated by PFF Dr. Katie Frato with assistance by BUWIC (Boston University Women in Chemistry) president Sarah Soltau and undergraduates. Students also attended tours of state-of-the-art chemistry research labs, seeing major instrumentation such as NMR spectrometers and GC/MS instruments and testing a glove box. During these tours, graduate student and postdoctoral researchers also described their work and what it was like to work in a research lab. The morning was capped off with a BBQ sponsored by the department. Photos from the event can be seen at the BU Chemistry Flickr site.
BU Chemistry Day is the culmination of a semester long outreach program created by BUWIC and coordinated by Liz Hirst (BUWIC Outreach Coordinator). During the semester, 2-3 BU students visited classrooms at BCLA, English High School, and Brighton High School every other week to mentor students, assist teachers with instruction, perform demonstrations, and coordinate hands-on experiments.
BU Chemistry is grateful to all of those involved, with special thanks to:
Outreach co-directors: Seann Mulcahy and Katie Frato
BUWIC:  Sarah Soltau (President) and Liz Hirst (Outreach Coordinator)
Teaching lab coordinator: Boris Bezverkhny
Undergraduate "Outreachers": Kyle Kahveci, Will Lyon (English High); Shama Patel, Nicole Buechler, Holly Johnson, Pragya Kalla, James Priestley, Christopher Neil, Zach Bogart (BCLA); and Nick Russo, Josh Nelson, Doug Allison (Brighton High)