Category: Outreach
As they finished out the sixth and final week of the 2018 GROW (Greater Boston Research Opportunities for Young Women) program, the 12 summer interns present their capstone to the six weeks of research conducted during a Poster Session held on Friday, August 10th in the Science Metcalf Building Lounge located on the first floor from 2:00 – 4:00 PM.

LERNet was created in 1998 to provide programming for K-12 students interested in pursuing the STEM fields and to encourage teacher development. In recent years, Brossman says, she has become more focused on young women, because they face a gender imbalance in STEM fields. The GROW program came into being this year after Deborah Perlstein, a CAS assistant professor of chemistry, came to Brossman looking for ways to broaden the impact of a research project so that it would satisfy a National Science Foundation (NSF) grant requirement. After her project was funded for one student, they decided to go further.

"For young women interested in careers in math and science, it's really important for them to have an opportunity to get in lab and see what that's like," says Perlstein. "It's also important for them to have the opportunity to see some (female) role models. That was important to me in choosing my career path.

"Brossman and Perlstein put together a program with funding from sources including Vertex, Pfizer, and other companies; LERNet; the chemistry and biology departments; CAS; BU's ARROWS (Advance, Recruit, Retain & Organize Women in STEM);  and existing NSF grants, all adding up to about $30,000. Despite a late posting of the application, in April, some 60 rising juniors and seniors from Greater Boston high schools applied. A dozen students were placed in BU chemistry and biology labs and assigned research projects and graduate student or post-doc mentors.

"I wanted to create an accessible program for local students who may not be able to afford some of the existing programs or who needed to work during the summer," Brossman says. "We wanted to give the students a stipend so we could eliminate any financial barriers to participation."

Here are some photos from this years Poster Session: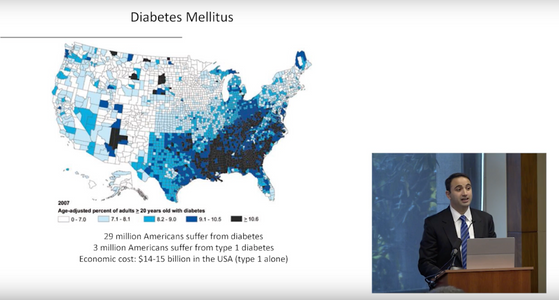 On October 5th, 2016 Dr. Arturo Vegas, who is a leader in the development of targeted therapies, discussed the recent progress to overcome challenges in the field including the development of automated insulin dosing, the production of mature insulin-producing cells from human stem cells, and new materials that can be used to prevent the rejection of transplanted insulin-producing tissue to the Coalition for the Life Sciences Congressional Biomedical Research Caucus.
Lynn Marquis, the Director of the Coalition for the Life Sciences Congressional Biomedical Research Caucus, invited Dr. Vegas to present his exciting research on Type 1 diabetes to a varied group of Congressional Representatives from across the country.
Type 1 diabetes, formally known as juvenile diabetes, is a disease characterized by the inability of patients to produce their own insulin hormone. It currently afflicts an estimated three million Americans. While a rigorous regimen of blood glucose monitoring coupled with daily injections of insulin remains the leading treatment, diabetics still suffer ill effects due to challenges with daily compliance and imperfect blood glucose control. The technologies Dr. Vegas is researching and discussed are bringing us closer than ever to mitigating this disease and improving the quality of life for these patients.
"The words of Sir Winston Churchill are applicable regarding the impact of their significant advances on a potential cure for diabetes: 'This is not the end. It is not even the beginning of the end. But it is perhaps the end of the beginning.'" –Stock et al. Cell Stem Cell 18: 431-433. 2016
Watch his presentation here: "Are We Close to a Cure for Type 1 Diabetes?" – Arturo Vegas Presents to CBRC

In June of 2012, the Jasti Research Group hosted a group of students from the Steppingstone Foundation as part of Professor Jasti's chemistry and nanotechnology outreach commitment. The Steppingstone Foundation is a non-profit organization that develops and implements programs which prepare urban schoolchildren for educational opportunities that lead to college success.
The students learned about the nanoscale world of matter and how nanotechnology research is going to be particularly important for society in the upcoming years. They also viewed a number of demonstrations that illustrated major concepts of chemistry, such as catalysis and the process of dehydration. The demos ended with a bang – literally – as the students saw how a Pringles® Chips can could be turned into a rocket, a live demonstration of how combustion works.
The students also had the chance to participate in hands on activities. In the lab, the kids synthesized Nylon 6-6, while simultaneously learning about polymers and how abundant and important they are to modern society. The students were challenged to a little friendly competition to see who could synthesize the longest piece of Nylon. The group that won produced a piece of nylon that was nearly 10 feet in length!
The day wrapped up with a little hang time and lots of pizza.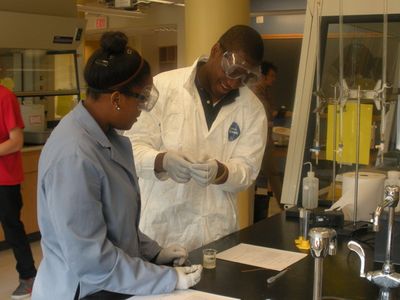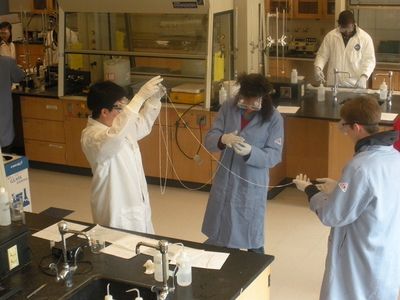 Professor Karen Allen and Dr. Jeff Bacon, staff crystallographer of the Chemical Instrumentation Center (CIC), demonstrated the power of X-ray crystallography to local area high school students as part of an American Crystallographic Association (ACA) outreach program.  The scientists hosted two groups.  In March, 12 students from Acton-Boxborough Regional High School and their teacher, Aaron Mathieu visited; and in May, 15 students from Prospect Hill Academy and their teacher, Katie Boiteau visited. Both groups had grown their own crystals of lysozyme, prepared in their school laboratory or at CityLab, a fully equipped biotechnology laboratory in the BU School of Medicine that is available to Middle and High School students, educators, and other groups.
Each group learned about the history and theory of X-ray crystallography in the determination of protein structure from Professor Karen Allen, one of the world's leading crystallographers.   After a one-hour classroom discussion, the students brought their crystal samples to the CIC's X-ray laboratory for a practical demonstration of the experiment with Dr. Bacon. The students examined their crystals under a microscope, and one crystal from each group was mounted on the instrument for a unit cell determination.
Interested students have been invited to the ACA's annual meeting, to be held in Boston at the end of July, where they will have the opportunity to present a poster and to learn more about structural biology. The program is an outreach activity of the ACA Young Scientists' Special Interest Group, and was supported by a donation of crystallization supplies from Hampton Research.
Additional photos can be seen on the BU Chemistry Flickr site.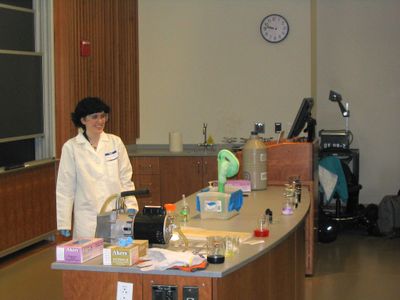 BU Chemistry hosted more than 100 students from the Boston Community Leadership Academy (BCLA) and English High School on May 4, 2012 for the fourth annual Chemistry Day. The morning long program began with a demonstration session given by BU Chemistry undergraduates and coordinated by Postdoctoral Faculty Fellow (PFF)  Dr. Seann Mulcahy. The demonstration explored pH, having fun with liquid nitrogen, synthesizing nylon, and making "Elephant's Toothpaste." After the demonstration, students spent time in our undergraduate teaching labs performing experiments in electrochemistry of metals (a variation on a CH 101 undergraduate lab experiment), electrolysis of salt water, and identifying antioxidants using glow sticks. These experiments were coordinated by PFF Dr. Katie Frato with assistance by BUWIC (Boston University Women in Chemistry) president Sarah Soltau and undergraduates. Students also attended tours of state-of-the-art chemistry research labs, seeing major instrumentation such as NMR spectrometers and GC/MS instruments and testing a glove box. During these tours, graduate student and postdoctoral researchers also described their work and what it was like to work in a research lab. The morning was capped off with a BBQ sponsored by the department. Photos from the event can be seen at the BU Chemistry Flickr site.
BU Chemistry Day is the culmination of a semester long outreach program created by BUWIC and coordinated by Liz Hirst (BUWIC Outreach Coordinator). During the semester, 2-3 BU students visited classrooms at BCLA, English High School, and Brighton High School every other week to mentor students, assist teachers with instruction, perform demonstrations, and coordinate hands-on experiments.
BU Chemistry is grateful to all of those involved, with special thanks to:
Outreach co-directors: Seann Mulcahy and Katie Frato
BUWIC:  Sarah Soltau (President) and Liz Hirst (Outreach Coordinator)
Teaching lab coordinator: Boris Bezverkhny
Undergraduate "Outreachers": Kyle Kahveci, Will Lyon (English High); Shama Patel, Nicole Buechler, Holly Johnson, Pragya Kalla, James Priestley, Christopher Neil, Zach Bogart (BCLA); and Nick Russo, Josh Nelson, Doug Allison (Brighton High)