Alumni News and Events
When we needed a graphically compelling representation of the Periodic Table for the Chemistry front office, we turned to Professor Dan Dill.  In addition to his theoretical and physical chemistry expertise, Professor Dill is an accomplished photographer, who received a Kodak Award in 2006.  Here is his recounting of the process:
"I received an e-mail from our Chair, John Straub, in which he related designer Kristine Stoller's idea for a periodic table in the new office. John ended his message with:
I was thinking of the very nice Periodic Table that you created years ago, and that has been much used in our Department.
The tools I used to create that original Periodic Table have been lost in the sands of digital time, and so it was necessary to begin anew, using the latest version of Adobe Illustrator.
The first step in the new design was to  settle on the format of the element boxes. The box for Xenon shows what we settled on, using the typeface Adobe Myriad Pro. (The dark chevron indicates that at room temperature Xenon is a gas.)
With that done, the next step was to assemble the elements into the traditional periodic table format, adapted to the dimensions of the wall in the new chemistry office.  It was then that Kristine mentioned her plan to have the table printed on six resin panels. Her innovative concept allowed us to break with convention by partitioning the table itself into six portions.

At this point we thought that the only thing left to do was to check and recheck all entries for errors.  Everyone in the department enthusiastically helped with this task.  Just as we were completing it, the International Union of Pure and Applied Chemistry published its technical report, "Atomic weights of the elements 2009″ (Wieser & Coplen, 12 December 2010).  It recommended that atomic weights for Boron, Carbon, Chlorine, Hydrogen, Lithium, Nitrogen, Oxygen, Sulfur, Silicon and Thallium span intervals (shown, for example, for Nitrogen as 14.00643–14.00728), due to variation in isotopic composition of their stable isotopes.
We consider it good fortune to have been able to incorporate these latest recommendations into the table.  After many new rounds of proof reading, the completed design was printed on the resin panels displayed in the office.
In March 2011, John Miecznikowski, Ph.D., Assistant Professor of Chemistry, received Fairfield University's Teacher of the Year Award. He was nominated by the Fairfield student body and selected from among 75 undergraduate professors.
Professor Miecznikowski began his teaching career as a Postdoctoral Faculty Fellow (PFF) in the Boston University Department of Chemistry (2004-2007). At BU, Dr. Miecznikowski taught "General Chemistry" (CH101) and "Inorganic Chemistry" (CH 232).
His research was conducted in Professor John Caradonna's laboratory and focused on the development, synthesis, and characterization of ligand precursors and iron, gallium and zinc model complexes of phenylalanine hydroxylase and other mononuclear nonheme enzymes with N and O atoms bound to the metal center.
Professor Miecznikowski started his tenure track teaching position at Fairfield in 2007.
In April, Chemistry Professor Emeritus Morton Z. Hoffman was invited by Concordia University Irvine to deliver an International Year of Chemistry (IYC) lecture, "The IYC: Our Life, Our Future," as well as to serve as a consultant to the Chemistry Department, at Concordia, as they developed their 10-year strategic plan. While in the "the neighborhood," he caught up with two BU alumnae, Professor Catherine Clark (GRS 1996), whose thesis research he directed, and Ms. Jenny Talbot (CAS 2004), who was a student in his CH111/112 class (2000-01) and served as a PLTL workshop leader (2001-02).
Alumna  Catherine Clark is now Professor of Chemistry and Associate Dean of the School of Earth and Environmental Sciences in the Schmid College of Science of Chapman University in Orange, CA.
Alumna Jenny Talbot did undergraduate and post-baccalaureate research with Dr. Adrien Finzi in the Biology Department on forest ecology and biogeochemistry. She will receive her Ph.D. from the Department of Ecology and Evolutionary Biology at the University of California Irvine next month, and will begin a postdoctoral appointment at the University of Minnesota at the end of the summer.
Bassam Z. Shakhashiri, Professor of Chemistry and the William T. Evjue Distinguished Chair for the Wisconsin Idea at the University of Wisconsin-Madison, was elected 2011 ACS President-Elect. He will serve as ACS President in 2012 and Immediate Past President in 2013.   The ACS currently has more than 161,000 members. It is the world's largest scientific society and one of the leading sources of authoritative scientific information.
Dr. Shakhashiri received his B.A. degree in chemistry from Boston University in 1960 (followed by an M.Sc. and Ph.D. in Chemistry from the University of Maryland), and is a recipient of a Boston University Alumni Award.
An international leader in chemistry education, as ACS president, Dr. Shakhashiri's aims include; enhancing the qualify and supply of chemistry teachers, increasing public and private support for research and education, promoting green chemistry and sustainable development, fostering international cooperation and collaboration in research and education, improving scientific communication within and among various cultures.
One of the boons of having the ACS national meeting in  Boston is that it allows us to host a reception and reach out to friends, old and new.  Over 150 people attended our Monday, August 23rd reception, co-hosted by BU Chemistry and the BU Alumni Association, which was held during the 240th National Meeting at the Westin Waterfront.  The guests represented alumni, friends, and current faculty and students, who were welcomed by the College of Arts and Sciences Dean, Dr. Gina Sapiro.   Dean Sapiro kept her comments light and short, touching briefly on the Department's many accomplishments in 2010-2011 and saying how much Chemistry has contributed to the University's standing both in education and research.  Photos from the reception can be found here: http://www.flickr.com/photos/buchemistry/sets/72157624818780906/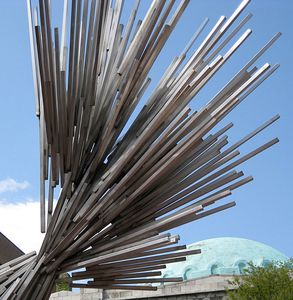 The Chemistry Department invites alumni, faculty, and students to a reception during the Fall 2010 National Meeting & Exposition of the American Chemical Society in Boston, MA. Join us for an evening of light appetizers, drinks, and good conversation and a chance to catch up with friends at the Westin Waterfront Hotel beside the Boston Convention Center.
To attend, please register at the BU Alumni Website before August 16th.
Date
Monday August 23rd 2010
Time
5:30 PM to 7:30 PM
Location
Westin Boston Waterfront
Harbor Ballroom III
425 Summer Street
Boston, MA 02210
The Westin Boston Waterfront is beside the Boston Convention Center and a short walk from the World Trade Center Stop on the MBTA Silver Line.
Questions?
Please e-mail Katinka Csigi.
The Center will provide the physical framework for a new curriculum dedicated to cultivating chemical intuition and encouraging independent investigation.  With this curriculum, we will be able to immerse students in the process of collaborative innovation and discovery.  To do so, we will need to provide them with advanced scientific instrumentation and integrated modern laboratory systems. Here is where we need your help.  To achieve our ambitious goal, we need to renovate 6000 square feet of space on the third floor of the Metcalf Center for Science and Engineering at a cost of $7 million.  To learn more about the project, please click here.  If you have questions or would like to make a donation, please contact Christopher Johnson in the Office of Development and Alumni Relations or if you wish to contact Chemistry directly, please contact Katinka Csigi.
If you can help us realize our dream, please know that you're building more than a lab. You're building the most innovative organic chemistry curriculum in Boston: as a Chemistry alumnus, that should make you very proud.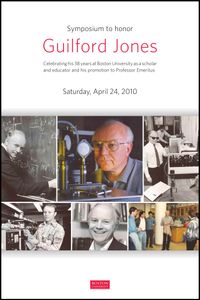 Over 200 people turned out to honor Professor Guilford Jones on his retirement and his contributions to Boston University and the Department of Chemistry.  At a reception and dinner on Friday, April 23, in the BU School of Management, former students and postdocs from the Jones Group mingled with Chemistry and University colleagues and family and friends and partied into the wee hours – actually just until 11 pm, rushing to get their cars before the SMG Garage closed!  The program of tributes and song was MC'd by Professor Larry Ziegler and featured speakers who paid tribute to Professor Jones' role as scientist, entrepreneur, mentor, friend, and father.  Highlights of the evening were a musical medley by members of Professor Jones' choral group and a musical skit by Professor David Coker, accompanied by his backup group, Professor Karen Allen, Ms. Sarah Coenen, and Ms. Lauren Montague.  We will shortly upload photographs of the event, so that you can relive the fun if you were there and share in it if you were not.  In the meantime, here is a link to the terrific video summarizing his life and career:  
Gil Jones:  Scholar, Entrepreneur, and Friend
.  We have established a fund to create the "Jones Lecture in Photochemistry" in his honor.  If you would like to make a contribution, please
go here
.
Nothing makes us prouder than being able to to claim Bassam Z. Shakhashiri, Ph.D, Professor of Chemistry at the University of Wisconsin-Madison as one of our own! He received his B.A. in Chemistry from BU in 1960. It launched him on a distinguished academic career that includes an M.Sc. and Ph.D from the University of Maryland, being named the first holder of the William T. Evjue Distinguished Chair for the Wisconsin Idea, and receiving seven honorary doctoral degrees. He is a distinguished scientist whose ability to explain and demonstrate science with charisma and passion is legendary. He is well known internationally for his effective leadership in promoting excellence in science education at all levels and for his development and use of demonstrations in the teaching of chemistry in classrooms, as well as in less formal settings such as museums, convention centers, shopping malls and retirement homes. The Encyclopedia Britannica cites Shakhashiri as the "dean of lecture demonstrators in America."