Chemistry Receives NSF REU Site Award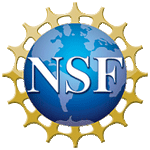 The National Science Foundation's Research Experience for Undergraduates Program supports active research participation by undergraduate students in any of the areas of research funded by the National Science Foundation. For the second time, BU Chemistry has received one of these coveted site awards. Focused on the theme "Fundamental Research in Chemistry Addressing Problems in Biology," the 3-year program (2012-2015) is led by Professors John Snyder (Principal Investigator) and Linda Doerrer (Co-PI).

Our site will give 30 undergraduates (10/summer) the opportunity to engage in cutting edge, basic chemical research projects that address biological problems. Starting in the summer of 2013, REU students can choose from among 27 groups in BU's Departments of Chemistry, Biology, or Physics. They will work in newly renovated laboratories, have access to the synthetic and computational resources of BU's leading research centers, and be trained on state-of-the art instrumentation. The goal of our program is to provide undergraduates from 4-year colleges and community colleges who have limited or no research opportunities at their home institutions with an intensive, interdisciplinary research experience. Our demographic aim is to have at least 50% of the students be from underrepresented minority groups and at least 50% to be women. The program will also give preference to veterans applying from the target institutions. By fully integrating the REU students into the daily life of the laboratories and through mentoring by faculty, graduate students, and postdoctoral research associates, the REU students will fully experience the breadth of chemistry research and be motivated to pursue careers in science.
This program is our second site award. The first was from 2007-2010 and hosted 36 students, the vast majority of which have gone on to pursue advanced degrees in the sciences.