Chemistry's Renovated Front Office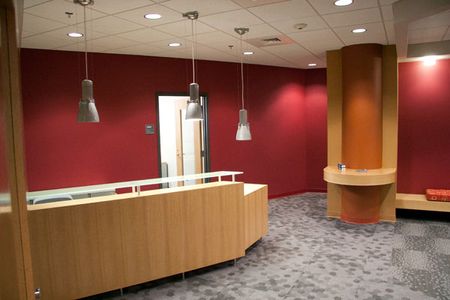 Chemistry friends and alumni are invited to view our completely redesigned and renovated front office by clicking here or — better yet — by visiting.  While looking radically different, the new front office fits seamlessly into the original footprint. The College of Arts and Sciences (CAS) commissioned the design from Kristine Stoller and Alan Westman (LEED Green Associate at KSID, LLC) and the construction from JK Blackstone. Led by the Chair of Chemistry, Professor John Straub, and the Director of Operations, Paul Ferrari, staff members were consulted throughout the process and their recommendations and requests informed the new design.
The design highlight of office is the wall-mounted periodic table designed by Professor Dan Dill. Suggested by Kris Stoller, the image brilliantly connects the office to "Chemistry" and immediately points to the mission of the Department. So how did Dan Dill design his periodic table? Read on!