'This I Believe' 2020
Graduates Alec Vaughn, Cornelia Johnson, Hillary Santiago Alos, and Thomas Batson deliver the annual "This I Believe" meditations on what their faith has meant to them while studying at Boston University. The remainder of the recording is a re-broadcast from previous services. The Marsh Chapel Choir sings "Ascendit Deus" by Peter Philips and "God is seen" arr. by Alice Parker along with service music and hymns. Marsh Chapel, Boston University. The Rev. Dr. Robert Allan Hill, Dean.
"Each year since 1982, Marsh Chapel staff have invited members of the graduating class to share personal reflections on their spiritual journeys at BU with the congregation during "This I Believe Sunday."
Traditionally, the event is held the Sunday before Commencement. Students submit an outline of their talk and the chapel staff select several speakers. This year, the COVID-19 pandemic, which has forced the chapel to move its weekly interdenominational services virtually, mandated a number of changes.
The special service was moved to Sunday, May 17, the scheduled date of the Class of 2020's Baccalaureate service and Commencement exercises, which have been postponed to a yet-to-be-scheduled date. "We chose to feature graduating students this day in recognition of their official graduation from BU," says Dr. Jessica Chicka (STH'07,'11,'19), University chaplain for international students. And because of the sudden shift to remote teaching and learning, chapel staff weren't able to ask for submissions from graduating students this year. Instead, they invited four students who have been actively involved as Marsh Chapel associates to offer reflections: Tom Batson (CAS'20, CFA'20), Celie Wade Johnson (Wheelock'20), Alec Vaughn (Pardee'20, STH'23), and Hillary Santiago Alos (STH'20), who is graduating with a master's in pastoral ministry."
excerpt from "Marsh Chapel's Annual "This I Believe Sunday": Grads Share Journeys of Faith at BU" by John O'Rourke.
Tom Batson (CAS'20, CFA'20)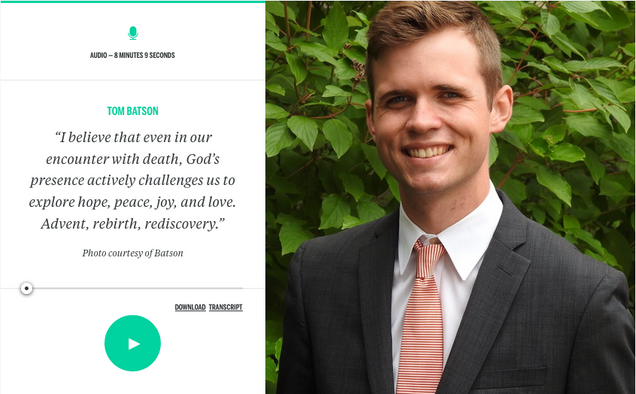 Celie Wade Johnson (Wheelock'20)

Hillary Santiago Alos (STH'20)

Alec Vaughn (Pardee'20, STH'23)