Sermon Archive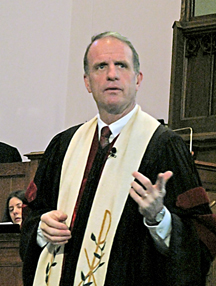 Marsh Chapel is especially well known for its homiletical stature. From the Rev. Dr. Howard Thurman through our present dean, the Rev. Dr. Robert Allan Hill, Marsh Chapel preaches a gospel of grace and freedom, a responsible Christian liberalism.
Sermons are available on the sermon archive blog along with the audio clip. Archival material back through the tenure of the Rev. Dr. Robert Cummings Neville is in process of being formatted and added to this blog.
To see only Dean Hill's sermons, including sermons from his tenure at Asbury First United Methodist Church in Rochester, New York, see his blog. Similiarly for Br. Larry's preaching.
For audio of the sermon in the context of the entire liturgy, please listen to the podcast for the week, also available on the links to the right.