The 38th Annual Service of Lessons and Carols
Friday, December 9 at 6 p.m.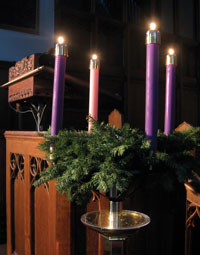 Join the Boston University community for the thirty-eighth annual Service of Lessons and Carols. The liturgy takes as its model the famous service from King's College, Cambridge and is one of the most popular university events of the year.
Led by the Rev. Dr. Robert Allan Hill, with music provided by the Marsh Chapel Choir, Seminary Singers, and Majestic Brass.
The service will be repeated on December 18, 2011 at 11am.