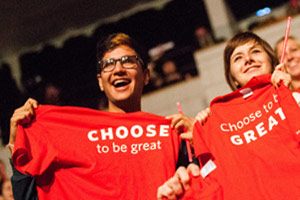 For a century, the good that is done in your name will be doubled.
Generous donors to Boston University have already begun to take advantage of BU's newest and most dramatic philanthropic tool, the Century Challenge, introduced earlier this year.
First, the rationale: The University inaugurated the Century Challenge to stimulate donor interest in supporting scholarships for undergraduates. This was a response to the fact that, while BU continues to embrace the notions of inclusiveness and diversity—reflecting the world around us—it is becoming more difficult each year to provide the level of financial assistance that students need.
Doubling your good
About half of BU students who enter the University each year cannot meet the full cost of their educations; so BU puts together financial aid packages for them that maximize grants and minimize loans. But this still leaves the average BU student with a debt that exceeds $31,000 upon graduation. The recent recession has exacerbated the problem, putting many families under severe financial pressure.
Under the terms of the Challenge, BU provides a one-to-one match of the payout distributed from all new endowed undergraduate scholarship funds of $100,000 or more for 100 years, thereby doubling the good that is done in the donor's name for a full century. The match will apply to the first $100 million received through the Challenge.
Since its founding, BU has been committed to making sure that talented students from all economic backgrounds have access to its extraordinary academic resources. Scholarship assistance is the most direct route to making sure this happens and that a BU education will be affordable for students and their families.
But there's added importance to the Century Challenge: BU competes for the best students with many of the finest universities in the country. Being able to provide more generous support for students gives BU significantly greater competitive strength.
The fund has already garnered more than $7.2 million, with additional gifts in the offing.
Century Challenge donors
Among the early Century Challenge donors are:
Michael T. Lee (SMG'86), whose gift of $1.5 million will support undergraduate students at the BU School of Management from Hong Kong and mainland China. Mr. Lee has also provided $1 million to establish a scholarship endowment for graduate students at SMG, again from Hong Kong and mainland China.
Anne and Todd Klipp, who have established the Dr. Beverley D. and Clara M. Causey Scholarship Fund in memory of Mrs. Klipp's parents. The Klipps were among the first donors to the Century Challenge. Todd Klipp is senior vice president, general counsel, and secretary of the Board of Trustees.
Michael Lyons (SMG'91), whose Patrick and Margaret Lyons Scholarship Fund at the School of Management was established in honor of his parents, in gratitude for the high priority they placed on their children's educations.
Century Challenge gifts for endowing scholarships are invested by the University, and the payout on those endowments is determined annually. Because payout rates are fixed conservatively—to protect against inflation—endowments tend to grow over time. A $100,000 endowment established today is likely to be worth more than $5 million in 100 years.