Jack Spivack: Practicing the Art of Giving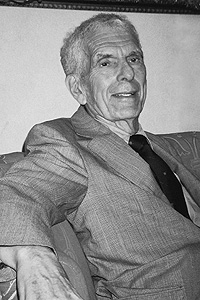 When Jack Spivack heard that his nephew, Kenneth Cohen, was struggling during his first few weeks at Boston University School of Medicine, he decided to pay a visit.
"What I found," he recalls, "was that this young man—a recent summa cum laude graduate of Princeton, where he had won all sorts of honors— was overwhelmed; he was frozen in fear."
Convinced that Kenneth's situation wouldn't improve without an intervention, Spivack put his expertise as a value engineer to work. "Help was required," he says. "I contacted the dean, who promptly assembled a three-man team of faculty members to assess the situation." When they sat down together to talk things through, Spivack experienced firsthand one of the best qualities of Boston University School of Medicine. "The faculty members listened with genuine interest and empathy," he recalls. "They assured me that in three weeks the problem would be solved—and so it was. It was not just an institution; it was a family."
A deep impression
These meetings not only helped Kenneth (MED'81), but they made a deep impression on Spivack. "The sincere warmth and genuine understanding had a dramatic impact on me," he recalls. "I had a strong impulse to make a gesture of appreciation." When his company began to issue public stock, Spivack made a gift of several thousand shares to the School of Medicine.
"It turned out that this was a major gift, but something more important occurred," Spivack says, "a change in personal identity. This gift provided me with a profound satisfaction I had never known. It turns out that the old adage 'it is better to give than receive' contains a profundity that must be experienced to understand its full implications."
Supporting a passion
School leaders were as impressed by Spivack as he was by them. Accordingly, then BUSM Dean (and subsequently BU President) Aram Chobanian (Hon.'06) invited Spivack to become a founding member of the MED Board of Visitors—and spoke with him about additional ways of supporting the School. Together, they hit upon an area that most intrigued Spivack: neurology. "I've had the opportunity to observe children of friends and relatives, and I'm convinced that the early, formative years of a child's life profoundly determine behavior in later years," he explains. "I've always been intrigued by how this happens neurologically."
Spivack's enthusiasm for both neurology and the School of Medicine encouraged him to continue giving. Through his Boston University trust fund he has given $7 million to establish a center for the behavioral neurosciences, which BUSM has named in his honor.
"I am convinced that the center has great potential for coming up with answers to age-old questions," Spivack says. "The people involved are enthusiastic, dedicated, talented, and quite professional; there is so much promise of progress here."
Spivack was a founder of the Vie de France Corporation and worked for both the U.S. State Department and the Litton Corporation. He continues to support the School of Medicine each year.
"After I bestowed my first gift, I came to realize the sublime satisfaction and profound rewards of philanthropy," recalls Spivack. "It's a special feeling that stays with you the rest of your life."