Matthew Parfitt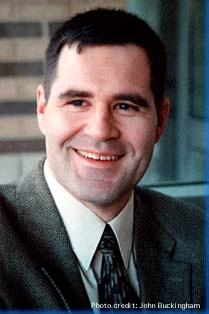 Chair, Division of Rhetoric
Associate Professor of Rhetoric
Education:
BA, MA English, University of Toronto
PhD English, Boston College
Research interests: Composition, literary theory, British literature 1880–1930, gender studies, World War I, Robert Frost
I came to Boston University in 1992 with a doctorate in English literature, and although I had taught writing before and enjoyed it, I wasn't quite sure that I wanted to make a career of it.  But teaching the CGS Rhetoric courses in an integrated, team-taught core curriculum program has proved to be endlessly interesting and challenging, and I now see myself as primarily a teacher of academic writing.
In February, 2012, I published a rhetoric for student writers entitled Writing in Response (Bedford/St. Martins) which has already been adopted as a course text in writing courses and programs all over the US.  It places a strong emphasis on critical reading as the first stage in the writing process, and offers students a wide variety of strategies for "responsive reading."  It also provides guidance not only in writing the traditional argument, or "thesis-driven," essay but also in writing the less traditional exploratory, or "question-driven," essay.  The exploratory essay is a wonderful way to approach academic writing as an intellectual adventure, or journey of discovery, and is particularly well-suited to a liberal arts program with an emphasis on critical reading, writing and thinking across the disciplines.
With Regina Hansen (also of CGS) and Stephen Dilks (U of Missouri, Kansas City), I published a composition reader entitled Cultural Conversations: The Presence of the Past (Bedford/St. Martins, 2001).  It starts from the premise that first-year college students should participate in the conversations of the academy; each chapter is structured to enable students to do so and contains three sections:  (1) a historical text by a major author (e.g., Gandhi, Woolf, Freud); (2) contextual materials that help us understand the world that the historical text was addressing, and (3) a group of essays that suggest how the historical text is being used, extended, and argued with today.  Student writing represents a sort of "fourth section," as they become the latest but not the final voices in these still-unfolding conversations.
With Dawn Skorczewski (Director of Writing at Brandeis University), I recently put together a collection of essays called Conflicts and Crises in the Composition Classroom—And What Instructors Can Do About Them (Heinemann/Boynton-Cook, 2003).  The essays in this book, intended for teachers of writing, concern difficult or awkward moments in composition classes.  Dawn and I are currently hard at work on a reader for composition courses.
I've been working on a book entitled Comrade Love, concerning same-sex love and friendship in literature of the World War I era—not only the famous war poems but novels like D. H. Lawrence's Women in Love and Woolf's Mrs Dalloway, and memoirs like T. E. Lawrence's Seven Pillars of Wisdom and Robert Graves's Good-bye to All That. My premise is that writers of this period were only just beginning to think about sexuality and gender in the way we do today, and as a result they sometimes thought about love, friendship, and sexual identity in more creative and nuanced ways than a later age of more rigidly defined roles is able to do.
How does all this work tie together?  Maybe it doesn't.  But having written my PhD dissertation on hermeneutics (interpretation theory), I keep coming back to certain ideas I explored back then.  Reading, for academics young and old, is a creative activity; we read in order to think and rethink, imagine and reimagine possibilities.  Writing is just a continuation of this process and an expression of it.  When we read a text written by someone else, whether from our time or a different time, we endeavor to look at the world through another's eyes, eyes not our own, and imagine a different way of seeing and thinking.  To me, this represents the great challenge and excitement of reading and writing, and of teaching reading and writing.
In 2002 Professor Parfitt won the Peyton Richter Award for interdisciplinary teaching.