Christopher Coffman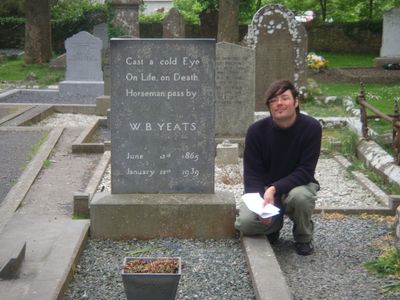 Lecturer of Humanities
Education:
BA English and Psychology, Franklin and Marshall College
MA English Language and Literature, The Catholic University of America
PhD English Language and Literature, The Catholic University of America
Teaching interests: Literature, film, philosophy and rhetoric
Research interests: Contemporary American fiction and poetry
Selected publications:
Books
Ed. (with Natalie McKnight, Cheryl Boots, and Christopher Fahy). Framing Films. Dubuque: Kendall, 2009. Print.
Articles
"Toward a Structural Stylistics of Exhibition: Space, Rhetoric, and Institutional Legitimization." jac 32.1-2 (2012): 251-78. Print.
"Bogomilism, Orphism, Shamanism: The Spiritual and Spatial Grounds of Against the Day's Ecological Ethic." Pynchon's Against the Day: A Corrupted Pilgrim's Guide. Ed. Christopher Leise and Jeffrey Severs. Newark: U of Delaware P, 2011. 91-114. Print.
"Barth contra Joyce: Metafiction, Social Satire, and LETTERS." Critical Engagements 3.2 (2009): 215-39. Print.
"'Swann's Way.  Basic Training': Interpretation in James Merrill's Late Collections and À la recherche du temps perdu." Comparative Literature 61.4 (2009): 400-15. Print.
"Taming Paranoia: Underground Cinema and the Domestication of the Political Thriller in McElroy, DeLillo, Wallace, and Danielewski." Genre: Forms of Discourse and Culture 42.3-4 (2009): 119-43. Print.
"From Verbum to vox: W. H. Auden's The Sea and the Mirror and the Development of James Merrill's Humane Aesthetic." Symbiosis 12.2 (2008): 115-28. Print.
Other professional activity and/or awards:
Peer Reviewer, Orbit: Writing Around Pynchon, 2011; Plenum: The South Carolina State University Journal of Interdisciplinary Studies, 2010 to 2011.
Conference presentation: "Postmodern Sacrality and Paranoiac Epistemology in Thomas Pynchon's Detective Fiction," American Literature Association Symposium: Mysterious America: Crime Fiction in American Culture, Georgia Southern University, GA, September 2011.
"Critical Hermeneutics, Weak Theology, and Autobiographical Prolepsis: William T. Vollmann's Moral Calculus and Symbolic History," Modern Language Association Convention, Los Angeles, CA, January 2011.