News & Events
2014
EVENTS
JULY 11 & 12, 2014 (Friday & Saturday) at CGS, 871 Commonwealth Avenue, Katzenberg Center, (3rd Floor)
Victorian Boston Institute. The presenters include the following: Millard Baublitz, Associate Professor in the Division of Natural Sciences and Mathematics, will present "Victorian Era Demonstrations in Electricity and Magnetism: Real-time Recreations of Experiments by Victorian Scottish and English Scientists"; Cheryl Boots, Senior Lecturer in the Division of Humanities and author of Singing for Equality: Hymns in the American Indian Rights and Antislavery Movements, 1640-1855, will present on "British Hymns and American Abolitionists, the Mid-century Sounds of Social Protest in Boston"; a Mount Auburn Cemetery guide will lead a field trip at Mount Auburn Cemetery to
discuss how 19th century Boston created urban open spaces; and Kathleen Martin, Senior Lecturer in the Division of Social Sciences and author of Hard and Unreal Advice: Mothers, Social Science, and the Victorian Poverty Experts, will present "A Science of Society: Victorian Reformers and the Quest for Scientific Validity." Victorian Boston will also include the "Electric Edwardians" movie with music.
Click here to register for "Victorian Boston:  An Interdisciplinary Institute."
For additional information, please go to our Interdisciplinary Institutes page.
NEWS
Congratulations to our own Meg Tyler on her forthcoming book of poems.
***************************************************************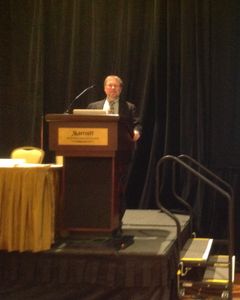 John Regan, CGS Division of Rhetoric, was an invited speaker at American Association of Colleges and University's Employer-Educator Forum in Boston on October 28 at the Marriott Copley Place. He presented on general education and assessment at CGS. The forum brought together educators, employers, policy makers, and civic leaders from the New England region including college presidents and corporate CEOs to explore specific ways that educators and employers can collaborate to better provide students with skills and knowledge needed for their long-term success.