News & Events
2014
EVENTS
FEBRUARY 6, 2014 (Thursday) at 4 p.m., CGS, 871 Commonwealth Avenue, Room 511 (5th Floor)
A lecture with Glenn Frankel.  Glenn will discuss his book The Searchers The Making of an American Legend and Professor Kevin Stoehr will discuss the evolution of the Western movie.
In 1836 in East Texas, nine-year-old Cynthia Ann Parker was kidnapped by Comanches. She was raised by the tribe and eventually became the wife of a warrior. Twenty-four years after her capture, she was reclaimed by the U.S. cavalry and Texas Rangers and restored to her white family, to die in misery and obscurity. The story of Cynthia Ann and her Comanche son Quanah has been told and re-told over generations to become a foundational American tale. The myth gave rise to operas and one-act plays, and in the 1950s to a novel by Alan LeMay, which would be adapted into one of Hollywood's most legendary films, The Searchers, directed by John Ford and starring John Wayne. Glenn Frankel, beginning in Hollywood and then returning to the origins of the story, creates in his new book a rich and nuanced anatomy of a timeless film and a quintessentially American myth.
"A must-read for movie fans and anyone interested in mythmaking and the American West… Frankel's excellent research and analysis and his fine writing raise the bar for the 'making of' film book. His narrative details the life of a modern legend—in this case, a historical event that sparked a novel that led to a film, each step revealing a different aspect of how we tell our stories and why." (Douglass K. Daniel, Associated Press)
Glenn Frankel is director of the School of Journalism and G.B. Dealey Regents Professor in Journalism at the University of Texas at Austin. He was a longtime Washington Post reporter, editor and bureau chief in Jerusalem, London and Southern Africa, and he won the 1989 Pulitzer Prize for International Reporting for "balanced and sensitive reporting" of Israel and the first Palestinian uprising. He also served as editor of the Washington Post Magazine, deputy national news editor and Richmond, Va., bureau chief. His first book, Beyond the Promised Land: Jews and Arabs on the Hard Road to a New Israel, won the National Jewish Book Award. His second, Rivonia's Children: Three Families and the Cost of Conscience in White South Africa, was a finalist for the Alan Paton Award, South Africa's most prestigious literary prize. (www.glennfrankel.com)
Professor Kevin Stoehr's recent book is Ride, Boldly Ride:  The Evolution of the American Western.
MARCH 3, 2014 (Monday) at 6 p.m., CGS, 871 Commonwealth Avenue, Katzenberg Center (3rd Floor)
A talk (and performance of traditional Irish singing) by Lillis Ó Laoire. Moderated by Professor Sally Sommers Smith.
Ó Laoire is an ethnographer and professor at the University of Galway who specializes in Irish folklore and singing. Ó Laoire explores the occasions at which people sing, the significance of these occasions and of the songs and the singers chosen to perform.  In his book on the Tory Islanders, in Co. Donegal, he explains how songs act as a mediator of the dilemmas and tensions of island life and how they contribute to the strong sense of identity. His second book, Bright Star of the West: Joe Heaney, Irish Song Man (OUP, 2011) won the Alan P. Merriam Prize from the Society for Ethnomusicology. He and his co-author, Sean Williams, address larger questions about song, identity, and culture. They explore the deep ambivalence both the Irish and Irish-Americans felt toward thetraditional aspects of their culture, examining other critical issues, such as gender and masculinity, authenticity, and contemporary marketing and consumption of sean-nós singing in both Ireland and the United States.
MARCH 27, 2014 (Thursday) at 6 p.m., CGS, 871 Commonwealth Avenue, Katzenberg  Center (3rd Floor)
'Shadow of the opus…magnum': An Evening on Samuel Beckett.  A panel and performance with Cassandra Nelson (Harvard University), Christopher Ricks (Boston University), Robert Scanlan (Harvard University) and Allison Vanouse (Boston University).  This is free and open to the public.
MAY 30 & 31, 2014 (Friday & Saturday) from 9-4 p.m., CGS, 871 Commonwealth Avenue, Katzenberg Center, (3rd Floor)
THATCamp New England.  "THATCamp stands for 'The Humanities and Technology Camp'. It is an unconference: an open, inexpensive meeting where humanists and technologists of all skill levels learn and build together in sessions proposed on the spot. An unconference is to a conference what a seminar is to a lecture, what a party at your house is to a church wedding, what a pick-up game of Ultimate Frisbee is to an NBA game, what a jam band is to a symphony orchestra: it's more informal and more participatory" (http://thatcamp.org).
The Center for Interdisciplinary Teaching and Learning will have additional information soon, but for now, save the date, so you can join us to discuss technology, the Humanities and teaching.
For additional information, please go to http://www.bu.edu/cgs/citl/interdisciplinary-conferences/.
If you have any questions, please contact Joshua Pederson at pederson@bu.edu.
JULY 11 & 12, 2014 (Friday & Saturday) at CGS, 871 Commonwealth Avenue, Katzenberg Center, (3rd Floor)
Victorian Boston Institute. The presenters include the following: Millard Baublitz, Associate Professor in the Division of Natural Sciences and Mathematics, will present "Victorian Era Demonstrations in Electricity and Magnetism: Real-time Recreations of Experiments by Victorian Scottish and English Scientists"; Cheryl Boots, Senior Lecturer in the Division of Humanities and author of Singing for Equality: Hymns in the American Indian Rights and Antislavery Movements, 1640-1855, will present on "British Hymns and American Abolitionists, the Mid-century Sounds of Social Protest in Boston"; Sam Hammer, an Associate Professor in the Division of Natural Sciences and Mathematics and a botanist with a strong interest in the connections between the arts, aesthetics, and science, will lead a field trip to Mt. Auburn Cemetery and discuss how 19th  Century Boston created urban open spaces; and Kathleen Martin, Senior Lecturer in the Division of Social Sciences and author of Hard and Unreal Advice: Mothers, Social Science, and the Victorian Poverty Experts, will present "A Science of Society: Victorian Reformers and the Quest for Scientific Validity." Victorian Boston will also include a live performance by the American Magic-Lantern Theater, the only U.S. professional traveling company of its kind.
The registration page will be forthcoming.
For additional information, please go to http://www.bu.edu/cgs/citl/interdisciplinary-institutes/.
NEWS
Congratulations to our own Meg Tyler on her forthcoming book of poems.
***************************************************************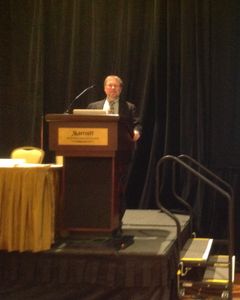 John Regan, CGS Division of Rhetoric, was an invited speaker at American Association of Colleges and University's Employer-Educator Forum in Boston on October 28 at the Marriott Copley Place. He presented on general education and assessment at CGS. The forum brought together educators, employers, policy makers, and civic leaders from the New England region including college presidents and corporate CEOs to explore specific ways that educators and employers can collaborate to better provide students with skills and knowledge needed for their long-term success.