Meaningful Work
In her 30 years at CGS, Dean Linda Wells has helped scores of students shape their careers and lives.
By Andrew Thurston
Being a cattle rancher might sound romantic, but picture the blood and sweat of everyday life before putting on your spurs.
Students taking a seat on Dean Linda Wells's striped sofa should be prepared for a lesson in the world of work that's hewn straight from the rocky vistas of Colorado ranching country.
OK, so no one in recent memory has gone from the College of General Studies to cowpoke, but Wells makes the same point to every student who comes to her seeking career advice: "I ask them, 'What is the activity you're going to be engaged in?'" says Wells. "It troubles me when I hear so many people spend their lives in work they don't find fulfilling."
Wells spent her formative years on her grandparents' cattle ranch in the western part of the Centennial State. Growing up surrounded by roaming herds, corrals, and "phenomenally difficult physical labor," she learned to appreciate how work could shape not just people's lives, but their whole identity.
In the 30 years she's spent at CGS, it's a topic she's continued to research, using her expertise—and a dash of homespun advice—to help hundreds of students craft an identity that's just right for them.
A Journey to 871
Wells's street-view office is positively spartan; there's none of the professorial disarray or piles of books you might associate with an academic workspace. There's a desk for writing, another for typing, three plants (one of them is just on loan), the striped sofa, and little else. It doesn't look like the office of someone who's been at one school for 30 years—the last 10 of them as dean. Perhaps it's a legacy of Wells's first office at 871 Comm. Ave. Tucked away on the fourth floor of CGS, "the little, tiny space" didn't even have a phone. Professors had to move offices every year, too, so Wells learned to pack light. She also worried that in a cutthroat job market, BU wouldn't be home for long.
"I would always think, 'Be able to put everything in two shopping bags, so when they give you the heave-ho, you can just walk out the building in one trip,'" she remembers.
Since starting as an assistant professor of humanities in 1980, Wells hasn't had much use for those bags. She's been chair of the CGS Division of Humanities & Rhetoric, led a University-wide accreditation review, served "on every committee known to man," and been a reforming dean. During her time at the top, she's remodeled the College—revamping the lobby and opening two new study lounges—and led a shake-up of faculty appointments to rein in teacher turnover.
Absent since 1997, however, has been full-time teaching. And Wells admits she misses it tremendously.
"I knew from the time I was in high school that I wanted to be a college professor," she says. "As my mother said, I was probably teaching from the time I was in second grade, bossing people around."
Shaping Lives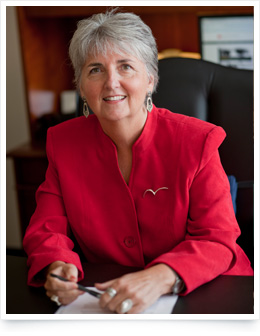 Wells sprinkles her tales with the names of students; she doesn't get too far into any story without picking an undergraduate—past or present—to illustrate a point. With teaching days likely behind her for good, it's as a mentor during internships and research projects that Wells now helps shape young lives.
"I try to press them on how much of their identity they take from the work they do," she says. "I find that most students haven't thought about it at all."
As students check off money, helping people, status, or whatever else as motivating their prospective career path, Wells drags them back to the everyday activity of their chosen profession—the blood and sweat (or paperwork and meetings). If nothing else, she says, it's those details that will determine how fulfilled someone is in their work and life.
She recently urged Robert Gallagher (CGS'09, SMG'11) to research what he might spend his days doing before committing to a major or a career—he chose management school, he says, after Wells talked to him of the "feeling of accomplishment that comes from producing meaningful work." In the early eighties, she'd done the same for Elissa Altman (CGS'83, CAS'85).
"Dean Wells didn't much push me in one direction or another," says Altman, now a widely published food journalist and author, "although when I told her in my senior year that I was going to law school because I didn't know what else to do, she balked. Not because she had a particular gripe against lawyers; she just knew that I hadn't given my future the kind of intense thought and consideration that she expected of me."
A Thousand Directions
Wells says she's "just helping students find their way." While some academics out-publish one another in the quest to become the expert in their field, Wells sees a perk in being a generalist: "I've led a charmed life; getting to see these students who just go in a thousand different directions."
Teaching has proven to be a calling for Wells and as she contemplates her future, she worries "about how much of my identity I've always taken from being a professor and dean."
Inspired by her personal life—her two youngest children were adopted from Mexico—Wells reveals her next step may be to help guide people looking for a different kind of direction: "I have a feeling my next job will be something related to immigration or recent immigrants," she says. "I would like to help people who are new to this country get adjusted and acclimated."
But, this being Boston in the fall, the lobby Dean Wells built is filling with students. And, just as students have for 30 years, many will likely turn to her for help in figuring out where a two-year stint at CGS will take them.
---
Dean Wells and Me
Alumni, students, and parents share their memories of Dean Linda Wells. Add your own stories below in our new comments section.
"I attended the College of General Studies from 1981 to 1983. I didn't know what to expect at first, but almost from day one my mind was opened to a wonderful new world of ideas as part of CGS's great liberal arts curriculum. Nowhere was that more profound than in my humanities course taught by Professor (now Dean) Linda Wells . . . She gave me—and thousands of students like me—a rare gift for which I will be forever grateful."
—Doug Brown (CGS'83, CAS'85, LAW'88), senior vice president and general counsel, UMass Memorial Health Care
"Dean Wells has gone from teacher to mentor to friend. For years she's been asking me to call her Linda, and I simply can't do it. I hold her in such high regard that calling her anything but Dean Wells feels disrespectful. She has been incredibly supportive throughout my college and professional career. She didn't have to stay in contact with me, but she did, and it makes me feel good. To me, it means I made an impression on her just as she made an impact on me."
—Ellen Teitel (CGS'98, COM'00), researcher, Who Wants to Be a Millionaire
"I worked with Dean Wells on a research project last summer. It was one of the most fulfilling experiences I've had with her. We did research on work and identity . . . She started supporting herself at a young age, just like me. She has inspired me to continue working hard and fulfill my dreams. Work is something very personal to both of us . . . we have both found our identity through it."
—Lissandra Paredes (CGS'10, SMG'12)
"Dean Wells caringly watched over my two children during their years at CGS. She was strong, while understanding and always nurturing. A love of learning took root in my children under her watchful eyes. Her guidance led to what are now very fulfilling careers for them both, not to mention the wonderful friend I gained! She is one special lady."
—Marilyn Katzenberg