Adjusting to campus life in January
You've wrapped up your gap semester, registered for classes, and marked your calendar for move-in. But we're willing to bet you still have questions. Every year, we hear from students wondering about the process of adjusting to college life in January. Here are the answers to some of your most common questions.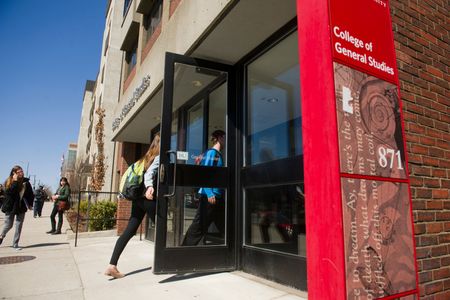 How will I meet people if I'm starting later than other first-year students?
It's completely normal to be nervous about making friends when starting your college experience. But starting in January doesn't mean you're at a disadvantage compared to your classmates! In fact, because there's a group of 600 other CGS first-year students starting alongside you, there's a huge cohort of people eager to make friends, just like you. And you won't be limited to just your CGS classmates – you'll also meet people in your dorm, clubs, and non-CGS classes.
Even though Covid-19 means campus life looks a bit different this year, BU has plenty of opportunities for you to jump in and meet new people. Register for any of BU's Winter Weeks of Welcome activities, attend CGS's Come Get Social event, and attend Splash 2.0, where you'll get to explore all of the clubs and student groups BU has to offer.
How does Covid-19 affect the on-campus experience?
BU has put in place comprehensive health and safety protocols to ensure that the campus environment is safe amid the Covid-19 pandemic. As part of returning to campus, you'll need to commit to abiding by all Covid-19 protocols, including symptom attestation, regular testing, and social distancing requirements. The Back2BU website is the best resource for making sure you have all of the latest information on campus life. Information on campus life for undergraduates, from Learn from Anywhere to university dining, is available here.
How do I do well in my classes?
Course loads at CGS and BU are manageable, but time management is key. In addition to your scheduled class time, set aside time each week for studying, homework, and completing reading assignments. Your professors are great resources, so get to know them early and plan to connect with them during office hours. And if you need help – don't be afraid to ask for it! The CGS Writing Center can assist you with essays, and your academic advisor can point you in the right direction if you're looking for additional assistance.
How does move-in work?
Move-in looks different now than in previous years due to Covid-19 health and safety protocols. Move-in will be stretched out over a longer period of time, Covid-19 testing is required on arrival day, and each student can only bring one person into the residence halls with them to help move in. Sanitized moving carts will be provided, but we ask that you bring your own masks, gloves, and sanitizing wipes. Everything you need to know is available on the housing website.
Will I be able to go to London this summer? 
At this point, the College of General Studies is still planning on hosting summer study in London. However, the realities of the pandemic have made it difficult for Global Programs to make predictions about studying abroad this summer. We continue to monitor the public health situation with Global Programs staff, and will announce by March 1, 2021 if studying abroad in London this summer is possible.
How do I make sure I'm on track for what I want to major in? What if I don't know what I want to major in?
The answer to both of these questions is talk to your CGS academic advisor! Your academic advisor is one of your most valuable resources at CGS. You'll work together to build a plan that will help you achieve your goals. Whether you come in set on a major, or have no idea what you want to study, meeting with your advisor is key. They'll help you explore academic pathways, walk you through BU HUB requirements, and make sure you're on track to get where you want to go!