#My100Days as a social impact entrepreneur
When the Covid-19 pandemic forced Inés Santacruz Del Valle (CGS'22) to rethink her gap semester plans, she found a win-win solution — becoming an entrepreneur while helping women in her home country. Del Valle used the time to launch a small business, selling jam made by women from Michoacán, Mexico looking for an extra source of income amid the Covid-19 pandemic. We spoke to Ines about where the idea came from, what she's learned, and her advice for future students embarking on the gap semester. 
Why did you choose CGS? 
I was attracted to the idea of being part of a large university, but at the same time a small community. I also found that CGS was the perfect opportunity for me to keep exploring the world through different perspectives. As someone who enjoys both humanities and sciences, the flexibility within the program gives me the possibility of interconnecting both branches. The CGS program is also a perfect fit for the stage I am in life right now. I started a small business out of the blue due to COVID, and the gap semester gave me time to grow and develop this idea.
How are you spending your gap semester? 
Throughout my gap semester I have worked on a small business here in Mexico. We sell organic products such as jam and other preserves produced by 26 women in their homes in the state of Michoacán. These women used to fully depend on their husbands' source of income, but now find themselves with a new purpose. The business is called "De Hogar A Hogar" (From Home to Home). I took a 5-week entrepreneurship course to help me develop my business, and a 1-week course on online sales.
How did you decide on what to do during your gap semester? 
Originally, when I applied for the program, I thought of traveling around the world, trekking in new areas, or learning a new language. But by the time I got my acceptance letter, the world had changed. The project started as an idea for a competition I entered back in April to decrease the negative impact of Covid-19. I entered the competition with two other people; we weren't successful, but we decided to run with the idea and make it happen. After two months, the idea grew and developed, making me realize it was something I had to keep working on through my gap semester.
How has the time been valuable to you? 
These 100 days have been extremely valuable to me. I've had time to challenge myself and experience things I've never thought I would at this point in my life. I found myself being my own boss, which has really struck me, as I was used to being told what to do most of the time. I realized it is extremely hard, and it takes a lot of discipline, as I choose my time to work, sleep and have fun. With this time I have learned a lot about time management and how to overcome my own fears. It's been a learn as you go experience, which has been exhausting, but very valuable.
What have been the most memorable moments of your gap semester so far? 
I think the first time the products arrived at my home, I was moved. I couldn't believe it was happening, 26 women producing jam, hundreds of kilometers away. I felt very excited, but then again I felt lost. Yes, it was great, but I was also realizing that those 3,000 organic preserves would have to be sold. I hadn't pictured having so many products. That was a very memorable experience, because it forced me to keep going, to keep learning and developing even though it was hard. I honestly didn't imagine it would be that difficult until I found myself at this point.
What advice would you give to future CGS students when planning their gap semesters? 
I would tell them to be open to every possibility there is; to avoid closing any doors. To jot down every idea, even if it sounds crazy. And to choose something that they think that in four years or so they'd still remember how much they learned from the experience. To choose something they believe wouldn't bore them, but at the same time they'd be challenged.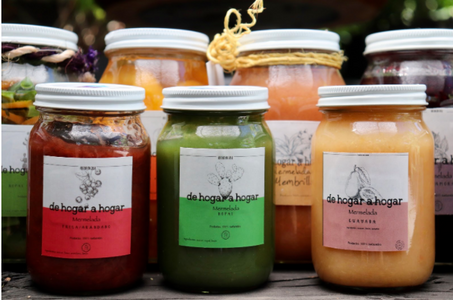 What were some of the skills you took out of the gap semester? What did you learn? 
A lot of time management, and discipline. It is hard not having a set schedule or agenda for each day. I had to make one myself, and following it took a lot of willpower, as I have full control over it. I learned to trust myself, and to become more confident. I was very scared to start with, and there were many things that I would push away, but then found myself in a situation where if I didn't complete the task, 26 women would be impacted, so I had to overcome it.
What are you most looking forward to about the next four years?
I am looking forward to exploring all areas and using that to help me decide what I really want to focus on. I'm excited to get to know myself even better, and to see where I end up.
— By Natalie Seara