CGS 2012 CAPSTONE AWARD WINNERS
The College of General Studies CAPSTONE AWARDS were held on October 19, 2012, at the Katzenberg Center.  Each team had an award-winning topic.
TEAM S – NAAE 2012 Report on Improving Funding within the Boston Public School System
TEAM T – Keystone XL Pipeline

Team U – Reestablishing the Balance of National Security and Civil Liberties:
A Proposal to Reform the USA Patriot Act
TEAM V – Basayev v. United States:  The Balance between Liberty and Security
TEAM W – How Much Does Your Boss Really Know:  Computer Monitoring in the Workplace
TEAM X: Recommendations for Improving the Ethical Standing of the Medical Sphere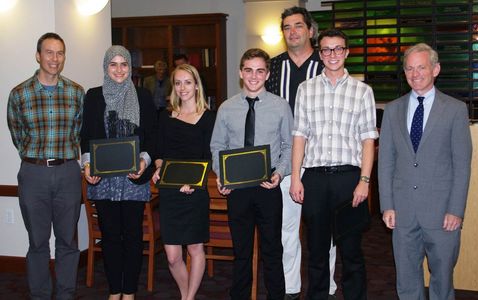 Team Y: The Requirement of Humane Treatment of Animals:  Why Can't We Meat in the Middle?