World Affairs Forum Off to a Great Start

We have a a lot of great events coming up!  I have such a great team to work with this year.
'
The vice-president is former CGS student, Dan Carman. The Treasurer is Miriam Brito and the Secretary is Ritika Shah. They are great and dedicated members to the club.
.
I have included pictures from SPLASH and the EXPO club events. We were able to meet many great people who are interested in the club. We have over 150 people signed up for the club which is quite extraordinary. I feel like I have succeeded in connecting CGS with other colleges. This is great way to introduce non-CGS students to the talented students of CGS. The club has started off the year very strongly. We have created a logo, water bottles, and T-shirts dedicated to the club.
.
Salma Yehia
WAF President
salmaky@bu.edu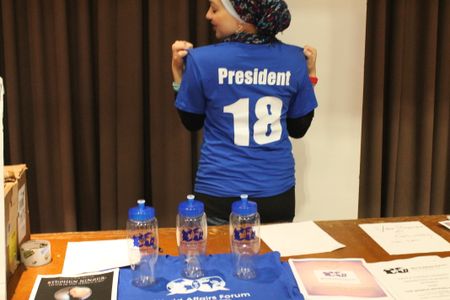 (Editor's note:   Salma, Dan, and Rtika were CGS students last year who restarted and re-energized the WAF, which had been a CGS club, and have made it into a University-wide organization, under SAO.)