CGS Faculty Awards to Drs. Stoehr and Jaeger
Awards were presented at the CGS Katzenberg Center to two very deserving professors during the 60th anniversary celebration
View photos of the celebration here.
____________
Kevin Stoehr, Associate Professor of Humanities, was the recipient of the Dr ISMAIL SENSEL AWARD. The Ismail Seda Sensel Award is given to professors in recognition of service and commitment to the college and its students.
Professor Kevin Stoehr received his A.B. magna cum laude in Philosophy from Bowdoin College in 1990 and his Ph.D. in Philosophy from Boston University in 1997. In addition to his outstanding teaching, Professor Stoehr is recognized for a superb publication record, including his co-authored new book, Ride, Boldly Ride: The Evolution of the American Western Movie (University of California Press, 2012).
Gregg Jaeger, Associate Professor of Natural Sciences & Mathematics, received the PEYTON RICHTER AWARD. The Peyton Richter Award is given each year to an individual whose work exemplifies the interdisciplinary concept of the program at CGS, and whom students acclaim to be an outstanding teacher.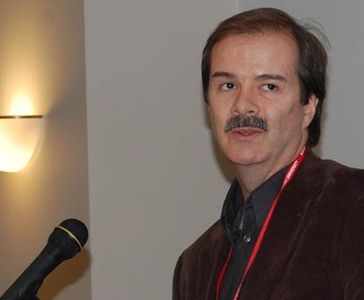 Professor Gregg Jaeger received a triple B.Sc. in Physics, Philosophy, and Mathematics from the University of Wisconsin (1986) and a Ph.D. in Physics from Boston University (1995). A prolific scholar in the field of quantum information theory, Professor Jaeger epitomizes the interdisciplinary approach to teaching in both the natural sciences and in mathematics at CGS. Most recently he has earned high marks for his innovative approaches to the teaching of calculus and statistics here at the College.