Dedication of the Robert Emery Writing Center
CGS is known for it core curriculum, but even more so for its core faculty.  In a stunning blow, this summer we lost Robert Emery to cancer.
Read  In Memoriam: Robert W. Emery in the CGS magazine Collegian.
It was fitting for Dean Wells to honor a man so close to the heart of  CGS by dedicating our Writing Center to his memory.  And it was moving to have so many of his family, faculty friends and former students to celebrate his life and service.
………
Remarks by Dean Linda Wells
Welcome everyone, including the Emery family members—Sarah, Bob's daughter and his granddaughters, Meghan and Caroline, Peter, his son, and Peter's family, including  Olivia, Thomas, Alexander, and Robert Webster Emery II who made his appearance a bit early such that his parents and his siblings could attend this event, Bob's brothers David and Donald
– and the friends of Meghan Fay, as well as former faculty and staff, Jay Zawacki, Sam Stern, Sally Epstein, and Diane Payne. Our current faculty and staff.  We are so pleased to have such a terrific group to join in this celebration, albeit a sad occasion as well.
.
Let us turn first to the dedication of the Robert W. Emery Writing Center. Because of the cramped quarters, we will hold the dedication here, but if you haven't seen it yet, it is directly through these doors and to your immediate right.
Although we are all devastated Bob's death, we are here to today to celebrate who he was and the enormous contributions he made to the College over the 32 years he was here as faculty member in the Division of Rhetoric and assistant dean.  I would like to call upon Matt Parfitt, chair of the Division of Rhetoric and team mate of Bob's for some years, to offer his perspective and tribute, before we make the dedication.
I have always said I dislike formal farewells, since I believe that people's relationships are created on a day-by-day basis as we conduct our work and help each other think about our project—in this case the education of first- and second-year students at the University.  Bob was thoroughly dedicated to that project, believing in the importance of teaching students the art and craft of writing and the importance of helping them develop into mature, confident, and compassionate human beings.
Over the years, the Writing Center became a large part of his project.  He tended it as he would a prized garden, making it a welcoming space for students and articulating his appreciation to the faculty and staff who helped him tend it along with him.  A man of both great humility and righteous pride, Bob taught all of us how to act with grace and generosity in our dealings with students and colleagues alike.
Let me call forward Sarah and Peter to accept a memento mostly for their own children, as we hope Bob's children and grandchildren will want to remember their father and grandfather for his work here at Boston University.
In addition to naming the Writing Center in Bob's memory, the Robert W. Emery Writing Center, there is also a plaque just inside the door of the center with this tribute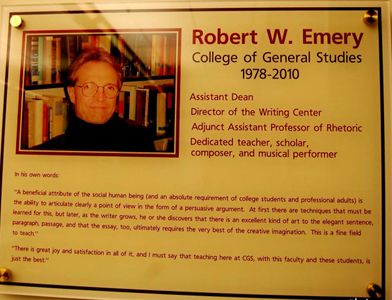 Robert W. Emery (1978-2010)  Assistant Professor, Director of the Writing Center, Adjunct Assistant Professor of Rhetoric, Dedicated Teacher, Scholar, Composer, and Musical Performer.
In his own words (from his personal statement on our website):
"A beneficial attribute of the social human being (and an absolute requirement of college students and professional adults) is the ability to articulate clearly a point of view in the form of a persuasive argument.  At first there are techniques that must be learned for this, but later, as the writer grows, he or she discovers that there is an excellent kind of art to the elegant sentence, paragraph, passage, and that the essay, too, ultimately requires the very best of the creative imagination.  This is a fine field to teach."  "There is great joy and satisfaction in all of it, and I must say that teaching here at CGS, with this faculty and these students, is just the best."
So we are proud to open officially the Robert W. Emery Writing Center at the College of General Studies.
Sarah and Peter each were given a version of that plaque.
………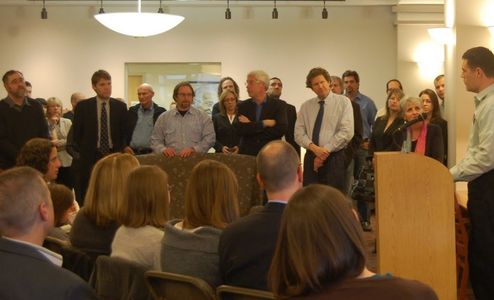 Remarks by Matt Parfitt:

Bob worked at CGS for 32 years.  I worked with him for 18 years in the Rhetoric Division, and more closely on Team B since becoming Chair in '03.  We split a rhetoric load; every year one of us got slammed with all the difficult students and the other got all the team's best students, and we alternated back and forth.  We were sure Stacy did this deliberately for her own nefarious reasons.  Anyway, I got to work with Bob a good deal.  But like many of you, I suspect, I realized when he passed away that I never got to know him as well as I would have liked: he was clearly a person of such integrity and such diverse interests and accomplishments. But he was private and maybe a little shy.  He didn't blow his own horn or call attention to himself.  That was one of his most basic personality traits.

We'd get together for lunch or coffee occasionally, so I knew a bit about what he was up to outside of CGS — his biography of Travis McGee, the main character in John D. MacDonald's novels, his involvement with bluegrass and Northern Lights, and so on — but not a whole lot.

Some of his accomplishments — as a poet, as a scholar, as captain of Penn's soccer team — I've only found out about since he passed away. He was genuinely humble.

He did tell me that he single-handedly launched and ran a writing center at CGS years and years ago; it must have been when he ran the Study Center in the 80s, I think.

In working with Bob, the main thing that always stood out for me was his concern about, interest in and devotion to students as individuals.  This really came out at team meetings.  He had these very elaborate and impressive grading books — the big green ones from Dean Gilbane's days — with each student's photo printed in color and pasted in.  He was always able to talk in great detail about what individual students were going through and how they were progressing; he always had a couple of students who particularly concerned him. He spent a great deal of time working one-on-one with students who needed help.  He had great empathy for struggling students.  And he believed, rightly I think, that the only really effective way to help struggling writers was to work with them one-on-one.  He spent many, many hours doing that in the Writing Center and many more hours doing that in his office. (His office was beautiful, by the way, like walking into another world.)

His position as an Assistant Dean and an Adjunct Professor of Rhetoric was a bit of an anomaly: he wasn't in the conventional stream involving reappointments and merit and promotion and what-have-you. But you couldn't have asked for a better colleague. I was always impressed with his professionalism: he was never negative or spiteful, never took sides or said a bad word about a colleague, not even if you wanted him to! He seemed to have equal respect for everyone.

He had some real ups and downs in his life, before he got ill, which he would allude to, but he never wanted to burden anyone with them.  I never saw him get angry, though maybe mildly frustrated at times. He just had a horrible time with the eportfolio software; I could tell it was really painful for him, and he worried about it. But he gamely did it, no complaints, always insisting, "no, it's my fault."

Bob was really motivated by his devotion to his students — to CGS and to his students — and devotion is really the key word when I think of Bob. He loved CGS and loved his students. His book Dialogue and Discovery is really a good book and brilliantly designed to make the most of our curriculum, but it's out of print so no-one could adopt it, not even Bob! He'd lend his own copies to his students for the year.

To my mind, it's by this devotion to students that he really exemplified what CGS is all about: that interest in and concern for our students as individuals.  So it's perfectly fitting that the Writing Center will be named after him.  If we'd tried to do this while Bob was alive, he would have been appalled, but it's the least we can do, really, for a colleague who — day after day, year after year, come rain or shine — displayed such kindness and goodness, and really what more can you hope for from a friend and colleague than kindness and goodness?

Many hundreds of students are grateful to Bob, and will never forget him, and I know his CGS colleagues share that admiration and gratitude.  This naming simply makes that official.
.
_________________________________