Tagged: religious demography
Doctoral student Gina Zurlo has recently given several papers and lectures at social science conferences. In August, she presented a paper at the American Sociological Association annual meeting in New York City, titled, "Christian Sociology in Transition: The Institute of Social and Religious Research," which discussed an early phase of American sociology and its intersections with the social gospel and ecumenical movements in the early 20th century. She also gave a paper at the Society for the Scientific Study of Religion annual meeting in Boston on the development and use of demographic databases.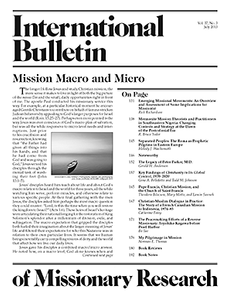 Doctoral Student Bruce Yoder has an article published in the July 2013 Issue of the International Bulletin of Missionary Research, entitled "Mennonite Mission Theorists and Practitioners in Southeastern Nigeria: Changing Contexts and Strategy at the Dawn of the Postcolonial Era."
Dr. Todd Johnson and doctoral student Gina Zurlo published a summary of the main findings of a 2013 update to the Atlas of Global Christianity for the Lausanne Global Analysis, entitled "Highlights of Christianity in its Global Context, 1970-2020: Society, Religion, and Mission." In it they emphasize that Christians today find themselves in very different contexts than 40 years ago and they note that fundamental shifts in the demographics of global Christianity are continuing.  The full article can be accessed through The Center for the Study of Global Christianity website at Gordon-Conwell Theological Seminary.