Tagged: religion and development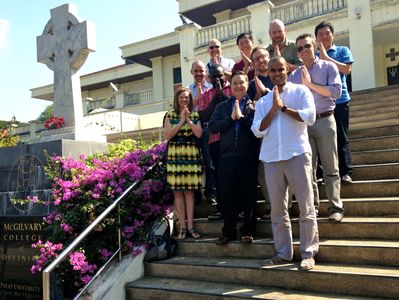 In the last few decades, Christian development has grown so rapidly in some quarters it is almost synonymous with mission. Earlier this year Dr. Todd Johnson led a residency study on religion and development in Chiang Mai, Thailand. Dr. Johnson was assisted by CGCM student associate Eva Pascal. The residency study is part of the World Christianity Doctor of Ministry program through the Gordon Conwell Theological Seminary.
The team of teachers and D.Min. students spent an intense and rewarding two weeks visiting over 20 non-governmental and faith-based organizations in various parts of northern Thailand. These NGOs and FBOs were selected for the range of scale, religious affiliations, and the variety of social, political and environmental issues they addressed. They also included large scale international organizations like ADRA, and local projects like Hope Home, a small house for disabled children. Many of the organizations focused on the challenges facing minority people (called Hill-Tribes) in the areas of education, sexual exploitation, health care, and land rights. Students were able to see first-hand not only some of the central challenges in the region, but how organizations have stepped up to address them, and how faith-based organizations work to integrate mission into their work.  The residency was such an overall success that another residency in Thailand on religion and development is in the works for the next residency cohort.
Dr. Elizabeth Parsons, Lecturer in Religion and Development and a Resident Scholar with the CGCM, taught an exciting course this spring on the intersection of mission and development. The course, called Enacting Mission Through NGO and FBO Work, covered a variety of issues related to work in non-governmental, non-profit, and faith-based organizations. In the first part of the course, students gained a footing on the history and current functioning of NGOs and FBOs. Thereafter, they not only engaged critically with values and assumptions embedded in the business of development and NGO related work, they also learned practical skills important for the vocation, from money matters to navigating the rough waters of cross-cultural interactions.
The last part of the course engaged future contexts, opportunities, and challenges for NGO and FBO service and leadership in the 21st century. To help with these questions, Dr. Parsons organized a panel for the class, with the support of the CGCM, and invited the STH community to attend.  Panelists were chosen for their connections with STH, for their own spiritual and ethical commitment to service work, and to show how theological education would be helpful for a range of service vocations. The panelists included STH alum Rob Gordon, Executive Director of United Way of Kennebec Valley; John Lindamood, Director of Resident Services in the Cambridge Housing Authority, who holds an M.Div. from Harvard and has made presentations at STH in the past; and Paula Kline, Executive Director of the Montreal City Mission, who oversees an organization that is a contextual partner of STH.
The panel, "Enacting Mission Through Non-Profit and Faith-Based Service Work in Unpredictable Times," took place on April 11, 2014.  Dr. Parsons introduced the class and each guest spoke of the paths that brought them to non-profit work, addressed how they integrate spiritual formation and commitment into their vocation, and in the question and answer sessions that followed, shared practical ideas about how to get into non-profit work, and what kind of skills are important.
Theological and pastoral education as laying the foundation for work in social justice and instilling compassionate values, working in partnership, and fundraising tips were just some of the key themes that emerged from the panel and discussion. The STH will look forward to future teaching and discussion on the intersection of mission and development.