Tagged: Burundi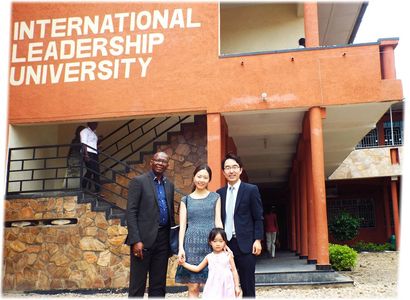 CGCM student associate and PhD candidate Daewon Moon is now teaching church history and World Christianity at International Leadership University – Burundi (ILU-Burundi) in East Africa. For the next few years, Daewon will be supervising the bachelor's and master's programs in the School of Theology at ILU-Burundi. His wife, Jeonghwa, is working as Director of the Leadership Language Institute at ILU-Burundi. Her responsibilities include developing curricula and training instructors to teach academic English to prospective students in a more effective way.
As the only university in the country that offers English-based degree programs, ILU-Burundi has been growing substantially over the past few years. It now has more than 300 students from 10 different countries in Africa and Asia. Recently ILU-Burundi launched two joint graduate programs in partnership with North-West University in Potchefstroom, South Africa: Master of Theology (MTh) and Doctor of Philosophy (PhD) with three concentrations, 1) Missiology, 2) New Testament, and 3) Practical Theology.
The CGMC was delighted by the visit of Rev. Dr. Fohle Lygunda, Head of the Department of Missiology at International Leadership University (ILU) – Burundi, on June 14. Dr. Lygunda and Dr. Dana Robert discussed a possible collaboration for the Dictionary of African Christian Biography (DACB), which was transferred to Boston University in 2012. Dr. Lygunda previously worked as a Project Luke Fellow for the DACB at Overseas Ministries Study Center (OMSC) in New Haven, CT. He also wrote an article on Central Africa for the Atlas of Global Christianity: 1910-2010. Under his leadership, ILU-Burundi launched a master's program in Missiology, in which doctoral student Daewon Moon has served as a visiting lecturer since 2012.