Education as a Mission
The Greatest Work of Earth: Education as a Mission of Early 20th Century Churches of Christ1
This is the working title for a volume of correspondence exchanged principally between Lloyd Cline Sears (1895-1986) and Patty Hathaway Armstrong (1899-1977), two influential leaders in educational efforts of the Churches of Christ, a tradition originally distinguished for its pacifist and anti-materialist stances. The letters, which span the years 1915 to 1921, are currently being edited for publication and are valuable for several reasons. More than simply being love letters (the couple—my grandparents—married in 1917), these written conversations illustrate an educational philosophy, an understanding of God and of Christian purpose inspired by the Stone-Campbell movement and by the general intellectual ferment of the times. As primary source material, the letters also allow rare access to the thoughts of early female leaders in the Churches of Christ. Finally, the many details of daily life experienced by small, self-sufficient groups in Oklahoma and Kansas at the beginning of a volatile century can instruct and inspire the efforts of resilient, reverent communities in this even more uncertain era.
Elizabeth Cline Parsons
Lecturer, Religion and Development
Affiliated Faculty Member, CGCM
1 "Who on earth should think more quickly or accurately than the moulder and trainer of human hearts? Educate your daughters, and that under the very best Bible teaching. Our God has put in their hands the greatest work of earth." Excerpt from Cordell Christian College promotional pamphlet, Cordell, Oklahoma, c. 1915.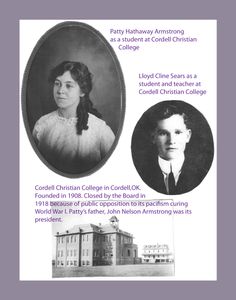 "Just before church time I went to the post office just as I told you. The office was empty, so I stood by the window and read your letter in the twilight. I came up the street wishing I could be in a boat on the lake with you when I glanced up and almost caught my breath at the beauty of the scene. Under the trees and among the flowers in Mr. Lee's yard were hundreds and hundreds of fireflies. I think I have never seen anything more beautiful. The whole world seemed filled with these tiny fairy lanterns. This time I didn't cry at a beautiful scene. You enjoyed it quite as much as I did. There is quite an advantage in being together though separated, isn't there?" –Patty Hathaway to Cline, July 12, 1915
"There is a great difference between the people of the world and of the popular churches, and the people of the churches of Christ. Anything that is respectable and respected by society and the world is engaged in by the popular churches. War is not condemned, but is encouraged by the ministers. I heard a prayer recently for the 'success of our arms in Mexico,'—which necessarily means the destruction of hundreds of lives and the ruin of hundreds of homes, yet because the world praises it as patriotism the preachers pray for it, and buy flags to lead the army in battle." –Cline to Patty Hathaway, July 17, 1916