Research on Religion in Zimbabwe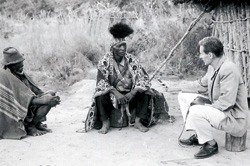 Having engaged in empirical field research in Zimbabwe for many years, Professor Daneel has contributed numerous publications on African Traditional Religion, African Initiated Churches (AICs), Earthkeeping, and related missiological subjects. He has just completed a three-year research project on the High God cult in the Matopo Hills (near Bulawayo) and will be engaged the next few years in preparing publications on this subject. In addition, he is studying the opening of a new shrine for the High God under the supervision of an important female prophet who has trained hundreds of women devoted to Shona traditional religion, and who bears a message of environmental stewardship. Ongoing research projects include the publication series African Initiatives in Christian Mission, originally funded by The Pew Charitable Trusts. Research for the series has included supervising team members who hailed from South Africa, Zimbabwe, and Malawi. The series hopes to expand to incorporate studies on other parts of Africa.
The Preservation Project for African Initiated Churches Zimbabwe Archive
For forty years, Professor M.L. Daneel has been systematically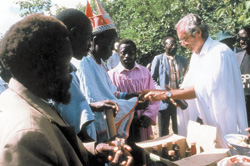 collecting primary materials on African Initiated Churches in Zimbabwe. This collection includes recorded sermons and rituals, photographs, and interviews conducted with AIC leaders and members beginning in the 1960s. Recordings were transcribed by hand into Shona. These materials provide an unparalleled view of rural African life, as well as preserve the theology and religious activities of an oral culture.