African Initiatives
Boston University hosts the second oldest African Studies Center in the United States, and is recognized by the federal government for its excellence in the study of African languages and cultures. The School of Theology is a vital component of African Studies at Boston University, beginning with the sending of graduates to Africa as missionaries over a century ago. Important African alumni include Bishop Josiah Kibira (1964 graduate), the first African head of the Lutheran World Federation; Dr. Kenaleone Ketshabile, Head of the Mission Desk, Methodist Church of Southern Africa; Yusufu Turaki, Professor and former General Secretary of the Evangelical Church of West Africa; and Professor Emmanuel Anyambod, Rector of the Protestant University of Central Africa.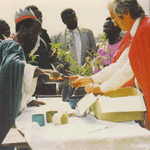 Africa research in the CGCM grows from the work of retired Professor M.L. "Inus" Daneel. His over forty-year presence among African Initiated Churches in Zimbabwe culminated in the 1990s with the largest tree-planting movement in southern Africa, and a program in Theological Education by Extension. The son of missionary parents, Daneel served as a missionary of the Dutch Mission Councils, and then as professor of African theology and missiology at the University of South Africa. He and Professor Robert co-edit the African Initiatives in Christian Mission Series, published by the University of South Africa Press. The goal of the series is to reflect upon contemporary African Christianity, and to document its expansion. Other Africa projects include the digitization of Daneel's photography and publications on the multimedia site Old & New In Shona Religion, and ongoing research into southern African traditions of earth-care.
See also the Dictionary of African Christian Biography (DACB) listed under Digital Projects.
Dr. Marthinus Daneel, Africa Research Director
Conference theme: Christianity and the Public Sphere in Africa and Asia
Conference date: From Sunday evening on 1 July to Tuesday noon on 3 July 2018
Conference venue: Hope Park Campus, Liverpool Hope University, Liverpool, L16 9JD, England
The conference will generate informed discussions of issues pertaining to African and Asian Christians and their public roles: How did or does Christianity function as salt and light in African or Asian societies? What does it mean to be responsible Christians in Africa or Asia? How did or can Christians in Africa and Asia claim the Lordship of Jesus Christ in their public spaces? How does the cross of the Lord Jesus Christ judge old loyalties and rearrange them in Africa and Asia? What are the characteristics of African or Asian Christians in their respective societies? What are the examples of African or African theologies that engage with the public sphere of their peoples? How do African or Asian Christians in diaspora situations either on their own continents or in, for example, European and American settings address the issues that matter to them and their children?
The organizers of this conference welcome 300-word proposals from academics and activists on any aspect of Christianity and its engagement with the public sphere in Africa and Asia. They request them to email their proposals along with their brief CV to Rev Dr Harvey Kwiyani (kwiyanh@hope.ac.uk) by 31 January 2018. By mid-February 2018, they will then notify those presenters whose proposals the Conference Committee has accepted and request them to send their papers by the end of May 2018 for a possible sharing with other participants and also an online publication.
Online registration for this conference will open in the first week of March 2018. All inclusive early bird conference reservation will be available for £230.00 from March to April 2018. This reservation includes accommodation in single en-suite room on the Hope Park campus from the afternoon of Sunday, 1 July 2018 till noon on Tuesday, 3 July 2018, all meals and the conference fee. All-inclusive registration in May and June 2018 will be available for £250.00. Accommodation in double rooms in available in limited numbers; it will be allotted on a first-come and first-served basis. For further details, please contact Dr. Kwiyani.