African Initiatives
Boston University hosts the second oldest African Studies Center in the United States, and is recognized by the federal government for its excellence in the study of African languages and cultures. The School of Theology is a vital component of African Studies at Boston University, beginning with the sending of graduates to Africa as missionaries over a century ago. Important African alumni include Bishop Josiah Kibira (1964 graduate), the first African head of the Lutheran World Federation; Dr. Kenaleone Ketshabile, Head of the Mission Desk, Methodist Church of Southern Africa; Yusufu Turaki, Professor and former General Secretary of the Evangelical Church of West Africa; and Professor Emmanuel Anyambod, Rector of the Protestant University of Central Africa.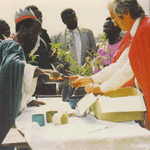 Africa research in the CGCM grows from the work of retired Professor M.L. "Inus" Daneel. His over forty-year presence among African Initiated Churches in Zimbabwe culminated in the 1990s with the largest tree-planting movement in southern Africa, and a program in Theological Education by Extension. The son of missionary parents, Daneel served as a missionary of the Dutch Mission Councils, and then as professor of African theology and missiology at the University of South Africa. He and Professor Robert co-edit the African Initiatives in Christian Mission Series, published by the University of South Africa Press. The goal of the series is to reflect upon contemporary African Christianity, and to document its expansion. Other Africa projects include the digitization of Daneel's photography and publications on the multimedia site Old & New In Shona Religion, and ongoing research into southern African traditions of earth-care.
See also the Dictionary of African Christian Biography (DACB) listed under Digital Projects.
Dr. Marthinus Daneel, Africa Research Director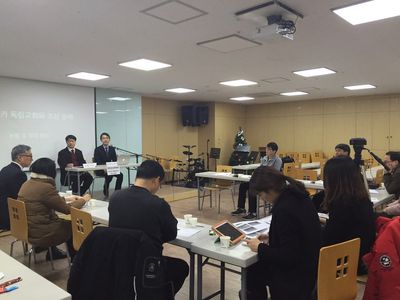 A Korea Missiology Forum, which has been hosted by Korea Research Institute for Mission (KRIM) since 2004, was held on January 12, 2017 at Nam Seoul Presbyterian Church, Seoul, South Korea. Rev. Daewon Moon, who is Ph.D. candidate at Boston University, spoke about "Ancestor Cults in Africa and African Initiated Churches" and Rev. Chun Lee, who is managing director of KRIM, responded. The session was followed by a period of questions and answers, and and a fuller discussion. The presenter, Daewon Moon explained the nature of Africans' ancestor cult and how African Initiated Churches have responded to the practice, while Rev. Lee noted connections with the Korean Confucian traditions of ancestor worship.