Rodney L. Petersen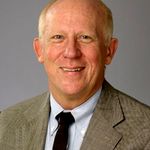 Adjunct Instructor and Visiting Researcher, Center for the Study of Global Christianity and Mission; Executive Director of the Boston Theological Institute
Email: rpeter@bu.edu
Phone: (617) 527-4880
Education:
Ph.D., Princeton Theological Seminary (1985)
Th.M., Harvard Divinity School (1976)
M.Div., Harvard Divinity School (1974)
B.A., Harvard University (1971)
As Visiting Researcher, Center for the Study of Global Christianity and Mission, Dr. Petersen's  research  projects focus on, 1) work with an international team studying religion and the Cold War, 2) issues of Just Peace and global security, and 3) the history of the use of the Apocalypse in church rhetoric.
For a quarter of a century he has been Executive Director of the Boston Theological Institute where he has taught at Boston Univeristy, and in the other member schools of the consortoium and overseas, in the areas of history and ethics. Together with BTI colleagues these courses have taken students to various regions of the world in order to understand ways in which faith communities are implicated in regional violence and how they can be avenues of reconciliation. He is an ordained minister in the Presbyterian Church, U.S.A., serving on several of their committees and for seven years as the pastor of the Allston Congregational Church (U.C.C.). Prior work included teaching at Trinity Evangelical Divinity School (Deerfield, Illinois), Webster University (Geneva, Switzerland), and with the Fédération des Institutions établies à Genève (FIIG). He also worked with churches in France and Eastern Europe, primarily Romania.
He is Director of the Lord's Day Alliance of the US, and a member of the Board of Directors of several faith-based non-profits including the Massachusetts Council of Churches, The Refugee Immigration Ministry, The Center for Church and Prison, and Secretary/treasurer American Society of Missiology (Eastern Fellowship). He is author or editor (and co-editor) of over 22 books, including Preaching in the Last Days (Oxford University Press, 1993); Christianity and Civil Society: Theological Education for Public Life (Orbis Books, 1995); Consumption, Population, and Sustainability: Perspectives from Science and Religion (Washington, D. C.: Island Press, 1999), with accompanying video, "Living in Nature"; Earth at Risk (Amherst: Humanity Books, 2000)' Forgiveness and Reconciliation: Religion, Public Policy and Conflict Transformation (Philadelphia: Templeton Foundation Press, 2001, 2002); Theological Literacy for the 21st Century(Eerdmans Publishing Co., 2002); Antioch Agenda: Essays in Honor of Orlando E. Costas (ISPCK, 2007); Overcoming Violence. Religion, Conflict and Peacebuilding (BTI, 2011); 2010Boston: The Changing Contours of World Mission and Christianity (Wipf & Stock, 2012); Formation for Life: Just Peacemaking and 21st Century Discipleship(Wipf & Stock, 2013); and Religion and Public Policy: Human Rights, Conflict, and Ethics (Cambridge University Press, 2014).