Academics
Studying World Christianity and Mission in a University Setting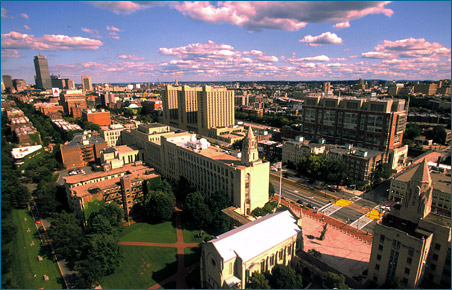 Boston University (BU) is the fourth-largest private university in the US, with close to 32,000 students and more than 2,600 faculty members. It is an internationally recognized institution of higher education and research and has one of the largest populations of international students of any American university. The legacy of its Methodist roots is reflected in the university motto: "learning, virtue, piety."
The School of Theology is proud of having the oldest continuous graduate degree program in mission studies in an American university.
The study of world Christianity and mission is greatly enhanced in the context of a research university. In addition to taking courses with faculty in the School of Theology, students are encouraged to take courses in a variety of university departments including Anthropology, Religious and Theological Studies, History, Theology, and Sociology. The African Studies Center at BU is the second-oldest center of its kind in the United States; it maintains a major African studies library, and significant faculty resources in African languages, history, anthropology, archeology, and religions. Through the Boston Theological Institute (BTI), students may also enroll in courses at Andover-Newton Theological School, Boston College (BC)  Department of Theology, Episcopal Divinity School, Gordon-Conwell Theological Seminary, Harvard Divinity School, Holy Cross Greek Orthodox School of Theology, St. John's Seminary, and BC's Weston Jesuit School of Theology.
Students of mission and world Christianity at Boston University have access to an excellent research library system, as well as to library resources in the metropolitan Boston area. Library facilities in a research university are far superior to those of most free-standing theological seminaries and Boston University is exceptional:
– The School of Theology Library – 138,000 volumes and 625 periodical subscriptions
– Boston University Libraries – 5.7 million volumes and thousands of subscriptions
– BTI Libraries – 1.5 million volumes and numerous subscriptions
In addition to its focus on research, the heart of study at Boston University is its richly diverse and extremely talented scholarly community. The varied academic, cultural, and spiritual backgrounds of the student population make for a stimulating and fulfilling learning experience. BU's 17 colleges and schools along with a number of multi-disciplinary centers and institutes are central to the school's research and teaching mission. It is the largest private research university in New England.
Degree Programs
There are three degree programs that allow for the study of mission at Boston University: Doctor of Theology (ThD) in Christian History and/or Mission, the Doctor of Philosophy (PhD) in the History of Christianity, and the Doctor of Theology (ThD) in Missiology, offered in conjunction with Gordon-Conwell Theological Seminary
The Doctor of Theology in Christian History and/or Mission is offered through the School of Theology and has an interdisciplinary design based on eight courses in missiology, church history, or related disciplines, and four courses in a minor discipline. The ThD degree program is offered to students who wish to enhance their knowledge or teaching competencies in advanced areas of theology and ministry. It differs from the PhD in its integrative character and assumption of commitment to the church.
The Doctor of Philosophy in the History of Christianity is offered through the Division of Religious and Theological Studies and is designed to provide a broad overview of the history and thought of World Christianity as well as to train specialists in mission history.
In addition to these two programs, since 2008 the BU School of Theology and Gordon-Conwell Theological Seminary have cooperated to offer a joint Doctor of Theology in Missiology (for more information see FAQs below). This new program combines the Boston University School of Theology's broad academic resources as a mainline theological institution with a respected, university-based doctoral degree; and Gordon-Conwell's recognized faculty, research facilities and worldwide contacts as one of the largest evangelical seminaries in North America. Gordon-Conwell resources for doctoral students include faculty in missiology, apologetics, theology and church history. The extensive library holdings of its three campuses in South Hamilton and Boston, Massachusetts, and Charlotte, North Carolina, include the urbanology collection of its multicultural, multiethnic campus in inner city Boston, the Center for Urban Ministerial Education (CUME). The Center for the Study of Global Christianity at Gordon-Conwell, with the research strengths of internationally recognized statisticians Drs. David Barrett and Todd Johnson, editors of the World Christian Encyclopedia (Oxford University Press) serves as a resource for the study and understanding of Christianity internationally. The J. Christy Wilson, Jr. Center for World Missions offers lectures, events and overseas missions opportunities for students, and resources for missions scholars-in-residence.