Alum Profile: Xiyi Yao, Th.D. 2000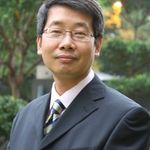 Xiyi Yao is an associate professor of World Christianity and Asian Studies at Gordon-Conwell Theological Seminary. He has been an active scholar, publishing numerous works in both English and Chinese. He has a variety of research interests, including the history of Protestant missions and mission theology; the fundamentalist and evangelical movements in China and America; comparative studies of Christianities in China, Korea and Japan; history of Christian pacifism in China; Chinese traditional religions and culture, and their relation with Christianity; and Christian thoughts in contemporary China.
He received his Th.D. from the School of Theology at Boston University in 2000. His dissertation uncovered and clarified the roots of the fundamentalist movement among Protestant missionaries in China focusing on the fundamentalist missionaries' views and engagement in various aspects of the mission enterprise in China. In this work, he paid particular attention to examining major historical events, issues, individuals, and organizations involved in the fundamentalist missionaries' fundamentalist campaign in China.
Before coming to his current position at Gordon-Conwell, he worked in Hong Kong and mainland China and was involved in various scholarly works: From 2001 to 2003, he served as a Beijing-based consultant for the China Educational Exchange, a North American Mennonite program. Then, from 2003 to 2010, he worked as an assistant professor at the Department of Theological Studies in China Graduate School of Theology (CGST), in Hong Kong. He has been serving as an associate of the Mennonite Mission Network (U.S.A.) since 2003 as well.
His current research projects are: to trace the history and heritage of the Hunan Bible Institute (Biola in China, 1916-1949). In addition, he is also involved in researching the heritage and theology of Wang Wei-fan, a famous Chinese scholar, as a case study of Protestant theology in contemporary China.
Links:
Gordon-Conwell Theological Seminary http://www.gordonconwell.edu/
Mennonite Mission Network http://www.mennonitemission.net
by Hye Jin Lee