Antipas Harris celebrated by Regent University
In a recent newsletter circulated by Regent University, Antipas Harris (ThD) was recognized for his missiological gifts and passion for ministry:
A Man on a Mission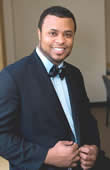 Whether you have met him or not, there are two indisputable truths and admirable qualities that stand out about Dr. Antipas Harris: he is a lover of ministry and a lover of God's people. Harris has clearly adopted Ray Bakke's statement, "mission is no longer (only) about crossing the oceans, jungles and deserts, but (also) about crossing the streets of the world's cities." Those that know him will tell you that Harris exudes unconditional love and acceptance, while standing firm with integrity and a strong faith.
Harris has been an academic lecturer, itinerant preacher and speaker, pastor, youth director, motivational speaker, and Christian musician for nearly 20 years. Both his teaching and preaching ministry have allowed him to travel the likes of Germany, Mexico, Canada, Haiti, the Bahamas, the Democratic Republic of the Congo, and throughout the United States of America. Currently he is an Assistant Professor of Practical Theology and Director of the Youth and Urban Renewal Center at Regent University School of Divinity. He is also newly married to his beautiful bride, Micah J. Barks of Virginia Beach. Born into a Spirit-filled family in Manchester, Georgia, Harris was raised in a traditional, independent Pentecostal-holiness church. Harris is one of eight children: 5 boys and 3 girls. As a child prodigy, he began playing the piano at age 2 and by the age of 7 he knew he was going to preach and teach. Continuing his passion for music, he and his brothers, along with their god brother, formed a musical group. The group A7 so named because there are six brothers, all with first names that begin with "A" and "7" because it is the number of God and signifies completion or maturity.
Harris' ties to his family run very deep, which is why it was no surprise Harris named his father, Pastor James L. Harris, as his hero. "As a product of a single family and from the projects of Columbus, GA, my dad emerged as a diamond in the rough. He is college educated, taught public schools for 32 years, planted a church and a school (k-12) and raised a family. Also, my mom, as she worked hard to raise all her 8 children, was a faithful wife and mother. She completed her degrees while raising us. And now she is working on her doctorate degree. My parents model tenacity and audacity to climb every mountain and championed faith and education."
When asked what his calling in life is, Harris responds, "I have a divine calling in academic and apostolic ministry. Within this calling, my passion is towards educating ministers and theologians towards global community transformation that advances God's reign, particularly in challenged communities." Even more commendable is what Harris attributes as his greatest accomplishment, "the opportunity to see others succeed as a result of my pouring into their lives." Everything that Harris does is purposeful and has a direct connection to his calling. "My passion compels me to pour into the lives of pastors, church leaders, lay ministers, etc.; those who are in position to lead churches in advancing community transformation in areas such as education, economic development, restoration of families, and equipping youth — to name a few. Christian higher education and apostolic ministry comes hand-in-glove to achieve this passion."
Harris' introduction to urban ministry came while studying at Candler School of Theology at Emory University, where he was required to take a contextual education course. Harris chose to do his at a "random" location namely Metro State Women's Prison in Atlanta. As Harris puts it, "many people come to church to find God, but each week I left the seminary and went into the prisons where I not only found God but I saw God's glory." Daily, Harris' worldview and knowledge of God were not only challenged but more importantly they were enlarged. "Our purpose is to participate in God's reign by helping to alleviate the problems of people. I have discovered a whole new paradigm of church. It's now some social club that we join or some building. I am convinced that the church Jesus found is the living organism of Christ that has the responsibility to continue the work of Christ in the world. The institutional churches are challenged to conform to the primary image of the body of Christ – an organism and not organization."
Though he is a very busy man, Harris does admit that he and his wife are avid ethnic cuisine enthusiasts. Additionally, because of their love for music they often attend off-Broadway shows as well as Alvin Ailey dance performances. Harris is presently trying to finish reading Booker T. Mattison's new book, "Snitch," but keeps being delayed by the reading of various academic journals. Harris is currently working on several writing projects including an urban life-coaching curriculum. When you ask him how he would like to be remembered, he answers "Antipas Harris, A Servant of the Lord, who lived, taught, preached and served so that others might see Christ and so that they might succeed in Christ."