Spring 2017 Tuesday Night MFA Lecture Series
Part of the graduate painting seminar at Boston University, the Tuesday Night MFA Lecture series brings practicing artists to campus to present their work. All lectures are free and open to the public.
Spring 2017 Lectures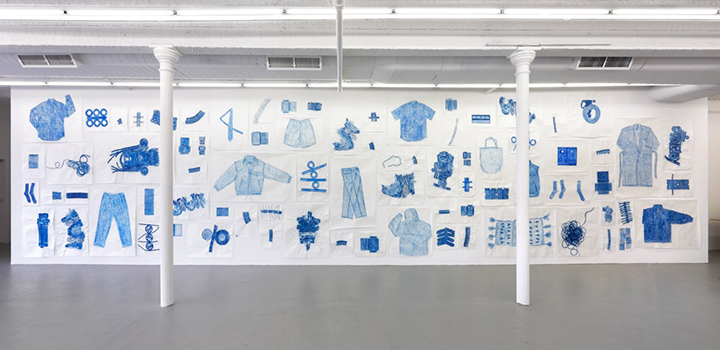 Jennifer Bornstein
Tuesday, January 24, 7:30 pm
Room 303, 808 Commonwealth Ave.
Working in film, photography, and intaglio printing, Jennifer Bornstein creates representations of ordinary people engaged in the quotidian. Bornstein's works often layer varying mediums and periods of artmaking—typically representing both slow processes with more fast-paced processes—such as her etchings based on photographs of figures posed in the same manner as the subjects of 19th-century archival photographs.
Bornstein received an M.F.A. from the University of California, Los Angeles, a B.A. from the University of California, Berkeley, and participated in the Whitney Museum's Independent Study Program. She has received numerous awards and grants, including a DAAD Berliner Künstlerprogramm fellowship, a Sharpe Foundation grant, and a Pollock-Krasner Foundation grant. Her work has been widely exhibited in the United States and Europe, including solo shows at the Museum of Contemporary Art, Los Angeles and the Stedelijk Museum, Amsterdam, and group exhibitions at the Hammer Museum, Los Angeles, Centre Georges Pompidou, Paris, Serpentine Gallery, London, and Menil Collection, Houston, among others. She has contributed essays to Frieze Magazine, the Getty Research Journal, Mousse Magazine, and other publications. Bornstein was a Radcliffe Institute and Film Study Center Fellow at Harvard University in 2014-15. She was recently announced as one of the winners of the 2017 James and Audrey Foster Prize at the ICA Boston, and will have an exhibition at the museum this spring.

Caroline Woolard
Tuesday, January 31, 7:30 pm
Room 303, 808 Commonwealth Ave.
Caroline Woolard works collaboratively to make art and infrastructure for the solidarity economy. After co-founding and co-directing resource sharing networks OurGoods.org and TradeSchool.coop from 2008-2014, Woolard's organizing work is now focused on BFAMFAPhD.com to raise awareness about the impact of rent, debt, and precarity on culture and on the NYC Real Estate Investment Cooperative to create and support truly affordable commercial space for cultural resilience and economic justice in New York City. While making infrastructure, Woolard furnishes gathering spaces with objects that are as imaginative as the conversations that occur in those spaces.
Caroline Woolard's work has been supported by residencies and fellowships at MoMA, the Queens Museum, the Judson Church, the Rockefeller Cultural Innovation Fund, Eyebeam, the MacDowell Colony, and by unemployment benefits, the curiosity of strangers, her partner, and many collaborators. Recent group exhibitions include: Crossing Brooklyn, The Brooklyn Museum, New York, NY; Maker Biennial, The Museum of Art and Design, New York, NY; and Artist as Social Agent, Cleveland Museum of Art, Cleveland, OH. Woolard's work will be featured in Art21's New York Close Up documentary series over the next three years. Woolard is a lecturer at the School of Visual Arts and the New School, a project manager at the worker-owned design firm CoLab.coop, and is a member of the Community Economies Research Network and the board of the Schumacher Center for a New Economics.

Mira Dancy
Tuesday, February 21, 7:30 pm
Room 303, 808 Commonwealth Ave.
Taking a feminist approach, Mira Dancy makes powerful, expressive works centered on the female nude. She works primarily on canvas, but has also branched out into wall painting, neon light pieces, projected images, and sculptural painted combines. Dancy often works on a large-scale, filling her canvases with expansive nudes rendered in a vibrant array of colors and with calligraphic, sweeping lines. Unlike the women who appear in paintings throughout art history, her nudes are imbued with a sense of strength and self-possession, in addition to a knowingly exaggerated sex appeal.
Dancy received her MFA from Columbia University in 2009, and her BA from Bard College in 2001. She has had solo exhibitions at Night Gallery in Los Angeles; Chapter NY in New York; and Galerie Hussenot in Paris. In 2015 she was included in Greater New York at MoMA PS1. Dancy's work has been covered in The New York Times, Art in America, Artforum, Kaleidoscope, and ArtNews, among other publications.

Sheila Pepe
Tuesday, February 28, 6:30 pm
Jacob Sleeper Auditorium, 871 Commonwealth Ave.
Sheila Pepe is best known for her large-scale, ephemeral installations and sculpture made from domestic and industrial materials. Since the mid-1990s, Pepe has used feminist and craft traditions to investigate received notions concerning the production of canonical artwork as well as the artist's relationship to museum display and the art institution itself.
Pepe's work has been exhibited widely, in group exhibitions such as the first Greater New York at PS1/MoMA; Hand + Made: The Performative Impulse in Art & Craft, Contemporary Art Museum Houston, Texas; Queer Threads at the Leslie Lohman Museum of Lesbian and Gay Art in New York; and the ICA/Boston's traveling exhibition Fiber: Sculpture 1960-present. She received her BFA from Massachusetts College of Art and her MFA from the School of the Museum of Fine Arts, Boston. She is a Core Critic in the Painting + Printmaking Department at Yale University.

Mark Thomas Gibson
Tuesday, March 14, 7:30 pm
Room 303, 808 Commonwealth Ave.
Mark Thomas Gibson is a Brooklyn-based painter. Gibson works with the visual language of comics and cartoons to wrestle with difficult historical and social issues. Working in open-ended series, his paintings feature recurring characters and settings that serve as allegories for the history of colonialism and its impact on the American cultural fabric. Gibson received a BFA from Cooper Union and an MFA from Yale in 2013. His work has been exhibited at Matthew Marks Gallery, Fredericks & Freiser, and Salon 94, and he was recently featured in the group exhibition Black Pulp! at Yale University Art Gallery.

Steffani Jemison
Tuesday, March 21, 7:30 pm
Room 303, 808 Commonwealth Ave.
Steffani Jemison is an interdisciplinary artist whose work considers issues that arise when conceptual practices are inflected by black history and vernacular culture. Jemison uses rigorous formal methods to explore her interests in the politics of serial form, the limits of narrative description, and the tension between improvisation, repetition, and fugitivity. Her time-based, photographic, and discursive projects question notions of "progress" and its alternatives.
Jemison's work has been exhibited nationally and internationally, at the Museum of Modern Art, the Brooklyn Museum, the Studio Museum in Harlem, The Drawing Center, LAXART, the New Museum of Contemporary Art, the Royal Danish Academy of Fine Art, Team Gallery, and others. Jemison holds an MFA from the School of the Art Institute of Chicago and a BA in Comparative Literature from Columbia University. She has taught fine art at Columbia University, Parsons The New School for Design, Wellesley College, Trinity College, Rice University, the Cooper Union, and other institutions. She is the 2016-2017 Arthur J. Levitt '52 Artist-in-Residence at Williams College.

Mary Reid Kelley & Patrick Kelley
Monday, March 27, 6:30 pm
Jacob Sleeper Auditorium, 871 Commonwealth Ave.
Mary Reid Kelley and Patrick Kelley are a husband-and-wife collaborative duo whose work collides video, performance, painting and writing. Their highly theatrical vignettes explore gender, class, and social norms within history, art, and literature. The artists' use wordplay, punning and rhyme humorously and incisively deconstruct how history is written and represented.
Mary Reid Kelley earned a BA from St. Olaf College and an MFA from Yale University. She is the recipient of the MacArthur Foundation Grant. Major exhibitions include Salt Lake Art Center, SITE Santa Fe, Institute of Contemporary Art in Boston, and ZKM Museum of Contemporary Art in Karlsruhe, Germany.
Patrick Kelley earned a BFA from St. Olaf College and an MFA from Cranbrook Academy of Art. He has taught Photography, Video and New Media courses at the University of Minnesota, St. Olaf College, St. Mary's College of Maryland, and Skidmore College in New York.

Vishal Jugdeo
Tuesday, April 4, 7:30 pm
Room 303, 808 Commonwealth Ave.
Vishal Jugdeo is a Canadian artist who lives and works in Los Angeles. Jugdeo works primarily in video and sculptural installations, which sometimes include moving elements that enhance the works' narrative and conceptual dimensions. His videos include biographical elements, retelling stories about Jugdeo and his boyfriend, his friends, and his family. Although his videos are carefully scripted, the ambiguity of his characters' interactions and the permeability of their modes of display disrupt passive spectatorship, encouraging his audience's full immersion in the work.
Jugdeo completed an MFA at University of California Los Angeles, a BFA at Simon Fraser University, Vancouver, BC, and attended the Skowhegan School of Painting and Sculpture, Skowhegan, Maine. He has exhibited widely, including solo shows at LAXART, Los Angeles, and The Western Front and Helen Pitt Artist Run Center in Vancouver, BC. He is currently developing a performative work for live broadcast, which will air on public access television in conjunction with an exhibition at Queens Nails Projects, San Francisco. Jugdeo is represented by Thomas Solomon Gallery in Los Angeles.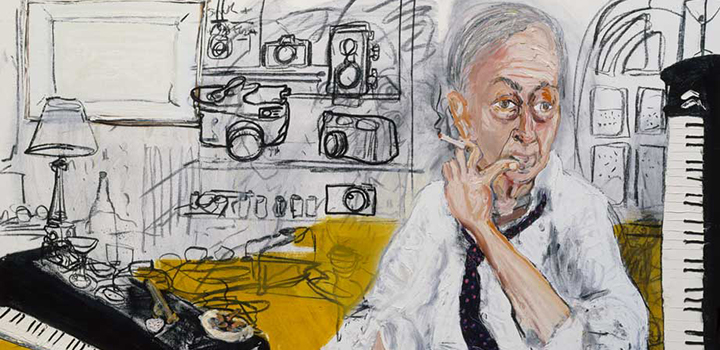 Sam Messer
Tuesday, April 11, 7:30 pm
Room 303, 808 Commonwealth Ave.
Sam Messer's portraits of writers and still-lifes of typewriters reveal a deep commitment to the connections between visual art and language. Messer regularly collaborates directly with writers on his paintings, as well as on hand-made animations created from thousands of individual etchings and drawings.
Messer received a B.F.A. from Cooper Union in 1976 and an M.F.A. from Yale University in 1982. His work may be found in public collections including the Metropolitan Museum of Art, Whitney Museum of American Art, Museum of Fine Arts, Boston, Museum of Fine Arts, Houston, Art Institute of Chicago, and Yale University Art Gallery. He has received numerous awards including a Louis Comfort Tiffany Foundation grant, the Engelhard Award, a Pollock-Krasner Foundation grant, and a Guggenheim Fellowship. He is Associate Dean and professor at the Yale School of Art. He is represented by Nielsen Gallery, Boston, and Shoshana Wayne Gallery, Los Angeles.

Dana Frankfort
Tuesday, April 18, 7:30 pm
Room 303, 808 Commonwealth Ave.
Merging graffiti and high art abstraction, Dana Frankfort's paintings occupy a hazy space between verbal and visual communication. Using text as a platform for expressive embellishment, each canvas reveals a word or phrase within its sumptuous, intensely colored surface; simple statements such as 'Believe', 'Beyond', or 'Paint' become esoteric starting points for the physical negotiation of painting. Repeatedly scrawled, painted over, scribbled out, and intensified, each slogan becomes abstracted as a series of intersecting lines, curves and angles, their meanings amplified and distorted through the gesture and surface quality of their manifestation.
Frankfort received an MFA from Yale in 1997 and attended the Skowhegan School of Painting and Sculpture. One-person exhibitions include The Space Between Paintings, Carillon Gallery, Fort Worth, TX; HIT OR MISS, James Harris Gallery, Seattle, WA; Sorry We're Closed, Brussels; Bellwether Gallery, New York, NY; Inman Gallery; and Kantor/Feuer Gallery, Los Angeles, CA. Her paintings were included in the group exhibition Abstract America: New Painting from the U.S., Saatchi Gallery, London; and in Learning by Doing: 25 Years of the Core Program, Museum of Fine Arts, Houston, TX. Frankfort received a John Simon Guggenheim Memorial Foundation Fellowship in 2006. Her paintings are in the permanent collections of the Museum of Fine Arts, Houston, TX, Rice University, Houston, TX, and The Jewish Museum, New York, NY.

Aliza Nisenbaum
Tuesday, April 25, 7:30 pm
Room 303, 808 Commonwealth Ave.
Born in Mexico City and currently based in New York, Aliza Nisenbaum's paintings are intimate exchanges between herself and her subjects. The artist makes portraits of undocumented Latin American immigrants, hand-written letters, books, and other personal objects. Often lushly decorated with patterened textiles, her canvases demand close looking in keeping with her personal connections to her subjects.
Nisenbaum has presented her work internationally, at Mary Mary, Glasgow; White Columns, New York; Lulu, Mexico City; and Shane Campbell Gallery, Chicago. National and International group exhibitions have included the Biennial of the Americas, MCA, Denver; the Rufino Tamayo Painting Biennial, Museo Rufino Tamayo, Mexico City; 68 Projects, Berlin; Fondazione Querini Stampalia, Venice; Princeton University School of Architecture; The Renaissance Society, Chicago; Green Gallery, Yale School of Art, among others. She received her BFA and MFA from the School of the Art Institute of Chicago. She has been a resident at The Sharpe-Walentas Studio Program and Artist-in-Residence at the University of Tennessee. Fellowships and grants include the Rema Hort Mann NYC award, and the Fellowship for Immigrant Women Leaders from NYC Mayor's Office of Immigrant Affairs (MOIA). She has also been a participating artist at Immigrant Movement International, Corona Park, Queens. Her work will be featured in the upcoming 2017 Whitney Biennial.

Harold Mendez
Tuesday, May 2, 7:30 pm
Room 303, 808 Commonwealth Ave.
A first-generation American artist born in Chicago to Colombian and Mexican parents, Harold Mendez works with installation, photography, sculpture and text to reference reconstructions of place and identity. His work addresses the relationships between transnational citizenship, memory and possibility, considering how history is not only an affirmed past, but a potential future. His recent work examines how reclaimed objects, makeshift monuments and images reveal a life parallel to conflict, demonstrating both factual evidence and where traces of fiction emerge.
Selected exhibitions include the 2017 Whitney Biennial, Whitney Museum of American Art; the Museum of Contemporary Art, Chicago; Renaissance Society; Museum of Modern Art / PS1, New York; Studio Museum, Harlem; Drawing Center, New York; Museum of Contemporary Photography, Chicago; Project Row Houses, Houston; and the Institute of Contemporary Art, Philadelphia. His work is in the permanent collection of the Museum of Fine Arts, Houston; the Studio Museum, Harlem; and the Museum of Contemporary Art, Chicago. Mendez has held residencies at the Robert Rauschenberg Foundation; the Museum of Fine Arts, Houston; and Skowhegan School of Painting & Sculpture. He is a recipient of the Efroymson Contemporary Arts Fellowship; 3Arts Award; Illinois Arts Council Artist Fellowship; and the Foundation for Contemporary Arts Emergency Grant. Mendez studied at Columbia College Chicago; University of Science and Technology, School of Art, Ghana, West Africa; and the University of Illinois at Chicago.