Tuesday Night MFA Lecture Series
Hosted by the graduate programs in Painting and Sculpture at Boston University, the Tuesday Night MFA Lecture Series brings practicing artists to campus to present their work. All lectures are free and open to the public.

Gala Porras-Kim
Tuesday, February 4, 7:30 pm
Room 410, 808 Commonwealth Avenue
Gala Porras-Kim is an interdisciplinary artist living in Los Angeles. Her work is made through the process of learning about the social and political contexts that influence how such intangible things as sounds, language, and history have been represented through methodologies in the fields of linguistics, history, and conservation. Interested in the nature of museum practices of preservation and conservation, Porras-Kim's research-driven practice takes as a point of departure the assumptions that imbue cultural objects and artifacts with meaning and value. Utilizing museological approaches of display and cataloguing, the artist speculates on the possible narratives of objects that would otherwise be lost in history. Her recent work explores the limits of artists' agency, property rights, and corporal integrity, considering artworks and artifacts within institutional collections.
Originally from Bogotá, Colombia, Porras-Kim lives and works in Los Angeles. She has an MA in Latin American Studies from the University of California, Los Angeles, and an MFA from the California Institute of the Arts. Her work has been shown at the Whitney Museum of American Art, The Los Angeles County Museum of Art, and the Hammer Museum. In 2017 she was the recipient of an Artadia Award, and in 2015 of a Creative Capital award and a Tiffany Foundation award.  She is currently a Fellow at the Radcliffe Institute of Advanced Study at Harvard University.

Sangram Majumdar
Tuesday, February 11, 7:30 pm
Room 410, 808 Commonwealth Ave.
Sangram Majumdar's paintings engage deeply with the sensory experience of the world. While rooted in direct observation, his work often veers into the territory of abstraction by utilizing darkness, reflective glare, and refraction, which all serve to dissolve the unity of the subject and disorient the viewer. Majumdar's recent work is inspired by the Indian Sanskrit epic poem the Ramayana. Figures and repeating motifs such as hands are partially erased and redrawn, producing a central absence that simultaneously alludes to various pictorial conventions ranging from figuration to total abstraction.
Born in Kolkata, India, Majumdar has an MFA from Indiana University and a BFA from the Rhode Island School of Design. Recent solo exhibition venues include Barbara Davis Gallery, TX; Asia Society Texas Center, TX; Steven Harvey Fine Art Projects, NY; The Landing Gallery, LA; Freight & Volume, NY; Geary Contemporary, NY; and James Cohan Gallery, NY. Awards include a Purchase Award from the 2010 Invitational Exhibition of Visual Arts, American Academy of Arts and Letters, NY, a MacDowell Fellowship, a residency at Yaddo, the 2009-10 Marie Walsh Sharpe Studio Space Program Grant, and two Maryland State Art Council Individual Grants in Painting. He is a Professor of Painting at the Maryland Institute College of Art.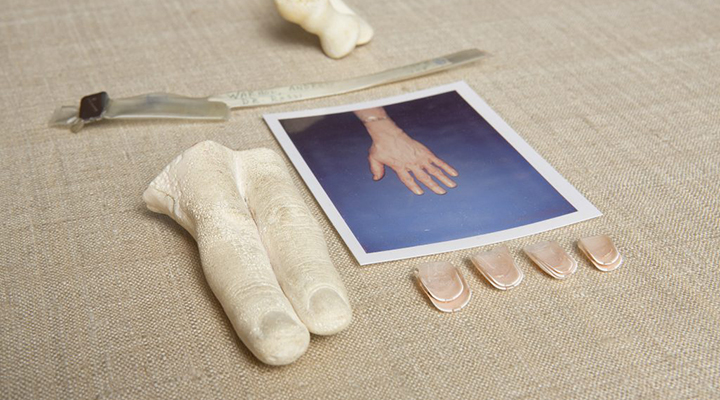 Adam Milner
Tuesday, February 25, 7:30 pm
Room 410, 808 Commonwealth Ave.
Adam Milner draws from personal and historical archives to create highly poetic sculptures and assemblages. His practice draws upon personal exchanges with people, things, and institutions to examine systems of intimacy, value, and power. Approaching materials and spaces that are often off limits, his work reveals boundaries and involve a process of negotiation and exchange. He has performed aboard a cruise ship hosted by the app Grindr, collaborated with material engineers at NASA to use rare lunar regolith simulant, intervened in the archives of Andy Warhol, and routinely drawn his boyfriend's blood.
Milner lives and works in Brooklyn. He received an MFA from Carnegie Mellon University, is a recent participant of the Skowhegan School of Painting and Sculpture, and is a fellow with Black Cube Nomadic Museum. Milner has exhibited at the Mattress Factory, The Andy Warhol Museum, Museum of Contemporary Art Denver, Aspen Art Museum, Casa Maauad, Galería Mascota, Flux Factory, Florian Christopher Zurich, Mindy Solomon Gallery and David B. Smith Gallery.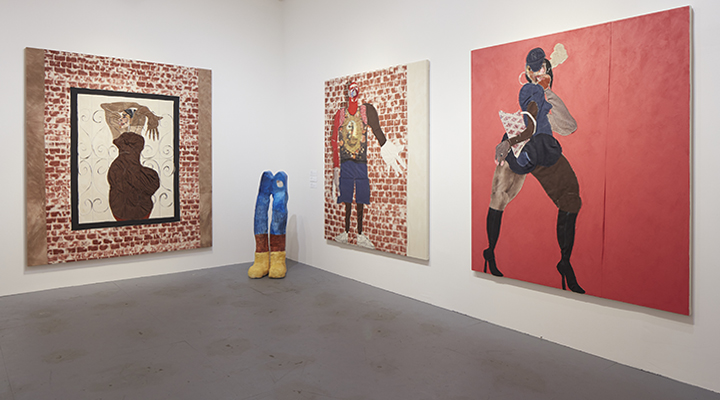 Tschabalala Self
Wednesday, March 4, 7:30 pm
Room 410, 808 Commonwealth Ave.
Tschabalala Self creates large-scale figurative paintings that integrate hand-printed and found textiles, drawing, printmaking, sewing, and collage techniques to tell stories of urban life, the body, and humanity. Her paintings and sculptures represent personal avatars, couplings, and everyday social exchanges inspired by urban life. Together, they articulate new expressions of embodiment and humanity through the exaggerated forms and exuberant textures of the human figure, pointing to its limitless capacity to represent imagined states, memories, aspirations, and emotions. Yet Self's characters possess an ordinary grace grounded in reality: they are reflections of the artist or people she can imagine meeting in Harlem, her hometown.
Self received her MFA from Yale University and a BA from Bard College. Recent exhibition venues include the Hammer Museum in Los Angeles, the Frye Art Museum in Seattle Washington, Yuz Museum in Shanghai, the Museum of Contemporary Art San Diego, and the New Museum in New York, among many others. Her work can be found in collections including the Art Institute of Chicago, the Brooklyn Museum, the ICA Boston, the Perez Art Museum in Miami, the Philadelphia Museum of Art, and the Oiakothek de Moderne in Munich, Germany, among others. She has been in artist in residence at the Studio Museum in Harlem, the Red Bull House of Art in Detroit, and was an Al Held Fellow at the American Academy in Rome, Italy. Her first solo exhibition in Boston, Out of Body, is on view now at the Institute of Contemporary Art/Boston.

Marc Handelman
Tuesday, March 17, 7:30 pm
Room 410, 808 Commonwealth Avenue
Marc Handelman is an American painter living and working in Brooklyn, New York known for large scale paintings, landscapes and abstract images. Drawing from popular cultural and art historical visual references, he crops, reframes, and deconstructs iconic images to explore politics, spirituality and ideology. Engaging themes such as the re-emergence of nineteenth-century landscape aesthetics in corporate advertising, political branding, white-nationalist mythology, settler-colonialism, and the essentialization of Nature, Handelman's work questions the ways in which the omnipresence of these and other naturalisms obfuscate, aestheticize and legitimize forms of violence and oppression.
Handelman studied at the Rhode Island School of Design (RISD) earning a BFA in Painting in 1998, with an Art History concentration. He spent two of those years at RISD at the European Honors Program, studying in Rome. In 2003, he was awarded an MFA in Visual Arts from Columbia University. Handelman's work has been shown internationally and has been featured in the USA Today exhibition at the Royal Academy in London. He has participated in exhibitions at several prominent commercial galleries such as Lombard-Freid Fine Arts, Elizabeth Dee Gallery in New York, and Marc Selwyn Fine Art in Los Angeles. He is represented by Sikkema Jenkins & Co. in New York.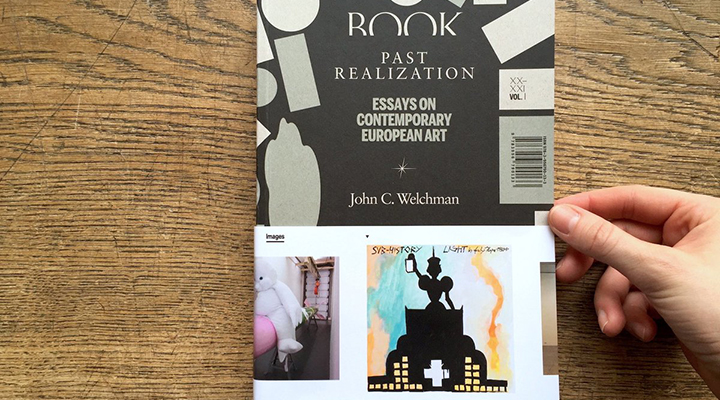 John C. Welchman
Tuesday, March 24, 7:30 pm
Room 410, 808 Commonwealth Avenue
Organized in partnership with the department of the History of Art and Architecture, with support from the BU Arts Initiative.
John C. Welchman is Professor of Modern Art History in the Visual Arts Department at the University of California, San Diego. He writes regularly on modern and contemporary art and critical theory. Among his numerous publications are Past Realization: Essays on Contemporary European Art;After the Wagnerian Bouillabaisse: Essays on European Avant-Gard Art; Modernism Relocated: Towards a Cultural Studies of Visual Modernity; Invisible Colours: A Visual History of Titles; and Art After Appropriation: Essays on Art in the 1990s. He is the editor of three collections of writings by the artist Mike Kelley, and the co-editor of Black Sphinx: On the Comedic in Modern Art. Welchman has written art criticism for Artforum, where he had a column in the late 1980s and early 90s; Screen; and the New York Times, among other newspapers and journals.

Gordon Hall
Tuesday, April 7, 7:30 pm
Room 410, 808 Commonwealth Avenue
Organized in partnership with the departments of English and History of Art & Architecture, as well as the Women and Gender Studies Program, with support from the BU Arts Initiative.
As a sculptor, performer, and writer, Gordon Hall examines the personal, relational, and political effects of the ways we relate to objects and to each other. Using both abstract forms and re-constructed copies of found objects, the artist asks how we might use such things and how they solicit bodily engagements from us. Ultimately, Hall's interests lie in the social and political dynamics of these exchanges. The intentional, specific, and enigmatic objects Hall creates are both provocations to performance and allegories for an ethics of relationality. The sculptural objects and the performances that occur with and adjacent to them explore possibilities for an engagement with space, time, and objecthood that seek to model alternative futures.
Hall was born in Boston and lives and works in New York. The artist has performed and exhibited at the Renaissance Society, Chicago; the Wysing Arts Centre, London; Temple Contemporary, Philadelphia; The Whitney Museum of American Art, New York; the Brooklyn Museum, Brooklyn; Sculpture Center, Long Island City; and the List Center for the Visual Arts at MIT in Cambridge.
Ella Kruglyanskaya
Tuesday, April 14, 7:30 pm
Room 410, 808 Commonwealth Avenue
Ella Kruglyanskaya is a contemporary painter known for her stylized depictions of female figures. Characterized by splashy colors and patterns, her paintings depict women in revealing and exuberantly styled clothing, engaged in leisure activities or absurdist scenarios punctuating by visual puns and physical confrontations. Kruglyanskaya's practice engages with the historical tropes of Western painting in regard to the female figure, updating and subverting these conventions through humor and a bold expressionistic approach.
Born in in Riga, Latvia, she emigrated to the United States in the 1990s, receiving her BFA in painting from Cooper Union and her MFA from the Yale School of Art. Kruglyanskaya lives and works in New York. She has exhibited at Gavin Brown Enterprise in New York; Bonner Kunstverein in Germany; Tate Liverpool; Contemporary Art Center in Riga, Latvia; The Power Station in Dallas, TX; and White Columns in New York, among others. Her works are held in the collections of the Broad Museum in Los Angeles and the Tate Modern in London.
Akili Tommasino
Tuesday, April 21, 7:30 pm
Room 410, 808 Commonwealth Avenue
Akili Tommasino is the Associate Curator of Modern and Contemporary Art at the Museum of Fine Arts, Boston. An advocate of emerging artists and a scholar of the twentieth-century avant-garde, he has curated and collaborated on numerous exhibition projects at institutions internationally. Previously, he was a curatorial assistant at The Museum of Modern Art, New York, where he organized 2017 exhibition Projects 107: Lone Wolf Recital Corps, and a Fulbright Fellow at the Centre Pompidou – Musée national d'art Modern in Paris, where he pursued research for his dissertation on the machine aesthetic of Fernand Léger.
Tommasino is completing a PhD in History of Art and Architecture through Harvard University, where he earned his MA and BA. With the support of Sotheby's, Tommasino founded the the Prep for Prep/Sotheby's Summer Art Academy, which gives New York City high school students of color an early window into the art world and to promote diversity in the field.

Peter Halley
Monday, April 27, 7:30 pm
Room 410, 808 Commonwealth Ave.
Peter Halley is a contemporary American artist best known for his neon-colored geometric paintings. Since the early 1980s, Halley has honed in on motifs related to barred windows, prison cells, and the conduits and grids composing cities. "Space became geometrically differentiated and partitioned. Circulatory pathways, the omnipresent straight lines of the industrial landscape, were established to facilitate orderly movement," he wrote. Halley helped define the Neo-Geo movement, developing themes meant to critique the utopian vision of avant-garde idealists and the narratives produced by various cultural authorities.
Halley has been the subject of numerous solo exhibitions, at sites including the Contemporary Art Center New Orleans; the Stedelijk Museum, Amsterdam; the Dallas Museum of Art; the Museum of Modern Art in New York; Museum Folkwang in Essen, Germany; the Sanata Barbara Museum of Art; Kunsthalle Schirn in Frankfurt, Germany; and has been featured in numerous group exhibitions nationally and internationally. Alongside his career as a visual artist, Halley has written a number of essays on art theory. An influential teacher to a generation of young artists, he served as Director of Graduate Studies in Painting and Printmaking at the Yale University School of Art from 2002 to 2011. Halley studied at Yale University and received an MFA at the University of New Orleans. His work is held in the collections of The Museum of Modern Art in New York, the Art Institute of Chicago, and the Tate Modern in London, among many others.
Fall 2019 Lectures:
2017-2018 Lectures:
2016-2017 Lectures: