College of Fine Arts Convocation & Commencement
Boston University Commencement Weekend
May 17-20, 2018
Please be sure to check out the BU Commencement 2018 website for additional information including parking and transportation and disability services.
Ceremonies
College of Fine Arts Convocation Ceremony
Saturday, May 19, 2018. 4 p.m.
Track & Tennis Center
100 Ashford Street
Graduating students must check in from 2:45 – 3:00 p.m.
There are no tickets required to attend the convocation ceremonies.
The ceremony will be followed immediately by a tented reception in the adjacent lot.
Speakers:
Emmy-winning actor and television producer Michael Chiklis (CFA'85), has been named the speaker for the 2018 CFA Convocation.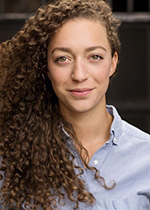 Shawna M. James (CFA'18) has been named the CFA Student Speaker.
All University Commencement Ceremony
Sunday, May 20, 2018, 1 p.m.
Nickerson Field
Rain or shine
Duration: approximately two hours
Graduating students are asked to arrive no later than 12:15pm.
No tickets are required for guests attending the Commencement Ceremony
Speakers: John Lewis, U.S. Congressman representing Georgia's Fifth District, will deliver Boston University's 145th Commencement Address. Carmen Yulín Cruz Soto, mayor of San Juan, Puerto Rico, will deliver the Baccalaureate Address. Vibha Bakshi, Anthony S. Fauci, and Zhang Yimou will receive honorary degrees.
---
Getting Here
We recommend using public transit where possible, but if you must drive, please view our resources for directions and parking during Commencement.
Public Transit
MBTA
You can quickly and easily hop on a Massachusetts Bay Transit Authority (MBTA) bus or a train from campus to various places in the city and beyond. Check the MBTA site for maps and schedules, or use their trip planner.
BU Shuttle
We'll provide free continuous shuttle service between Kenmore Square and the Track & Tennis Center throughout the weekend for our guests. Check the shuttle route for stops near your destination and hours of operation.
Parking
For those who must drive to campus, all parking lots and garages will be open and available free of charge throughout the weekend. On Commencement Day, please utilize parking facilities east of the BU Bridge and utilize the available shuttle bus to travel to Nickerson Field. Parking is extremely limited in the area of Nickerson Field and West Campus. 
All lots throughout BU have accessible parking for those with disabilities. As of May 4, any guests requiring a designated accessible parking permit should call Parking & Transportation Servicesat 617-353-2160.  Please get details about accessible parking in the Disability Services section.
---
Information for Graduating CFA Students
Diplomas
Neither the University-wide ceremony nor the CFA convocation ceremony is mandatory. Graduates who are unable to attend may have their diplomas mailed. All degree candidates should access the Student Link to verify and/or update important diploma and commencement information. If you do not have access to the Student Link, please visit the Office of the University Registrar's website. The Office of the University Registrar provides the dates which the diplomas are released for mailing. It is imperative that your mailing address is correct in order to receive your diploma. Diplomas will be mailed to September and January graduates and for those May graduates unable to attend the CFA Convocation Ceremony.
Graduation Reviews & Degree Requirements
All students must have a graduation review or received verification that they have completed their graduation requirements. Unresolved problems may hold up receipt of your degree. Any AP scores, transfer credits and declaration of minors MUST be resolved immediately. Contact CFA Registrar, Mary Ducharme at cfastu@bu.edu to ensure you are able to graduate on time.
You can apply for graduation by following this link. Applications for May graduation were due September 27th, 2017, but if you need to apply late for any reason, please email CFA Student Records at cfastu@bu.edu .
If you have any remaining questions about your academic requirements for graduation, please contact one of the staff below:
School of Music:
Barbara Raney, braney@bu.edu
School of Visual Arts:
Beth Zerega, bzerega@bu.edu
School of Theatre:
McCaela Donovan (Performance), mccaela@bu.edu
Jon Savage (Design and Production), jsavage@bu.edu
Mark Stanley (Graduate Design and Production), mws@bu.edu
Dean's Office, Enrollment Services:
Brendan Hoey (Student Services), brendan2@bu.edu
Mary Ducharme (Registrar, Student Records), cfastu@bu.edu

Online Graduate Students
Students in our music education and art education graduate programs should direct any questions to Shannon Streets, Academic Administrator for Online Programs at sstreets@bu.edu. We look forward to seeing you at the ceremony!
Cap & Gown Information
You can order your cap and gown online through March 25, 2018 through the BU Commencement website. Undergraduates and Masters students are required to buy regalia and DMA students must rent regalia. All participants must wear a cap and gown walk in the May ceremony.
The College of Fine Arts has a Regalia Recycling program that we are hoping to grow to help loan students who wouldn't normally attend graduation due to the high cost of regalia. If you do not wish to keep your regalia and would like to donate to our program, we will gladly accept your donation. Thank you in advance for helping future graduate from the College of Fine Arts. You may donate the following ways:
1. There will be boxes at the CFA graduation where you can place your regalia. It can be all or whatever pieces you chose to donate.
2. You may drop off regalia at any time to the CFA Dean's Office. We realize families may want photos after graduation. 
3. You can mail regalia to the following address:
Boston University
College of Fine Arts
Student Records
855 Commonwealth Avenue
Suite 230
Boston, MA, 02215
Financial Aid & Your Student Account
If you have a Federal Direct Subsidized/Unsubsidized Stafford Loan, you MUST complete exit counseling in order to graduate. Information on exit counseling can be found on the Office of Financial Assistance website. Perkins Loan borrowers must complete an exit interview in person; please call 617-353-2340 for more information.
If your student account is not settled you will not receive your diploma. Please ensure you have no outstanding balance on your bill. Check with Student Accounting Services if you have questions.
For other information about diplomas, transcripts, and your student account, please view the BU Commencement 2018 website.
Latin Honors
Latin Honors are for undergraduate students only. Among graduating seniors in each school or college, Latin Honors are awarded to the top 30% of the class as follows:
Summa Cum Laude: Top 5%
Magna Cum Laude: Next 10%
Cum Laude: Next 15%
The "break points" (GPA ranges corresponding to each of the honors categories) are determined for each school or college on February 1 of each year, based on the penultimate semester's GPAs of the senior class.
The GPA break points for 2018 in the College of Fine Arts are as follows:
Summa Cum Laude: 3.91-4.00
Magna Cum Laude: 3.78-3.90
Cum Laude: 3.66-3.77