Contemporary Perspectives Lecture Series
Each semester, the School of Visual Arts' Contemporary Perspectives Lecture Series invites renowned professional artists, designers, and critics to engage with the SVA community. Undergraduate and graduate students benefit from exposure to the lecturers' work, entering into dialogues about the art-making process, as well as benefiting from individual studio visits and critiques. Visiting artist lectures are free and open to the public.
Spring 2018 Contemporary Perspectives Artists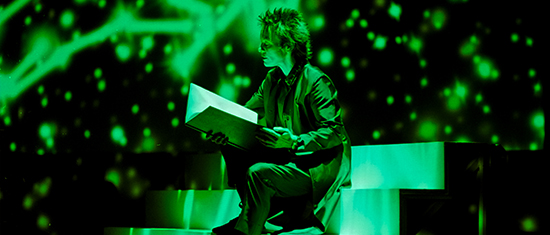 Laurie Anderson
Wednesday, February 7, 6:30 pm
Tsai Performance Center, 685 Commonwealth Ave.
Laurie Anderson is a visual artist, composer, musician, film director and writer at the forefront of the American avant-garde for over four decades. A fixture in the realms of contemporary art, experimental theater and music, she has consistently pushed disciplinary boundaries. Her work tests the limits of new technologies as cultural tools, while questioning the line between high and low culture.
She has been awarded a residency at the American Academy in Rome, In 2003 Anderson became NASA's first Artist in Residence. Her work is currently on view at the Massachusetts Museum of Contemporary Art in North Adams, MA, in a sprawling installation of drawing galleries, a working studio, an audio archive, and an interactive virtual reality environment. Other recent projects include the feature-length film Heart of a Dog (2015) and the performance installation Habeas Corpus at the Park Avenue Armory (2015).
Anderson's presentation at Boston University will include the performance of a new live multimedia work, All The Things I Lost In The Flood, an artist talk, and a discussion and book signing for her forthcoming book.
Co-sponsored by the BU Arts Initiative. Space limited, RSVP here.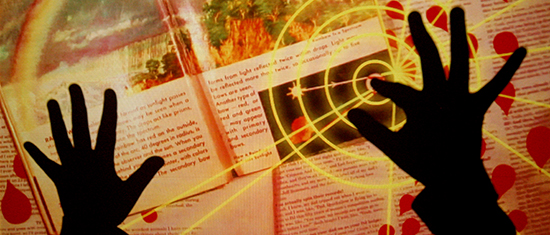 Miwa Matreyek
Wednesday, March 28, 6:30 pm
Tsai Performance Center, 685 Commonwealth Ave.
Miwa Matreyek is an animator, director, designer, and performer based in Los Angeles. Coming from a background in animation by way of collage, Matreyek creates live, staged performances where she interacts with her animations as a shadow silhouette, at the cross section of cinematic and theatrical, fantastical and tangible, illusionistic and physical. Her work exists in a dreamlike visual space that makes invisible worlds visible, often weaving surreal and poetic narratives of conflict between man and nature.
Performances of her work have been held at the TED Conference, The Museum of Modern Art in New York, Sundance New Frontier, The Lincoln Center, The Exploratorium in San Francisco, REDCAT in Los Angeles, and the Walker Arts Center in Minneapolis, to name a few. She is the recipient of a Creative Capital Award. She received her MFA for Experimental Animation and Integrated Media from CalArts in 2007.
Her presentation at Boston University will include a live performance followed by an artist talk and Q-and-A.
Fall 2017 Contemporary Perspectives Artists
Martha Rosler
Thursday, October 12, 6:30 pm
Sleeper Auditorium, 871 Commonwealth Ave.
Martha Rosler is an artist, writer, and activist based in Brooklyn, New York. A pioneer of American conceptual photography, video art, performance, installation and feminist art practice, she has had solo exhibitions at the Museum of Modern Art, the Whitney Museum of American Art, the Centre Pompidou in Paris, the Dia Art Foundation, and the New Museum, to name just a few. Since the 1970s, her widely influential work has consistently tackled the most urgent social, aesthetic, and political issues of the day, from the US media's coverage of war, to the experiences and representations of women, to issues of housing and homelessness. She is also a noted writer, having published over fifteen books, including Decoys and Disruptions, Culture Class, and Positions in the Life World. She received her B.A. from Brooklyn College her M.F.A. from University of California, San Diego.
Tom Sachs
Wednesday, November 29, 6:30 pm
Sleeper Auditorium, 871 Commonwealth Ave.
Tom Sachs is an interdisciplinary artist known for his intricate, hand-built reconstructions of American cultural detritus. Utilitarian objects, luxury goods, artifacts from the NASA space program are combined and reimagined using makeshift materials, laboriously assembled by hand. Simultaneously playful and critical, Sachs' work looks closely at consumerism and capitalist iconography to create tensions between high and low culture, the handmade and the mass-produced, labor and leisure, and the venerated and the overlooked.  Sachs has exhibited internationally, and has work in the permanent collections of The Metropolitan Museum of Art, the Solomon R. Guggenheim Museum, and the Smithsonian Institute in Washington D.C., to name a few.
Past Lectures
Artist's Lectures from 2006 and onward are available on the Boston University BUniverse website.
2016/17
Jack Whitten
Jeffrey Gibson
Sheila Pepe
Mary Reid Kelley & Patrick Kelley

2015/16
Maya Lin
Michael Berryhill
Huma Bhabha
Walton Ford
Aaron James Draplin

2014/15
Josephine Halvorson
Stefan Sagmeister
Mickalene Thomas & Anna Stothart in conversation
Janet Echelman
2013/14
Richard Aldrich
Janine Antoni
Carrie Moyer
Jerry Saltz & Roberta Smith in conversation
Miranda July
2012/13
Vik Muniz
Dona Nelson
Amy Franceschini
Andrea Zittel
Chris Jordan
2011/12
Phoebe Washburn
Enrique Chagoya
Nicole Eisenman
Laurie Anderson
April Greiman
2010/11
Alison Saar
Anna Sculeit
Alyson Shotz
Laylah Ali
Kyle Cooper
William Kentridge
Judy Pfaff
2009/10
Thomas Struth
Fred Wilson
Alyson Shotz
Beverley Semmes
Kerry James Marshall
2008/09
Jenny Saville
Dana Schutz
Carol Becker
Usula von Rydingsvard in conversation with Debra Bricker Balken
Yvonne Rainer in conversation with Robert Storr
2007/08
Peter Scheljdahl
Chuck Close
Magdalena Campos Pons
Ledelle Moe
Anna Conway
2006/07
Matthew Ritchie in conversation with Jerry Saltz
Trenton Doyle Hancock
Hanneline Rogeberg
Willie Cole
Sandy Skoglund
2005/06
Donald Kuspit
Kiki Smith
Dana Clancy
Chris Chou
Lynne Allen
Richard Yarde
2004/05
Mark Strand
Haley Hasler
Hilary Harkness
Hilton Kramer
Ken Tyler
Karen Wilkin
Lise Lemeland
Robert Gamblin
2003/04
Anne Harris
Susanna Coffey
Vincent Desiderio
Robert Taplin
John Moore
Mark Gottsegen
Catherine Murphy
Sedrick Huckaby
Joe Ablow
Nicole D'Agata
Al Held