CFA mourns the passing of Arthur Polonsky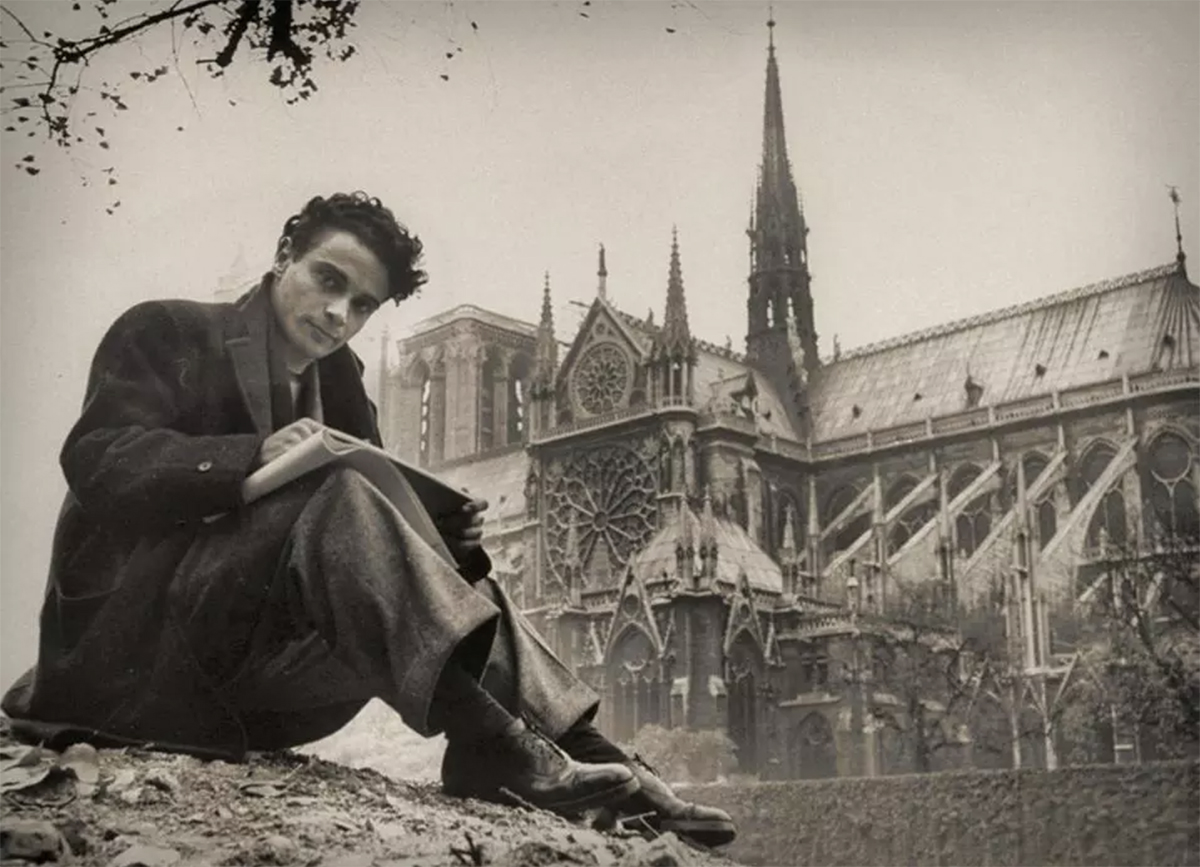 Above: 
A photo of Mr. Polonsky at work in the shadows of Notre Dame Cathedral in the late 1940s.
April 22, 2019
CFA is saddened to learn of the passing of Professor Emeritus Arthur Polonsky, a distinguished member of the School of Visual Arts community. The School of Visual Arts and College of Fine Arts community remembers and celebrates Arthur Polonsky's important legacy. A memorial service will be held this Tuesday April 23 at Stanetsky Memorial Chapels, 1668 Beacon Street, Brookline.
Arthur Polonsky was a well-known artist and much-beloved teacher. In an article in The Boston Globe, Nick Capasso, Director of the Fitchburg Art Museum, was quoted as saying: '"In the 20th century, Arthur Polonsky was one of the most important painters in Boston, period. He was immensely influential as an artist, as a teacher, for decades."' This quotation is from an interview for a documentary in progress about the artist's life, directed by Polonsky's son Gabriel, who also teachers at Boston University's College of Communications.
Arthur Polonsky was born in Lynn, MA in 1925. He began his artistic career studying at the School of the Museum of Fine Arts, Boston (the Museum School) with the important Boston Expressionist painter Karl Zerbe during the mid-1940s, a time when this important group of painters was forming around the Museum School. Boston Globe art critic Edgar Driscoll, Jr. described these artists as "the avant-gardists of their day." Many leaders of the Boston Expressionism movement that coalesced at the Museum School in those years later became faculty colleagues at Boston University, including founding SVA Chairman David Aronson. Upon graduation in 1948, he received the Museum School's prestigious travel grant which allowed him to work as an artist in Paris at an important time for Modernist painting. After his return to the U.S. he proceeded to teach with the Museum School for the balance of the 1950s, and in the early part of the decade was recognized with a Louis Comfort Tiffany Award for Painting. He was also a fine arts faculty member at Brandeis University from 1954-65.
Arthur came to Boston University School of Visual Arts as Associate Professor in 1965. Until his retirement in 1990, he was a well-loved professor of drawing, painting and design. Throughout his decades on the BU faculty, he continued to build his artistic profile. "In his canvases, alive with flickering brushwork and a feeling for paint, the human figure—wandering, wondering, tentative, tender, even sad—is the focal point for a symbolic drama of [humanity's] relationship to the world outside, past and present included" is how Driscoll, Jr., summarized Arthur's 120-piece retrospective at the Brockton Art Center in 1971 in the Boston Globe.  Additionally, he showed his paintings, drawings, and prints in well-reviewed shows in the Boston area at the Boris Mirski Gallery, Shore Gallery, and Danforth Museum, as well as the Mickelson Gallery in Washington, D.C. His work was further exhibited at and collected by museums nationally and internationally. As an important artist and educator in Boston, he maintained close ties to local cultural institutions, including the Boston Public Library, Impressions Workshop, and the Boston Visual Artists Union.
The full article from the Globe can be read here.
On April 23, former colleagues and friends are invited to gather in the Stanetsky chapel foyer at 2:00 PM for conversation and a slideshow of his life and work. The memorial service will begin at 2:30 in the main chapel. Following the service, guests are invited to join friends and family for a memorial observance at Evans Park Assisted Living, 430 Center Street, Newton Corner, MA. In lieu of flowers, donations may be made to support the completion of Release from Reason, a documentary film about the life and work of Arthur Polonsky.
More information about the memorial service be found here.