At New Rep, 'Brecht on Brecht' …on Trump
This article was originally published by The Boston Globe
WATERTOWN — In her stirring speech last month at the Golden Globes, Meryl Streep underscored how much Donald Trump's march to the White House has rekindled the spirit of resistance among many artists and writers.
But awards ceremonies come and go. For a primer on how to wage a more enduring artistic battle against authoritarianism, consider "Brecht on Brecht.''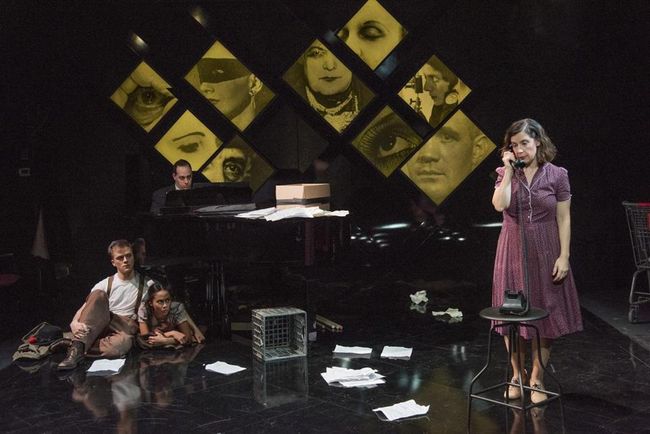 Arranged by the late Hungarian-born playwright George Tabori, "Brecht on Brecht'' is a smart and trenchant collage of excerpts from writings by German playwright-poet Bertolt Brecht and songs he cowrote with composers Kurt Weill and Hanns Eisler. In a coproduction by New Repertory Theater and the Boston Center for American Performance, director Jim Petosa has made some tweaks to the piece, which was staged in New York in the early 1960s, that give it a strongly anti-Trump thrust.
The four cast members roll onstage in a shopping cart, red clown noses affixed to their faces, and proceed to create an uproar that includes shouting "No ban! No wall!'' Later, director Petosa adds a pointed touch to an excerpt of a Brecht poem warning against the scapegoating of minorities; when a character in the poem blames "the Jew'' for such problems as the fact that "we have no wheat for our bread,'' the actor playing him also points a rhetorical finger at "the Mexican'' and "the Muslim.''
However, not everything is as explicitly political as that in the 90-minute "Brecht on Brecht,'' which features versatile performances from Christine Hamel, Carla Martinez, Jake Murphy, and Brad Daniel Peloquin, with piano accompaniment by musical director Matthew Stern, in the Black Box Theater at Watertown's Mosesian Center for the Arts. Martinez delivers a furiously passionate rendition of "Surabaya Johnny,'' that classic song of betrayal, and Peloquin slithers with artfully sinister insinuation through "The Ballad of Mack the Knife.''
Between the songs and the spiky script — drawn from Brecht's plays, poems, and journals — "Brecht on Brecht'' feels at times like a small-scale companion piece to another politically charged, German-textured show that's currently on a (much larger) local stage: "Cabaret,'' at the Boston Opera House.
"Cabaret'' is among several previously produced theater pieces that have gained fresh relevance in the wake of Trump's ascent. A stage adaptation of George Orwell's "1984,'' which was performed at Cambridge's American Repertory Theater a year ago, is headed for Broadway this summer, riding the momentum of Trump adviser Kellyanne Conway's bizarre salute to the merits of "alternative facts.'' Last fall, Petosa directed a New Rep/BCAP coproduction of "Good,'' C.P. Taylor's 1981 drama about a seemingly decent man in 1930s Germany who succumbs to the pernicious ideology of the Nazis.
Now comes "Brecht on Brecht,'' which resonates in a Trumpian context as something of a call to arms, albeit one issued in the bitingly sardonic and cryptic Brechtian voice. What connects the disparate pieces are the specters of injustice, hypocrisy, and the brutal abuse of power, sometimes abetted by intellectual cowardice.
In that vein, Peloquin performs an excerpt from "Life of Galileo'' in which Galileo offers a searing self-indictment, observing that "if the scientist allows himself to be intimidated by the self-seeking men in power . . . then science can be turned into a cripple, and your new machines will only mean new drudgeries.''
Hamel and Peloquin team up to perform an overlong but ultimately powerful excerpt from "The Jewish Wife,'' in which the title character is preparing to leave Germany in 1935. Rehearsing a speech to her non-Jewish husband, who has taken a posture of craven acquiescence amid the bigotry to which his wife is subjected, she bitterly denounces his moral cowardice and that of other German men who have rationalized their way to an accommodation of the Nazi tyrants: "You discover the quantum theory, you invent heart operations, but you let yourself be ordered about by these half-savages . . .''
All in all, it's an ominous picture that develops in "Brecht on Brecht." But it's illuminated now and then with a message about the need for the individual to push back, summarized best by an exhortation from a character played by Murphy: "Change the world. She needs it.''