/ projects

Each artistic intervention arises in result of a concrete need. Thus, the ARTS become a reliable partner to support the Med Campus' mission. The benefits of this approach are twofold: projects gain a clear frame of evaluation; and the presence of art and artists in clinic or nearby shelters is justified without paternalistic nor decorative approaches.
///
A map to all current projects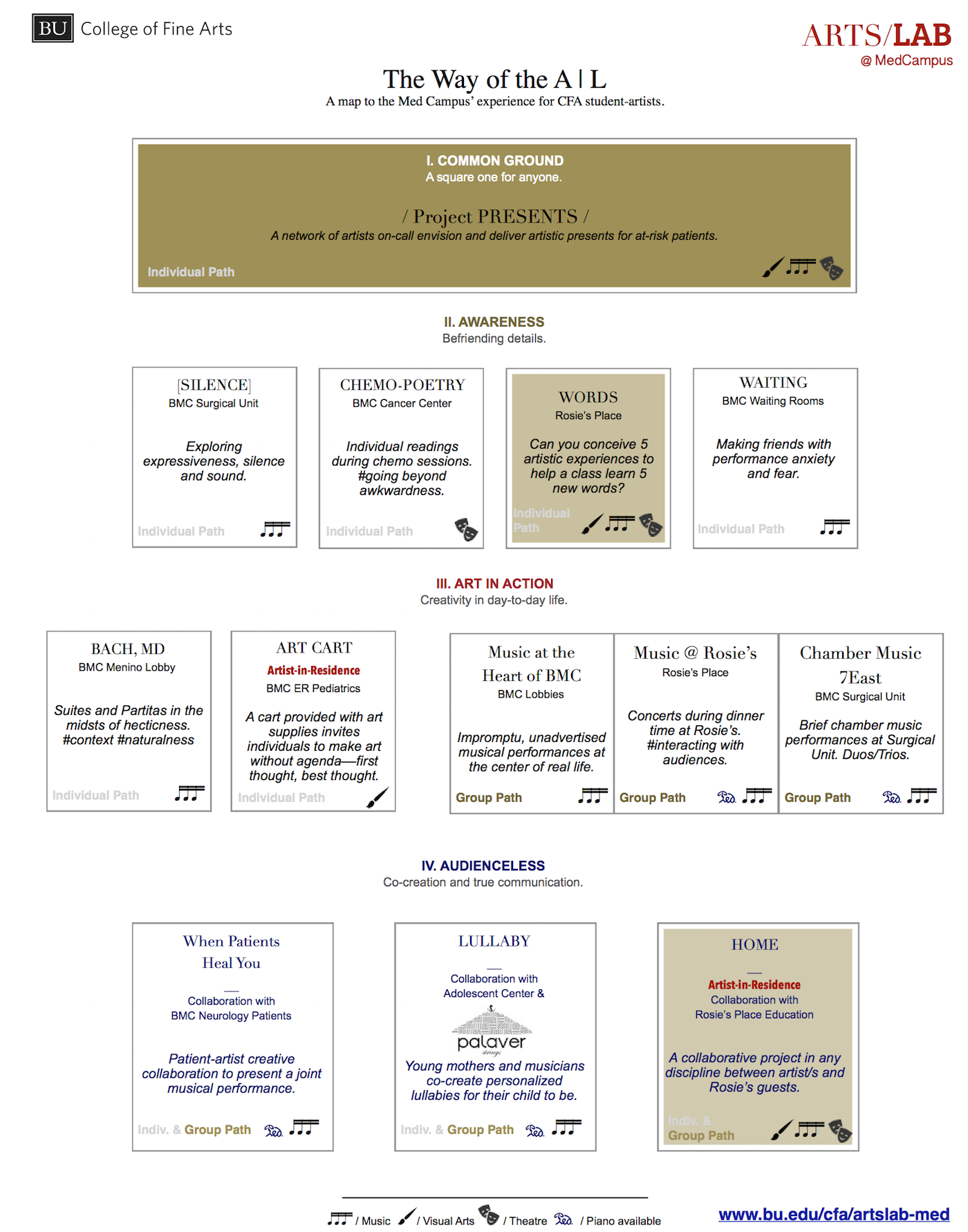 /
//////////////////////////////////////////
Art Cart
Clinical scope: Qualitative expressive outlets; Pediatrics ED; Surgical Unit.


.



A cart provided with visual art materials transits around BMC inviting individuals to guided mindful-based art experiences. The goal is to offer qualitative expressive outlets to patients, their families and staff during their stay at BMC. For our Artists-in-residence this is an opportunity to accept whatever arises as a genuine source of inspiration.
///////////////////////////////////////////
Presents
Clinical scope: Patient experience; defeat hospitalization's isolation; Social workers support.


.
In collaboration with social workers and staff, artists "on call" envision and deliver personalized artistic presents for at-risk patients. Carefully conceived protocols facilitate  a meaningful interaction between them. In fact, the real present is not art, but the basic warmth of genuine creative encounters.
///////////////////////////////////////////
Poetry
Clinical scope: Cancer Center; Chemotherapy treatments; Nurse support.


.
For the imagination, words as an exit sign to escape the long chemotherapy sessions. In the intimacy of an IV treatment a patient choses a topic. On the spot, a student-actress/actor reads poems or texts according to the choice. There is nowhere to hide, no gimmicks, only the magic of two individuals and words jointly evoking meaning in the midst of uncertainty.
///////////////////////////////////////////
[Silence]
Clinical scope: Promotion of environments suitable for recovery; Staff support.


.
Stress taints the environment of a surgical unit. Noise has a negative impact in the recovery of patients. [Silence] is an initiative to transform the unit through curated musical performaces––promoting awareness towards unnecessary noise. Musicians join the same discipline of awareness, exploring the role that silence plays in their own music making: a discovery of implications between silence and expressiveness, space and performance, fear and sound.
///////////////////////////////////////////
Lullaby
Clinical scope: Adolescent clinic; Midwives and social workers support.


.
Young parents and musicians team up during a song-writing workshop to co-create a personalized lullaby for their babies. These unique compositions help strength the link between parents and child, while allowing them to openly relate with their own uncertainties toward parenthood.
///////////////////////////////////////////
Concerts
Clinical scope: Stress reduction; public safety support.


.
MUSIC AT THE HEART OF BMC is a group of impromptu performances at the epicenter of BMC. The hecticness of Menino lobby is the opposite of a concert hall. It is music at the center of real life––a direct and unbiased context to discover the impact of music in our current society. To the overwhelmingly diverse crowds, music provides contagious micro-moments of surprise, owe, appreciation, joy, tenderness and beauty. These performances have revealed inherent qualities in life music for the promotion of safer public spaces.
A MOMENT FOR MUSIC AT ROSIE'S. A concert series of early afternoon and dinnertime performances at this exceptional institution for homeless and poor women near the Med Campus. At Rosie's, music offers a clear opportunity for true communication. These concerts foster an on-going curiosity for innovative forms toward authentic audience-artist interactions.
///////////////////////////////////////////
Words
Clinical scope: Education; English literacy support for refugee women.


.
Rosie's Place carries on a thriving educational project. Women with no English literacy are given an opportunity to enjoy a basic education; some even learn to read and write for the very first time. Five new words take three weeks of work. During Writing Café sessions students enjoy a sort of graduation from these five words, before moving on to a new group of five.
The care and tireless dedication of these brave women inspired us to create the project Words––a musical game to support their quest for literacy skills. A word is not a phonetic sound but a living experience in sound. Musicians prepare five musical moments that convey each one of the five words. Students express orally and in writing which word they think is being expressed through music: a moment that allows each student to voice her experience as perfect and unique.
///////////////////////////////////////////
Waiting
Clinical scope: ED; Patient's psychological time experience; Anxiety.


.
Long or short, waiting is an important part of the Emergency Department––often a moment of silent anxiety. Waiting provides carefully planned music interventions to our friends in the waiting room: from a Bach suite to a spontaneous improvisation. Music defeats the void of waiting and its anxiety, providing a sort of pre clinical care.
The conceptual framework of Waiting––relying on sensitivity and context awareness––offers musicians a parallel chance to make friends with their own performance anxiety.