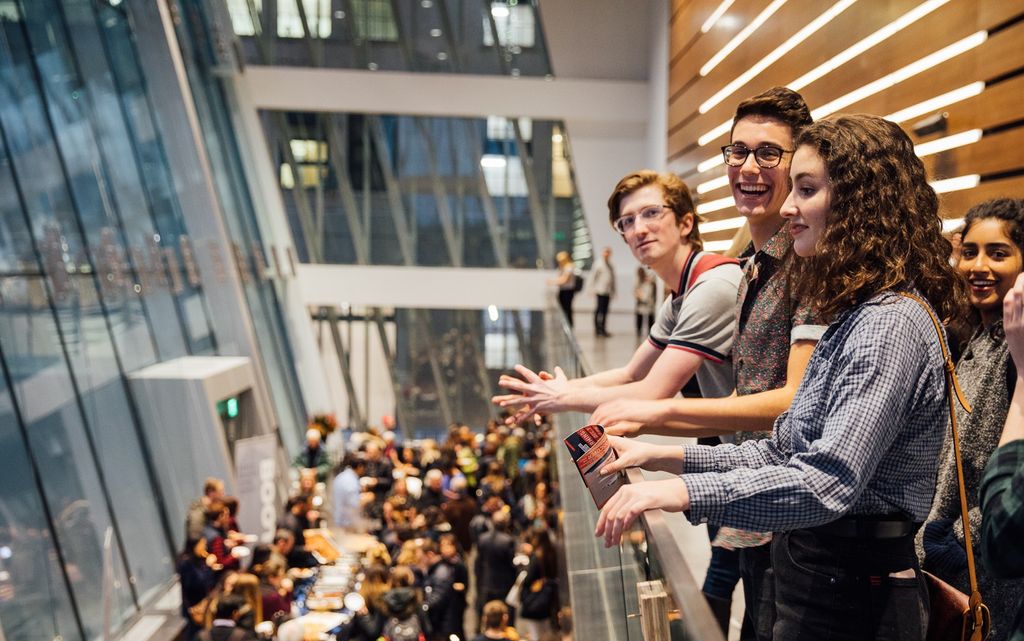 September 20-23, 2018
Come to BU Alumni Weekend and celebrate with CFA.
See, hear, & experience what's new and what's timeless at the College of Fine Arts.
It's a weekend of special events and celebrations, including the 2018 College of Fine Arts Distinguished Alumni Awards, with honorees: Sedrick Huckaby (CFA'97, BUTI'95), Kelly Kaduce (CFA'99), and Katy Rubin (CFA'07).
---
Schedule of Events
Thursday, September 20, 2018
Contemporary Perspectives Lecture: Sedrick Huckaby (CFA'97, BUTI'95)
6:30pm, Sleeper Auditorium, 871 Comm Ave
Each year, the Contemporary Perspectives Lecture Series (CPLS) invites renowned artists and critics to campus to present their work in a free, public talk, and to engage with students through studio visits,workshops, and critiques. The 2018-19 lecture series welcomes a CFA alumnus back to the School of Visual Arts. Sedrick Huckaby (CFA'97, BUTI'95) is a Texas-based painter known for large-scale portraits rendered in thick impasto. His densely built-up paintings portray the artist's friends and family on a monumental scale, elevating them to the status of Renaissance icons. Huckaby's work is in the collection of the Museum of Fine Arts, Boston, where it was recently featured in the exhibition Monuments to Us. Other venues for his work include the San Francisco Museum of Modern Art, the Whitney Museum of American Art, the Minneapolis Institute of Art, and The Art Institute of Chicago, among others. Huckaby received his BFA from Boston University in 1997, and his MFA from Yale University in 1999. He is a recipient of the Joan Mitchell Foundation Grant and a Guggenheim Fellowship.
Friday, September 21, 2018
BU Symphony Orchestra Lunchtime Concert conducted by Bramwell Tovey
12:30pm, Tsai Performance Center, 685 Comm Ave
CFA's School of Music will present the Symphonic Orchestra under the baton of Maestro Bramwell Tovey, Director of Orchestral Studies, in a lunchtime concert at the Tsai Performance Center on Friday September 21 at 12:30 PM.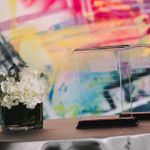 Distinguished Alumni Awards
5:30pm, Joan & Edgar Booth Theatre, 820 Comm Ave
Celebrating Sedrick Huckaby (CFA'97, BUTI'95), Kelly Kaduce (CFA'99), and Katy Rubin (CFA'07) who have distinguished themselves with outstanding achievements in their careers, communities, and in service to the arts.
Saturday, September 22, 2018
Booth Theatre Open House
10am-12pm, 820 Comm Ave, Booth Plaza
Join the School of Theatre for a tour of the new Joan and Edgar Booth Theatre and BU Design and Production Center. Tours will be led by current SOT students and will depart from the Booth Theatre Plaza.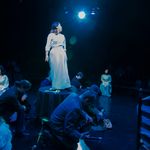 School of Theatre Open Rehearsals: Angels in America and other productions
2-5pm, 855 Comm Ave, 1st and 3rd floor Studios
The School of Theatre invites Boston University alums to visit rehearsals for our Quarter 1 productions, including Angels in America, Beowulf: A Thousand Years of Baggage, and Unmentionables (a New Play Initiative production). Stop by our table on Saturday afternoon in the CFA lobby for more information and a map of rehearsals.

School of Visual Arts MFA Open Studios
Graphic Design, Painting, Sculpture with student and faculty guides
2-5pm, 808 Comm Ave., 3rd+ 4thfloors
Graduate students in the Graphic Design, Painting, and Sculpture programs open the doors of their studios to the public for informal viewing and conversation.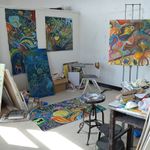 School of Visual Arts Undergraduate Open Studios + Showcase
2-5pm, 855 Comm Ave.
Open Studios: 3rd + 5th floors | Showcase: Commonwealth Gallery + Gallery 5
Current Graphic Design, Painting, Printmaking, and Sculpture undergraduate students celebrate the start of the academic year with an exhibition of their work in the School's gallery spaces. Additionally, get an up-close look at the junior and senior studios which will be open for self-guided tours.
Panel: Creative Capital – Building Collaborative Art Spaces
3:00pm, 808 Gallery
Presented in conjunction with the exhibition, A Few Conversations Between Women, and Boston University Alumni Weekend, this panel will feature alumnae of the College of Fine Arts who have started visual art galleries, collaborative projects, or arts practice studios that create opportunities, space, and dialog for women artists. Panel participants will represent both local and regional projects and discuss the importance of expanding one's individual practice to one that is more collaborative in focus. Panelists include:
Angela Conant (CFA'04), Co-Founder, The Gowanus Studio Space, Brooklyn
Erika Hess (CFA'09), Co-Founder, Musa Collective, Boston
Nina Bellucci (CFA'09), Co-Founder, Musa Collective, Boston
Adrienne Elise Tarver (CFA'07), Director of HAS Gallery at Harlem School for the Arts in Harlem, New York and Residency Advisor for Brooklyn Art Space/ Trestle Gallery, Brooklyn.
Moderated by Lynne Cooney, Artistic Director Boston University Art Galleries
---
Boston University Art Galleries Exhibitions
Be sure to check out the following exhibitions while you are on campus for alumni weekend. The gallery hours are 12-5pm Tuesday through Sunday.
A Few Conversations Between Women
808 Gallery, 808 Comm Ave
September 4 – 28, 2018
Opening Reception: Friday, September 7, 6:00-8:00pm
This group exhibition highlights the artistic voices of the female visual arts faculty of Boston University's College of Fine Arts. A Few Conversations Between Women underscores the importance of artistic mentorship of and between women. For the exhibition, participating faculty members selected the work of other women artists that either have been a pivotal mentor in their own creative development or an emerging artist that they have, in turn, mentored. A Few Conversations Between Women is an inter-generational dialogue of women artists working across disciplines and at different stages of professional development. A panel discussion will be presented on Saturday, September 22, 2018 at 3pm in the 808 Gallery. Please see event listing above for additional details on this event.
Under A Dismal Boston Skyline
Stone Gallery, 855 Comm Ave
This group exhibition examines the city of Boston as a witness to intensely concentrated moments of artistic experimentation in the last few decades. Under A Dismal Boston Skyline takes the group of practitioners, collectively labeled the Boston School and who defined artistic activity outside of the mainstream in Boston in the late 1970s and early 1980s, as a launch point. The exhibition explores affinities in materials and conceptual approach with the Boston School and other artists living and working in the city in the ensuing decades. With a particular focus on photography, video, and performance that challenge archetypes of identity, gender, and community, the exhibition creates a lineage of artists, starting with the 1980s, to those working in recent decades and into the contemporary moment. Presenting seminal work from these periods, this exhibition draws on intersections between the city's art scene and its counter-cultural underground. Participating artists are: Marilyn Arsem (CFA alum), David Armstrong, Creighton Baxter, Genesis Baez, Melanie Bernier, Dead Art Star, Nan Goldin, Maura Jasper, Cindy Kleine, Justin Leiberman, Steve Locke, Mark Morrisroe, Cobi Moules, Esther Solondz, Mike and Doug Starn, Gail Thacker, Shellburne Thurber, Luther Price, Suara Welitoff, and others.