Ready-Mixed Murals
Turning concrete mixer trucks into swirling, spiraling works of art
By Andrew Thurston
I spy with my little eye something…really big. And iridescent. And concrete-spattered.
We're playing I Spy the Mural Cement Truck. There are three to spot: hot neon leopard print, African kente cloth, and paper clip-patterned. United Transit Mix's 30,000-pound turning, churning art galleries—sprayed and rolled with bright murals by artist Andrea Bergart ('08) in 2013—are a kaleidoscopic spiral against the cement grays and muted steel reds of New York's construction sites.
The company does a "lot of high-rise work" in Manhattan and Brooklyn, says United boss Tony Mastronardi, and the polychromatic trucks are out on the street most days. Since Bergart painted the trucks, her friends in the Big Apple have been playing I Spy the Mural Cement Truck. (Join the fun: If you spot one, post a pic here.)
Mastronardi has been in the construction business for 40 years and he's never seen anything like this. "The truck was due for a paint job. She asked to do it; so I said, 'Pick a truck.' I'm open to new ideas."
But a Lisa Frank-inspired, rainbow-colored, leopard-print cement truck?
"I wanted to see what I could get away with," says Bergart. "The machinery is such a masculine thing, the construction sites are such macho places, so I wanted to see if I could get some hot pink and leopard print in there. I was surprised they let that happen."
"I thought it was nice," says Mastronardi. Nice enough that he let Bergart paint a second truck. And a third. (His favorite: the paper clip-daubed truck for "the colors, the design.")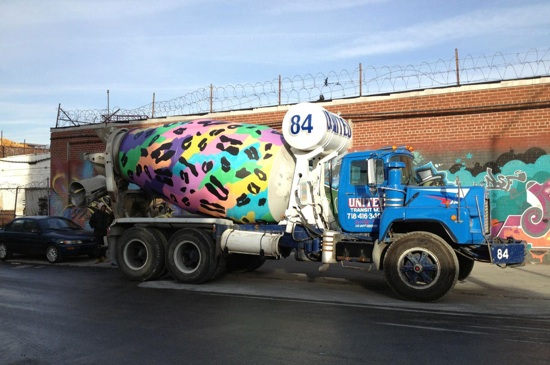 Built to Scale
It started with a scale model. Bergart used a toy concrete truck to test different patterns and techniques, making short videos to see how the prints worked as moving pieces. The idea of painting the trucks had come to her out of the blue—a graffiti-streaked wall plus parked mixer trucks equaled inspiration—but she had also "just gotten a little bit tired of stationary images on a wall, the typical mural."
Since graduating from CFA, Bergart has painted murals in the US and in Africa; she also teaches an after-school mural program for kids. Based in a mixed-use studio in Queens—an old sewing factory with her apartment upstairs and studio downstairs—Bergart keeps about 10 canvas paintings in progress, too, but likes breaking free to "collaborate and be outside. I love seeing a large image—it's as simple as that. I want to see a really big image outside that's not associated with a commercial agenda . . . I think art can be more accessible that way."
"I accept that it's a cement truck, a piece of heavy-duty machinery that's going to get dirty and beaten up and backed into things. That's part of it, too: having it decay."—Andrea Bergart
Bergart has exhibited her paintings and textiles in New York, Massachusetts, and Texas, but she doesn't just want to see her art hanging on exclusive gallery walls.
"The best work I see in New York makes me want to run back into my studio and make something, and that's a feeling of excitement for me. I want the murals to be celebratory, and be funny and fun and happy. I think a lot of people are excited about the cement truck murals in particular just because they're so accessible and they are out in the public; it's not like you have to go to a studio or gallery to see them."
For the first two trucks, Bergart used vinyl car magnets to make templates, sticking them on the steel drums to guide the painting. The paper clips design was more freehand: spray paint for a ghost image; brushes and rollers for the finish. The paint had to be industrial-grade, tough enough to withstand a pounding on the construction site and a daily wash down with additive-laced water.
"On each truck, I was trying to figure out the paint that would last the longest; at the same time, I accept that it's a cement truck, a piece of heavy-duty machinery that's going to get dirty and beaten up and backed into things. That's part of it, too: having it decay."
Becoming Unique
The final images don't exactly match the sketches on the toy trucks. Bergart says her approach to all her work is to produce a lot, then edit a lot.
"Images change and I like that things can be included at the site," she says. "I think it's important to respond to the environment. I usually do a thumbnail sketch or a smaller drawing, but a painting is its own thing, too, and I want it to deviate a certain amount and be its own image."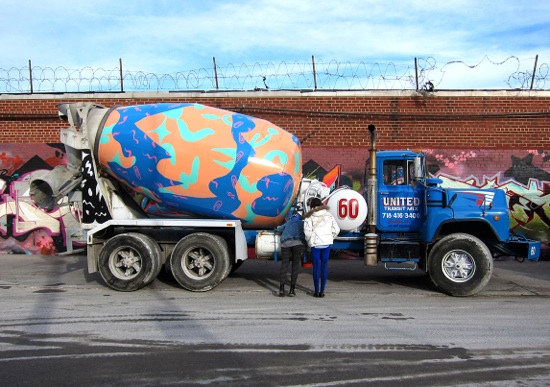 The third truck—interjecting blue, orange, and green islands of color—only got its standout addition in the final moment: "I added paper clips during the last day; I thought it was recognizable and humorous."
She hopes to do more work with United Transit Mix, but her next grand scheme involves a different kind of moving canvas: sailboat canvas. Bergart has a grant to travel to South Africa and plans to "celebrate the harbor in Cape Town" by painting a sail. There are no toy boats in progress yet. "I'm reaching out to sail manufacturers and trying to figure out how to translate an image and the best technique to execute that."
So, while I Spy the Mural Cement Truck is open only to the 60 million or so residents and visitors to New York for now, expect the global edition to start soon.
Video by Simon Biswas