Susan Berry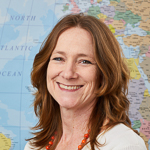 Susan Berry has worked in international multicultural education for over 20 years starting as a Peace Corps volunteer in Niger, West Africa. Following these two years of service, she earned her MA in TESOL at the SIT Graduate Institute in Brattleboro, Vermont. This program introduced her to an educational philosophy that puts "students in the spotlight" with objective-driven, interactive lessons that encourage them to learn just as much from each other as they do from other resources.
She has since worked as an ESOL instructor, academic program manager, teacher educator, trainer of trainers, workshop/plenary facilitator, university lecturer, and curriculum writer. She has experience working with the needs of the community and developing programs to fit those needs; most recently at Boston University but also in South Korea, Brazil and Ecuador where she designed, implemented and trained non native English speaking teachers and trainers in English Education Teacher Development.
She has supervised Masters level candidates during their teaching internships and established teacher training sites around the US and in countries such as Thailand, New Zealand, Mexico, Ecuador and Poland. Her personal strengths and characteristics include flexibility, an interest in cross cultural understanding and a desire to be a part of the solution. These experiences can be made even better if bicycles, sun and mangoes are around.