Pam Steeves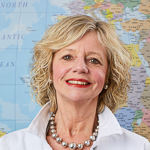 Pam Steeves has been teaching ESL since she got her M.Ed. from Boston University's Graduate School of Education in 1981. She has taught at Babson College, where she specialized in graduate level Academic Study Skills, Bentley College, where she taught for three years at the American Language Academy, and Boston University CELOP, where she has been a senior lecturer for the past 32 years.
Pam has specialized in teaching academic and critical thinking skills to high-intermediate through advanced students in the English for Academic Purposes concentration. Over the years, she has taught virtually all core skills at all levels. No matter on what side of the desk she is sitting, Pam has always loved the classroom. Simply put, teaching English as A Second Language at CELOP brings together several of Pam's greatest passions in life: her love of the classroom, her love of people, her love of English, and her love of Boston University, her alma mater!
Additionally, Pam has presented at the international TESOL conference regarding her experience in conflict resolution and management. She has extensive coordinating experience in both student and faculty professional programs. For five years, she was the coordinator of the Friday Dish, a series of panels, workshops and presentations for professional development of instructors at CELOP. Additionally, she was the SABIC program coordinator (Saudi Arabian Basic Industries Corporation) for two years and is currently the coordinator of the CELOP's Waseda University program, a Thematic Study Abroad program of students from the prestigious university in Japan.
Pam has a B.A. in English literature from The University of Connecticut, with a specialty in British and Arthurian literature. She has been an active member of the Swampscott Book Club for the past twenty years. In addition, she enjoys golf, travel, and motherhood. She has one daughter, who is entering her senior year at Boston University in the Health Sciences program and who aspires to be a nurse practitioner, and a son, who graduated from UMASS, Lowell in 2013 with a degree in Music Business. Pam could not be a prouder mom!